Hey everyone,
It's November 25th...officially one month until Christmas is here!
I've been feeling very festive this year, surprisingly!
I'm usually a bit of a bah humbug - especially as my
S.A.D
gets me a bit gloomy.
But funnily enough it hasn't seemed to effect me very much this year, so hoorah!
I've also been super-organised this year. Annoyingly so, you could say.
I have most of my presents in
(I've also had three birthdays to buy for as well!)
, as well as the wrapping and my cards.
And while I love buying Christmas presents, as for me it's an excuse to go shopping - there's always that ONE person in your life who it's difficult to buy for as they seem to have everything!
They have plenty of clothes, jewellery, makeup etc.
And when you ask them to give you a ballpark on what to buy, they just reply:
"Anything!"
Hmmph!
So for these special people you move on to something very special that comes but once a year...the novelty present!
And it doesn't all have to be cheap tat - you can definitely get something quite cute if you do some looking.
Here's my top novelty picks: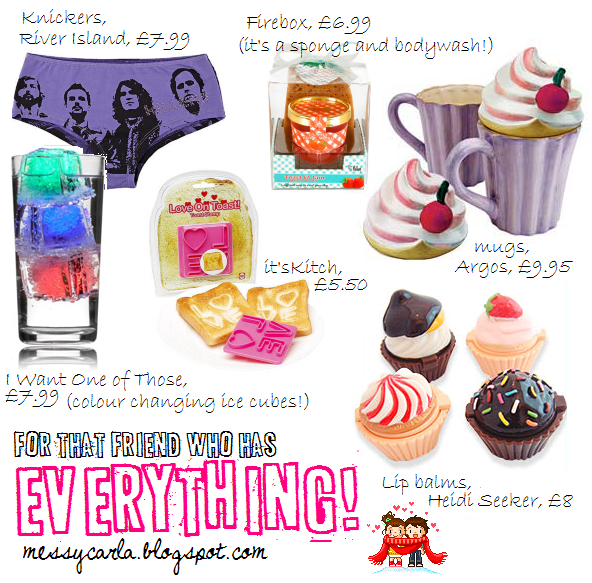 *EDIT: The itsKitch toast press is actually only £3! WHOOPS!
I have SUCH a soft spot for silly things like these - but I like that you can put most of them to regular use!

There is one thing I've neglected this Christmas however...my own presents!
I've spent November fussing about what I'm going to get other people, when
Italian Catholic Mother
asked what I wanted, I struck a blank!
We went Christmas shopping yesterday evening however, and picked out lots of lovely stuff - but I'll save that for my next post!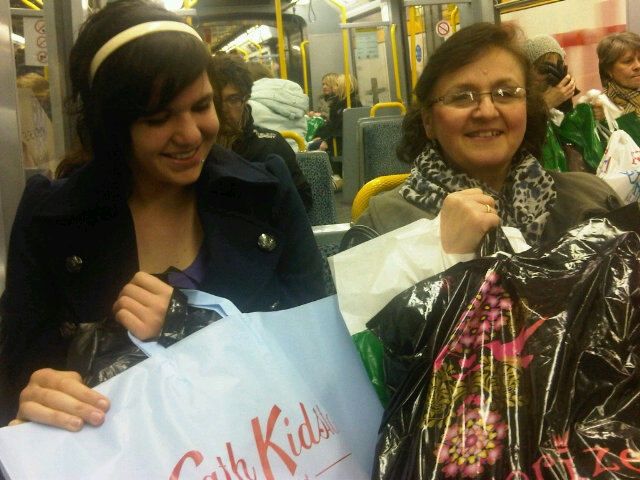 I love this picture of my sister (notice her new lip peircing?) and I.C.M laden with shopping bags full of goodies.
Nadia
picked out a fabulous scarf from River Island, a cosy dressing gown from Dorothy Perkins and a Cath Kidson bag.
I think she's getting a lot of books this year too.
How about you guys?
Do you think you're easy to buy for, or have your friends got to drag you late night shopping and make you point out what you want?
As always, I love hearing from you - so do let me know!
I hope all you Americano-types had a wonderful Thanksgiving - I've always wanted to be in the USA during Thanksgiving as I've already been there for 4th July.
Hmm...one year one of you will have to invite me around for some turkey and pumpkin pie, yes? Heehee.
It's always nice to say something we're thankful for.
I'm thankful for my lovely family, and my best friends
Daniel
and
Sam
.
Also for everyone who reads this blog, and your constant support.
You lot are the best cheerleading squad in the world!
*knuckle-bumps you all*

Muchos love,
MessyCarla.


PS: UK folk - bloody stupid snow, am I right? Bah!
PPS: I am not sponsored by any of the companies featured.