Why, hello there!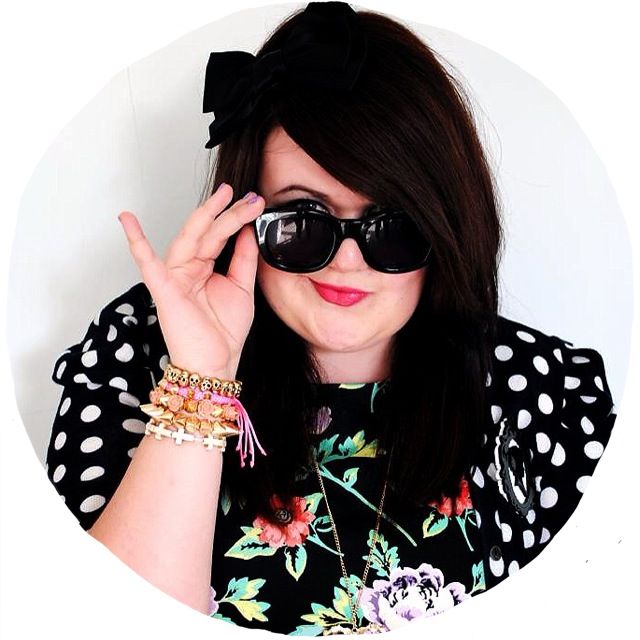 Name:
Carla is just fine!
Age:
28-years-old.
Lives:
In a small town just outside Newcastle, UK.
Height:
5'4"-5'5".
Dress size:
I generally wear anything between a UK size 16 to 20 depending on the fit.
Interests:
Fashion, blogging, travel, beauty/make-up, theatre, social media/networking, media production/theory, independent cinema, film studies, gender studies, cooking/baking.
Favourite Bands/Artsts:
The Vines, Placebo, The Epoxies, Dragonette, Ke$ha, Ramones, Zombina and the Skeletones, CHVRCHES, Mike TV, To My Boy, Reel Big Fish, Plastic Operator, Bloc Party, Freezepop, Tsunami Bomb, The Who, Sonic Boom Six, Hole.
Contact/Links:
Email
Twitter
Facebook
Tumblr
Featured on...
.

Frequently Asked Questions:
No, I recently graduated from the University of Sunderland with a BA (Hons.) 2:1 in Television &
Radio Production and have worked in the travel and tourism industry since 2011.
What camera do you use?
I used a Panasonic Lumix until Autumn 2010, then I upgraded to a Nikkon d3000.
I'd recommend getting the model or two up from this as they have HD video - great for YouTube videos!
Can I interview you for my blog/article/school project/dissertation etc.?
I get asked this a lot during deadline season, so if you get in early you are very welcome to
email me
!
Can I write a guest post for you?
No, all content is written by myself.
The only exception in the past has been if I have been on holiday/travelling and some lovely people have filled in for me.
I am currently NOT accepting submissions for guest posts
(paid or otherwise)
.
How do you get started/gain followers?
To keep it simple: Work hard, write about what you look, stay true to what you believe in - but also courteous and don't be a drama llama.
Can I add you on Facebook?
I don't accept requests on my personal Facebook, sorry.
But please feel free to
add my page so you can get updates straight to your newsfeed
.
I check this everyday and you can also chat with me there! :)
Will you review my product?
It completely depends what it is.
I have made a page regarding advertising
.
If you think it would interest me and my readers -
email me to find out,
I'm nice!
Can I advertise on your blog?
I have lots of places available for bloggers and businesses to advertise on my blog at reasonable rates.


How do you get things to review?
Companies have always contacted me first.
In my experience both as a blogger and working in the industry, companies are more likely to ask bloggers who don't go asking for it. It is extremely transparent when someone is blogging just to receive review items. (And especially begging on a public forum such as Twitter is never professional!)
I blog because I love talking fashion and beauty (among other things, of course) not to get free stuff.


Do you get paid to review things?
No. I get to keep the products, which is a nice bonus, but I don't get any money.
Anything I get to review is clearly marked, as I believe in complete transparency.
Can you please critique my blog/what am I doing wrong?
No, as I don't believe in being negative to anyone.
Your blog is your personal space, and if someone doesn't like it then it's their problem.
One of the biggest joys of blogging for me, is that I'm able to express what I love in my own space -
please don't change yourself for the sake of pleasing other
s!
Life would be very dull if we were all the same.
Where do you get your hair cut?
My friend Chris who currently works at The Junkyard Studios in Newcastle
!
What colour did you use to get your hair so red?
As of Autumn 2015: bleach and a mix of Poppy Red by Directions and Rock N Red by Manic Panic. There will be a page all about bright hair care coming very soon!
Disclosure:
Reward Style:
This blog is affiliated with Reward Style, a program that pays me a small commission if a reader purchases through a link. Reward Style links can be distinguished by the URL, which reads "http://rstyle.me…".
If you think your blog would be suitable for Reward Style benefits,
please email me
with your details and I'd be happy to forward you to the team.
Sponsored Posts:
Sponsored posts are clearly labelled at the bottom of the individual blog post for full transparency. Views are always my own, and I would never promote a product I did not love myself.
Content is always written by myself, with
no guest bloggers
writing on my behalf.
Any other questions,
PLEASE contact me
.
I love hearing from you all!
Muchos love,
Carla.