Hey everyone,
I'm glad you liked the
novelties and nifty gifties in my last post
.
It was requested in the comments that I do a version for the boy-folk, so I'll see what I can do with that.
I've finally got a decent list together for Santa myself, now!
Here's the letter I'll be flying up the chinmey within the next week or so...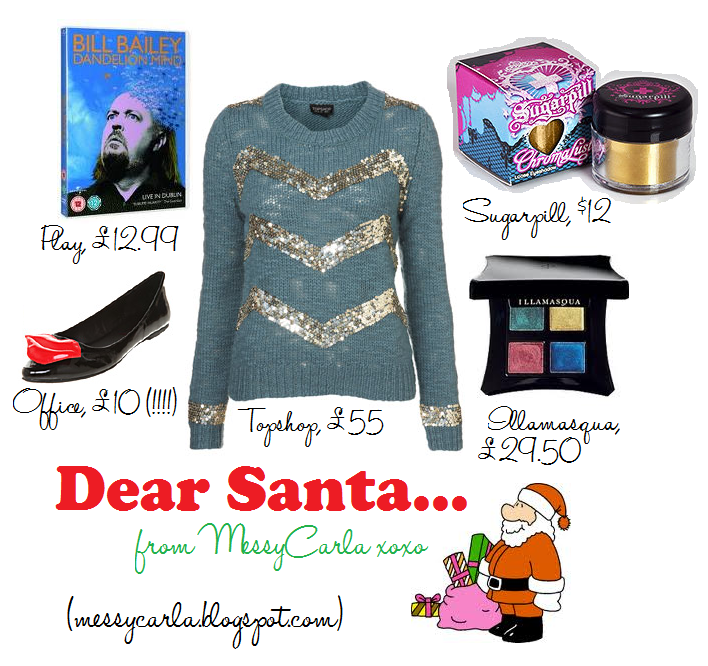 Sighhhhh.
Isn't the jumper FABULOUSSS? So glittery and perfect for the rotten weather we've been having lately.
What with Topshop's funny sizing I had to try this on, and the size 16 is VERY stretchy and generous, so if you like it and are bigger than a 16 do give it a try!
And can you BELIEVE those lovely kitschy shoes are just £10 in the sale down from £45?!
I've even found a matching kissy-lips clutch back on Ebay for £6, so I'll be matching.
(AND NOT TACKY AT ALL...right?)

I also haven't tried
Sugarpill
yet but I've heard so many good things about them I'm trying their loose powders in
Goldilux
(shown) and also
Stella
, which is black with lots of sparkle.
Also, Santa is being very kind and delivering a present EARLY this year...
My favourite band in the world,
The Vines
are releasing their new single
Gimme Love
(I need to stop singing this in the style of 'Gimme More...')
in a few weeks.
It's their first single in well over two years, so you can guess I'm REALLY excited.
I love the shaggy-haired Australian rockers so much!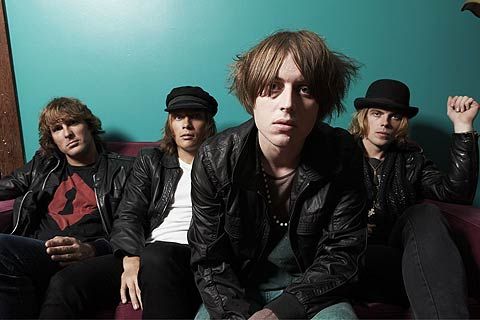 Love love loveeee.
Finallement, I'm now an Ambassador for the lovely makeup brand Eyeko!
If you spend over £15/€18/$20 at
http://www.eyeko.com/
you get a free gift.
Simply use my code
E12760
to claim online!
Since Eyeko can be a little difficult to find instores, this would perhaps be a great opportunity to get some of their lovely unique items for gifts?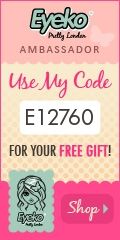 Somebody has already used my code
(thank you, thank you!)
and so I have some little gifties heading my way too - so it's win win, really!
(I'll of course show you what I get when it arrives - I'm excited!)

Oh, and before I forget - I'm very sorry for the lack of
Outfit Posts
at the minute!
Because of the afformentioned bad weather, my outfits have pretty much been the same, and you guys don't want to see the same thing over and over again right?
However, I'm going to be doing
some more videos soon
, now that my sister has found her camera charger.
I re-dyed my hair red over the weekend, and it's much more vibrant so I'll be doing a video about how I did it, including products - so consider it
an updated version of this post
.
Also, I'm going to be doing the
30 Days challenge
that a lot of bloggers have been doing lately, where a different question is answered every day.
Since we're nearing the end of November I figured I'd so this as
vlog-style
beginning December 1st and finishing December 30th.
I'll be posting the videos on here too, but if you'd like to
subscribe to my YouTube channel
, please do - so you don't miss anything!
If there's
anything else you'd like to see in a video, please let me know
.
As always, I love hearing your suggestions.
Phew, sorry if this entry has been a bit word heavy!
Muchos love,
MessyCarla.