Hey everyone,
A lot of the Autumn/Winter collections are now online, and I'm a little depressed looking at them.
Although I do like my thick tights, scarves and boots - I'm always sad when the colours slowly begin to leave the racks, replaced with blacks, greys and splashings of purple.
Plus it's only bloody August - it's still quite pleasant here in the usually not-so-sunny North!
Hmph.
BUT there's a lot of animal print at the moment to brighten proceedings up, and it's one of my favourite prints
(next to polka dots!)
.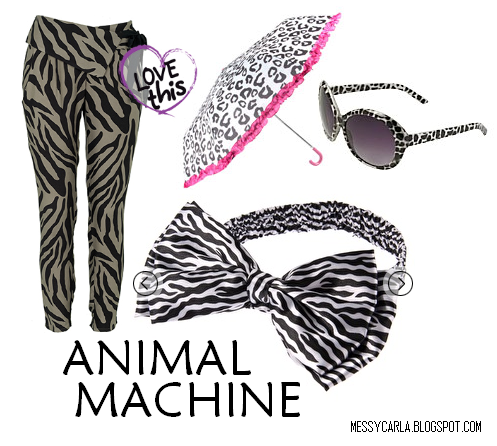 HAREM PANTS:
River Island, £29.99.
HEADBAND:
Asos, £3.
UMBRELLA:
Dorothy Perkins, £8.
SUNGLASSES

(It's only August!)

:
New Look, £7.50.
I think the key to getting animal print right is to only wear one statement peice.
I especially love wearing it with a block colour, especially black or pink.
The harem pants made me smile, as I remember singer
Gabrielle Cilmi
wearing a glittery leopard pair at
The Look Show
back in Febuary.
I told her I loved her pants, but accidentally ended up snubbing her, as I didn't recognise her!
Daniel
has never let me live that one down.
It's also that time of week again: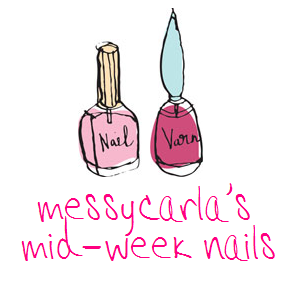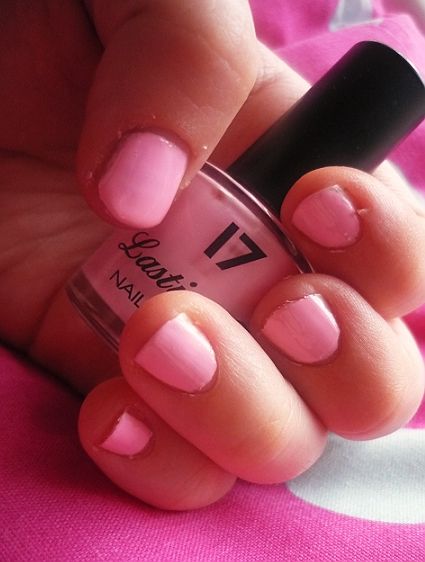 I know, I know. My nails look gross, right? I had an accident in the workplace!
Part of my job includes packing prospectuses. Lots and lots of heavy prospectuses, and my poor brittle nails didn't stand a chance. So it's back to the drawing board with them. *le sigh*

Anyway, on to the polish!
As I explained last time, I wanted a dupe for my Nails Inc nailpolish which had began to dry up.
The consistancy of the Nails Inc stuff was always quite runny and took forever to achieve that lovely opaque look.
It takes a few coats to get a lovely matte look (very like Barry M's nail paints) but my main problem with these products are the brushes - they're very cheap and do not make for a clean, easy application. It's exactly the same
with my gold polish
. Grrr.
It is pretty, but definately needs a topcoat as it chips very easily, but is a lovely dupe for a much more expensive nail polish.
Boots have a deal on at the moment where they are two for £5, so they're worth trying!
In other news, BIG love to my old "boss"
(using the term loosely as everytime we've worked together we've ended up having a right laugh)
Emma who came into the office today during my lunch break - I've missed her crack on! And she reads this blog so HI EMMA! :)
She was telling me all about her hen party
(Americanos: this is what we call bachelorette parties!)
- she's booked a 'Catwalk' party, where she and her gang will have a makeover, be styled and have their pictures taken as they strut their stuff on a catwalk/runway.
Then they get free entry into a lovely club in Leeds.
Not to shabby eh? Sounds like my ideal day!
Also, I forgot to thank you for all your lovely comments on my new blog layout!
It's been described as everything from
an episode of Daria
, to
the cover of a Jacqueline Wilson book
- both of which I LOVE!
This Saturday is also the
Victory Day event
, which I am REALLY looking forward to.
I've been looking through old pictures of my glamourous Italian aunties when they were young for inspiration.
But you'll be hearing all about them at the end of the week, I promise.
Hope you're all keeping good, my darlings.
Be sure to
follow me on Twitter
, and
add me via my Facebook page
!
Muchos love,
MessyCarla.