Hey everyone,
Since staring my new job there's been a lack of usual
Outfit Posts
, because I'm always rushing for the early metro.
But I love doing
Outfit Posts
, so I'm going to make an effort to get out of the house five minutes earlier to take a decent picture or two.
When I'm in the office, I have to slightly tone down my look - most of my skirts and cullotes are a bit too short for my liking for a professional environment, so I end up wearing dark jeans most of the time.
In every situation though, my outfit does still have to reflect my personality and be a little offbeat.
The tanktop is quite 'Office Gal' - but the animal prints give it a bit of a punky twist.
(You can see how much I love animal print in my previous post!)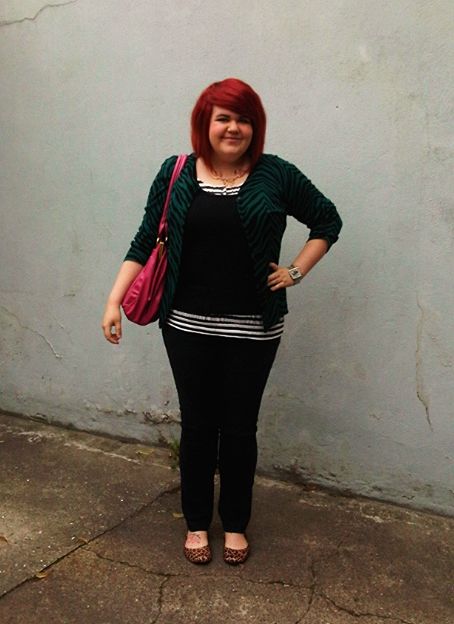 TOP:
Can't remember.
TANKTOP:
George @ Asda.
CARDIGAN:
Primark.
JEANS:
New Look.
NECKLACE:
Miss Selfridge.
WATCH:
D&G.
BAG:
River Island.
SHOES:
Dorothy Perkins.
As I'm currently still a student covering a main job, I can still get away with the jeans.
IF I end up staying on longer than September, I'm going to have to switch to black work pants. Boo!
But people at work don't seem to mind at the moment.
I wore my Barbie necklace from
Sunday Girl Accessories
a few times last week, and when I was making my coffee a nice lady from another department told me she liked it!
It's been a lovely weekend - me and
Rachel
went to a 1940s event yesterday, but I'll be posting all about that tomorrow as I haven't touched up the photos yet.
Also, I've been taking photos for the
Scavenger Hunt contest over at Loving The Reflection
, so may share them with you guys too.
It's a VERY creative contest, and it's funny as people can interpret it in many different ways. I definately recommend getting involved!
Muchos love,
MessyCarla.