Hey everyone,
This is the post I was telling you guys about, all about my 21st birthday.
I wanted everything to be low-key - no clubbing or massive parties, I've just been working too hard lately with finishing off my uni work, I just wanted to chillax.
I had plans with my friends on my actual birthday, so the day before my family threw me a pink tea-party!
The table was full of my favourite nibble-y food, from sushi to pizza!
And everything was pink - the tablecloth, cups, balloons, flowers, and my Italian Catholic Mother even produced a lovely bottle of pink champagne!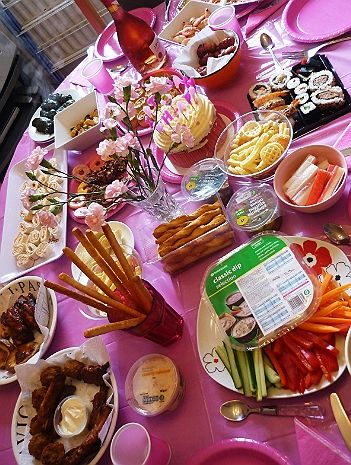 NOM NOM NOM!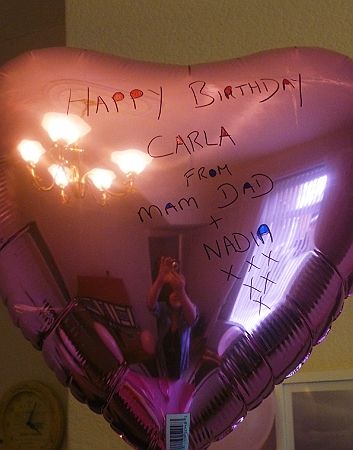 LOVE the home-made messages on the balloons!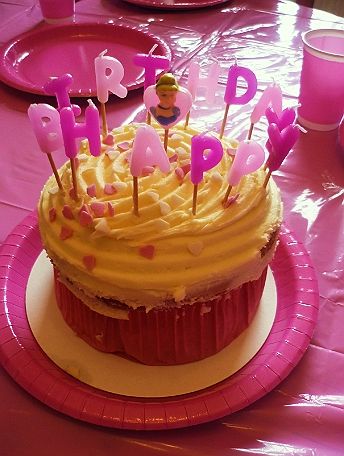 They surprised me with a proper birthday cake - a GIANT cupcake!
(Italian Catholic Mother originally had spelled 'Happy Birthday' as 'Happ Birtday' which made me laugh)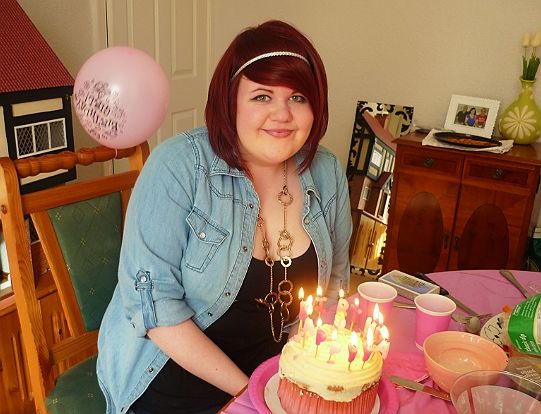 Just before blowing out the candles.
I wished for a year full of dresses marked down from their original retail price!
(Damn, now it won't come true?)
On my actual birthday, I got up at the crack of dawn to open my presents, and I've put together a little video so you can see everything I got.

My family and friends were so generous!
Then I went out with my friends Sam and Hattie (who got me the kawaii lunchbox stuffed with extras!) to Stateside Diner in Newcastle for alcoholic milkshakes.

And on the night-time I went out for tapas with my family and it was delicious.
It was their first time having Spanish food and I knew they'd love it!

This is what I wore to the restaurant: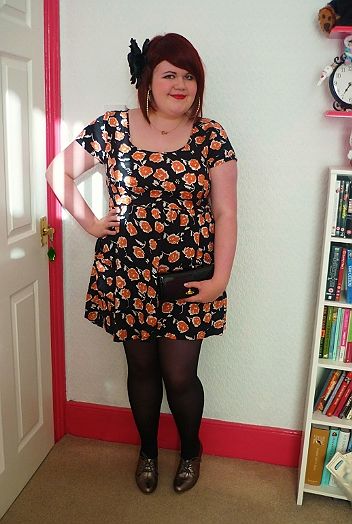 DRESS: River Island sale, £10.
NECKLACE: Lady Luck Rules OK sale, £3.
EARRINGS: Can't remember.
FLOWER: New Look, £4.
CLUTCH: Vivienne Westwood, £Birthday Present.
TIGHTS: Asda, £3.
SHOES: Office, £40.
POINT OF FASHION: Mediterranean.
(I'm part-Italian, so I think this look really suits my dark features?)
Right, so now you're all up-to-date!
Except I am celebrating
Carla's 21st: The Sequel
with
Silly Old Daniel
next week, because he couldn't fit my birthday around his heaving social schedule. The diva!
Regular readers will recognise Daniel as he's one of my best friends.
But he
also has a BRILLIANT blog
which is a mix of celebrity, music, personal and general flamboyance.
Be sure to check it out, I think he's hysterical! :)
Muchos love,
MessyCarla.