Hey everyone,
People are always surprised when I tell them how much I love Barbie.
On the surface I don't really come across as a 'girly' girl, despite having a passion for clothes and makeup.
I have a lot of very stereotypical male tendancies - from constant crass innuendo, to my love of a nice cold pint of lager - even my walk is manly.
(My sister pointed out recently that I even walk like a guy
(from the leg)
instead of like a girl
(from the hips)
)
But I've always had a soft spot for the airhead plastic California girl.
No, not Paris Hilton. The other one. The small one.
And the shops this season are also ALL about the Barbie love!
PINK VEST:
Miss Selfridge, £18.
GREY T-SHIRT:
Very, £20.
PINK T-SHIRT:
TruffleShuffle, £24.99.
UMBRELLA:
TruffleShuffle, £17.99.
MAKEUP:
Stila, £20.
NECKLACE:
Tarina Tarantino, $145.
HANDBAG:
Paul's Boutique, £80.
CLUTCH BAG:
Patricia Field, $80.

I liked Barbies when I was a little girl - but I didn't really play with them properly.
With my plush toys (like teddy bears) I would make up elaborate stories and adventures with them.

But with my Barbies, I would really just dress them up and that was it.
When I was about 8, I had an obsession of creating fashion shows, and even saved up my pocket money for cheap disposable cameras to catch them all on film.
I guess that was my first attempt at fashion journalism in a way?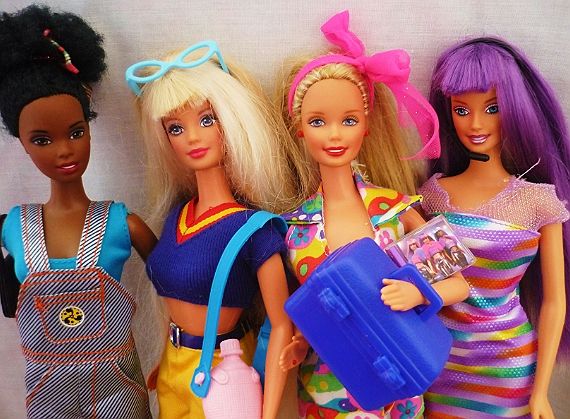 And yes I know that Barbie re-enforces negative gender stereotypes yadda yadda yadda to little girls.
But what I've always loved about her is that she's always re-inventing. Different hair and makeup, different clothing styles
(although she's always loyal to her beloved pink)
and different careers - including astronaut, teacher, doctor/midwife, vet, hairdresser, dog-walker, babysitter and pilot.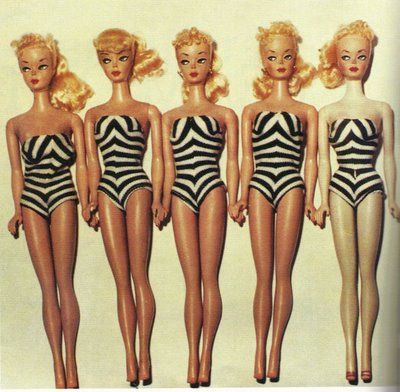 In later years she's even ditched wimpy Ken and had a series of new boyfriends.
However when I went to secondary school (aged 11), I fell out with Barbie.
I was the shy, goth girl who generally got made fun of by the skinny, pretty blonde girls - in one: Barbie girls. (Calling such girls 'The Plastics' has funnily enough come in vogue!)

I think that I freaked my poor mam out when she found me covering my dolls in Sharpie pen, cutting their hair off and adorning them with offensive tattoos and intimate piercings.

And while I was reading up on Barbie's history for this post - I found this interesting article that girls destroying their Barbie dolls is a rite-of-passage, which totally makes sense.
Tween girls are prone to fall out with their friends - and Barbie is just another one of them. We've since made up, don't worry folks!

So how about you guys?
Were you good friends with Barbie and her clique as children?
Or did you think she was just a silly, brainless idiot?
I'd love to hear your opinions!

I'm coming up to 300 followers, which I am so amazed by. I'm honoured that so many of you think my little ol' blog is worth reading.
I'm planning another giveaway for after I reach the 300 mark - but this may have to wait until late in June, as I'm currently saving all my money for my New York trip, which is happening in just over a month.

But I'm already planning, honest!
Muchos love,
MessyCarla.
PS:
HOW excited are you guys for Toy Story 3?! This scene made me smile so much!
"Nice ascot!"