Hey everyone,
UPDATED 1/12/2010:
I now used a couple of different products on my red hair, so be sure to check out these videos:
And the second has lots of information on keeping red hair really bright and vibrant:
Original post:

First of all, a big HELLOOO to the hoards of newbies here, who found my little place on the interwebs
via Young Fat & Fabulous
.
It was a complete honour to be chosen as
this month's YFF Girl of the Moment
, as Gabi and her blog are major inspirations for me.
So thank you, thank you, I hope you enjoy reading, and thank you for all your lovely comments both on YFF and here!
Secondly, THANK YOU for your birthday wishes via comments and Twitter. I turned 21-years-old yesterday! You lot are too nice to me, sometimes!
I got some wonderful gift and can't wait to share them with you soon.
Right, now onto business.
Lately I've been getting lots of emails about my hair - mostly about the colour, what dye I use, how I take care of it etc. And I've replied back as best I can, but I always think it's best to see pictures of the products so I'm going to share here what I use.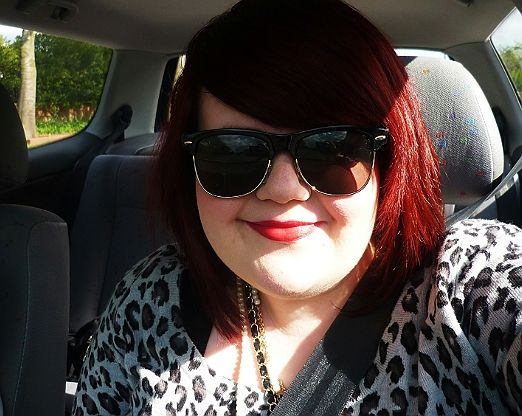 Having red hair is awesome, and I believe there's a shade of red for everyone - from neon tomato red, to deep auburn!

If you haven't dyed your hair red before and are unsure - I'd at least recommend trying a semi-permanent dye, or ask your stylist for advice (most salons offer a free consulation).
Red fades very easily, but is near-impossible to completely remove from your hair if you don't like it, short of dying it a darker shade on top.



1: The Dye Job.
I've been dying my hair for nearly ten years now, and I am so loyal to
Schwarzkopf's Live XXL
range of hair dyes. I've tried their brown, purple, black, and black/blue and they're all incredibly beautiful.
At the moment I'm using the colour
'Real Red'
: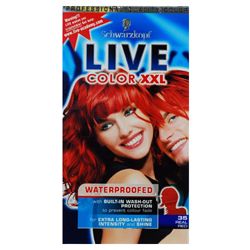 £4.79 from Boots.
It looks really intense on the box, but will only probably come out that colour if you bleach your hair beforehand. I only had blonde highlights, and with the dye on top they really shine through and give my hair a bit more texture - so I would recommend doing that.

I've had to use this dye twice. First time, my hair was quite thick and longer than it is now, so I still had some brown patches - especially in the bottom layers of my hair. So I waited a few days, then dyed it again.
The instruction booklet suggests that when you first apply (ie: not just topping up) you leave the dye on for 30 minutes, but my rule of thumb is leaving it on for an extra fifteen minutes. In my personal experience, the dye has always came out a little more intense, and lasted longer.

It's always recommended to do a strand test, but if you are going for the extra fifteen minutes, this is essential!

Also, if you have long and/or thick hair, I'd reckon get two boxes as sometimes I don't think it goes very far!


2. Upkeep.
So now you have gorgeous, glossy red hair - you'll want to keep it that way, right?
Red hair is famously difficult to keep as it fades so easily, so you're gonna have to invest a little extra money into caring for it.
But don't let this put you off, as the products I use are to be used after shampooing - so they're very easily inserted into your regular haircare routine.
First, you'll want to buy a colour-care shampoo. I've tried a lot of non-colour specific ones, like Tresemmé and Herbal Essenses, and they all seem to do the same thing.
However, I use
Radiant Red by John Frieda
, which
(as you can probably tell by the name!)
is specific for redheads - natural and faux:


£4.89 from Boots
This is the BEST shampoo I've used for colour care. This hasn't faded my hair at all, and keeps it very glossy and shiny. And a small amount goes a long way with a lovely lather.

There's also a conditioner in this range, but instead I use John Frieda's Radiant Red Colour Glaze: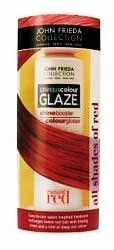 £6.99 from Boots.

This is a gorgeous "shine booster and colour glosser" intended to recharge coloured hair. It conditions and also has a small amount of deep red dye mixed into the formula.
It's quite an odd consistancy - very runny and you have to be careful not to spill any in your bath or shower or this stains like MAD!
Basically you applied this while you're still in the shower to still-wet hair, and leave on for at least three minutes. This is great if you're in a bit of a hurry and want a quick boost for your hair.

But I love me some leave-in conditioners, so what I did was with towel-dried hair, applied a medium layer of the product through my hair, put on a shower cap and kept it on for a few hours.
Afterwards my hair felt deliciously soft and shiny and the colour was definately topped-up. I was a bit put-off at first, as my hair seemed darker (the colour in the Glaze is a DEEP red, remember), but this lightened after I next washed my hair.

The only problem I have with this, is the amount you have to use. This can be fine for lots of people, but when I condition my hair, I usually only have to use a pea-sized drop for my whole head as I have very fine hair, and lots of conditioner weighs it down.
But if I only used a small amount with this, I don't think I'd get the same result with the colour boost.

So every other week, I instead top up with Pillar Box Red by Manic Panic: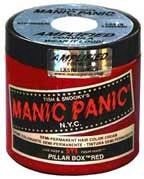 £7.00 - available from punk/goth shops, or online. I use BeeUnique.co.uk.
Anyone who spent their teenage years as a goth/punk/emo etc. will recognise this brand. They're famous for wild, weird and wonderful colours.
If I applied this to blonde hair, I'd get a neon-red look. But this is fine for me just to top up with.
So after shampooing, once a week, I put a generous amount through my hair, stick on my shower cap and leave it for a few hours when I'm pottering about the house.

(NOTE: DO NOT use these techiniques when you have company! At least company you wouldn't want to see you in an grotty old-maid shower cap!)

So yeah, that's what I do to keep my hair vibrant and healthy.
I've tried to cover as much as I can think of, but please just ask away if you have any other questions!

So I hope this helped some of you redheads - and potential redheads out there.

I handed in my last Media theory essay today, and I only have a few more assignments to complete, so I'm planning lots of lovely posts for you guys.
Luckily, I've been feeling very inspired lately.

I'll probably post about what I got for my birthday tomorrow! I had such a lovely day.
All my new followers may not know, but I'm also on Twitter - feel free to follow me there too.
I tweet about fashion/beauty, and also personal Tweets so you can get to know me a little better!
Muchos love,
MessyCarla.