Hey everyone,
Me and my sister have a bit of an obsession with TK Maxx and one of my favourite sections is the beauty department. Though they stock recognisable brands such as Stila, Kiehl's, Orly and Elizabeth Arden, there are lots of international brands to browse too.
I recognised a few names such as Bioderma, Caudalie, KMS and Ahava from when I was subscribed to Glossybox.
But as my sister went and browsed for picture frames for her new flat, I spent well over an hour reading labels and deciding. I was sure I was about to be moved on at one point for loitering.
Anyway, this is what I came home with:
1. Natural Eve Problem Solving Balm (15g), £3.99.
At nearly-twenty-four-years-old I can't believe I still have problem skin. At the moment, I'm having a lot of break outs around my chin area, and usually they are just too sore to pop (TMI, sorry). It can also be used for itchy bites and stings, dry or irritated skin and minor grazes and bruises so it's nice and universal.
It comes in a little pot, which has the same texture as a lip balm and has quite a strong, but not at all unpleasant smell - you can definitely get a whiff of the tea tree in there.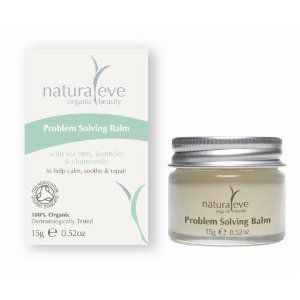 I've been using this for the past week and my skin has definitely improved, and is not as sore anymore.
2. Mogador Restorative Shampoo (250ml), £3.99.
A haircut and several treatments later, my hair is still suffering from Post Australian Summer Stress Disorder. I'm using lots of conditioner, but worrying that the 'drugstore brand' shampoos are actually stripping my hair. I've experimented with using Lush shampoo bars but they can sometimes make my hair a little flat - especially as I have such fine hair.
It has a very musky, incense-like smell and reminds me of a the Paco Rabanne One Million fragrance
Daniel
wears. Definitely different to the fruity shampoos I'm used to!
It's ingredients include Moroccan argan oil, organic shea butter and organic jojoba oil, and is paraben-free - so hopefully I will see a difference soon with a more gentle cleanser.
3. Argania Spinosa Organic Argan Oil Special Treatment Masque (500ml), £9.99.
The shelves at TK Maxx were full of the Argania Spinosa products which caught my eye as their packaging is quite similar to MoroccanOil - one of my daily hair essentials.
The range included shampoos, conditioners and the concentrated oil - but I decided to go for the mask treatment as it is especially for dry hair and as I got the salon size for £9.99 I considered it the best value for money. As the name suggests it is loaded with Argan Oil, which is rich in Vitamin E and has high repair qualities.
It smells just like the MoroccanOil products and looks and feels very thick, creamy and luxurious.
I've worn this twice the last week

(left on overnight

*

)

as my hair really does need some TLC, and I can already see a difference in the ends. So I 100% recommend this!
Would you believe during my fifth year writing this blog I have finally started blogging about beauty?
I'm no expert by any means, but I'd like to start a monthly favourites feature - which I know is by no means original, but I love reading them.
And it may not always be beauty - I might sneak some clothing items in there, or even a book!
Muchos love,
MessyCarla
*
I was also wearing my green
Mask of Magnaminty
from Lush and a Crest Whitestrip so scared the life out of Papi B when I came out of the bathroom.