Hey everyone,
As of today it is three weeks until I leave my small town and
embark on a trip to the other side of the world
.
I'm flying on 20th September, but I'm travelling down to London the day before with my lovely friend
Lauren
who has offered to wave me off.
We're seeing two musicals
(Matilda and our favourite, Les Miserables. Including the nights I was in it at school, this will be the ninth performance of the show I'll have seen!),
then going for drinks before I have to get up at the crack of dawn to catch a tube to the airport.
I have three days in Hong Kong, then I'm off to Sydney!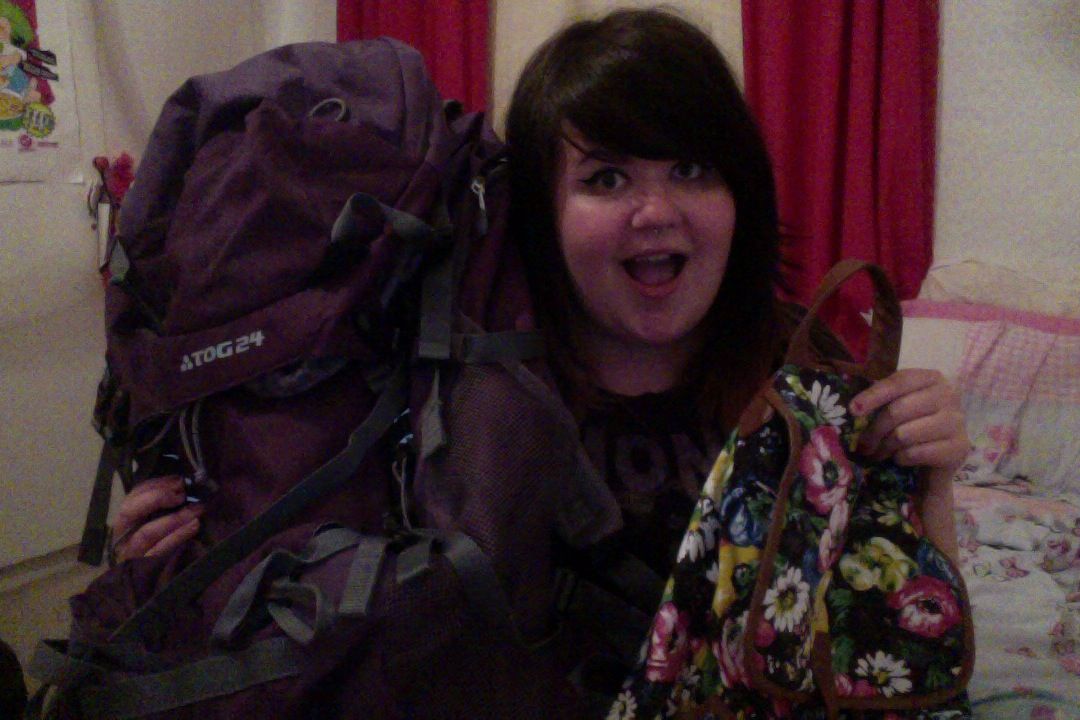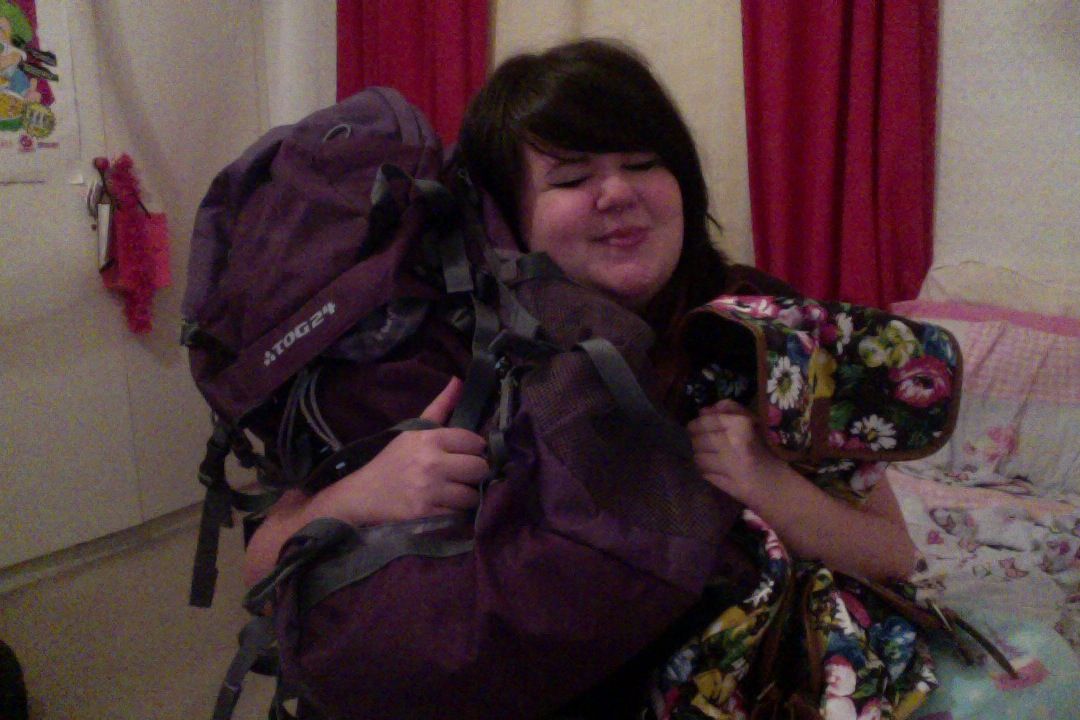 With my two bags - my purple 45l backpack from Tog 24, and my little floral 'day pack' from ASOS.
My packing is going pretty well - I'm just in the process of getting my last few bits and bobs.
Things like: travel plugs, a new SD card for my camera, a new USB to backup photos and documents, a padlock for the hostels with lockers and a bike lock for those that don't. As well as stocking up on my medication - including my antihistamines and asthma inhalers. (I am one of the cool, wheezy kids!)
Thank goodness for travel blogs - I've picked up so many tips and tricks from veteran travellers.
Like I wouldn't have even thought to take an empty duvet cover to snuggle in if I go to a hostel which is a bit lacking in hygiene.
(When I was in uni, one of my friends' student house had an outbreak of scabies due to the mattresses never being cleaned or changed, and I've had a fear of parasites ever since!)
I've been in contact with the 36 people I'll be travelling with and they seem like a sound bunch.
It's nice that we all travel the twelve hours to Hong Kong together, where we share rooms, go on tours and have meals together - then half of us to go Australia and the other half go to New Zealand. It'll be nice having contacts in New Zealand however, as I hit Aukland on my journey home!
Anyway I've rambled a bit off topic - but what I really wanted to do is have a wee chat with you guys as to what you'd like to see on this blog when I'm on my jollies?
I bought a little netbook for just £100 from a lovely lady I found on Gumtree, which I'll be using to book hostels, contact home, store photos - but also keep you guys updated as much as I can.
However I'd like to ask what sort of content you would like to see?
Would you still like specifically fashion and shopping posts?
I don't intend to do a LOT of shopping as remember that everything I have will be strapped to my back for the next X months.
But, if you'd like to see shopping areas, markets, changing room snaps plus the odd
Outfit Post
if I can find someone to snap me?
I know I've started adding a bit more lifestyle into this blog - but would you guys be interested in seeing what I'm getting up to day to day down under?
Places I've visited, food I've eaten, people I've met etc.?
Please let me know, as I always appreciate your thoughts - as after all, you're the ones who read my rambles!
So come on - holler at me!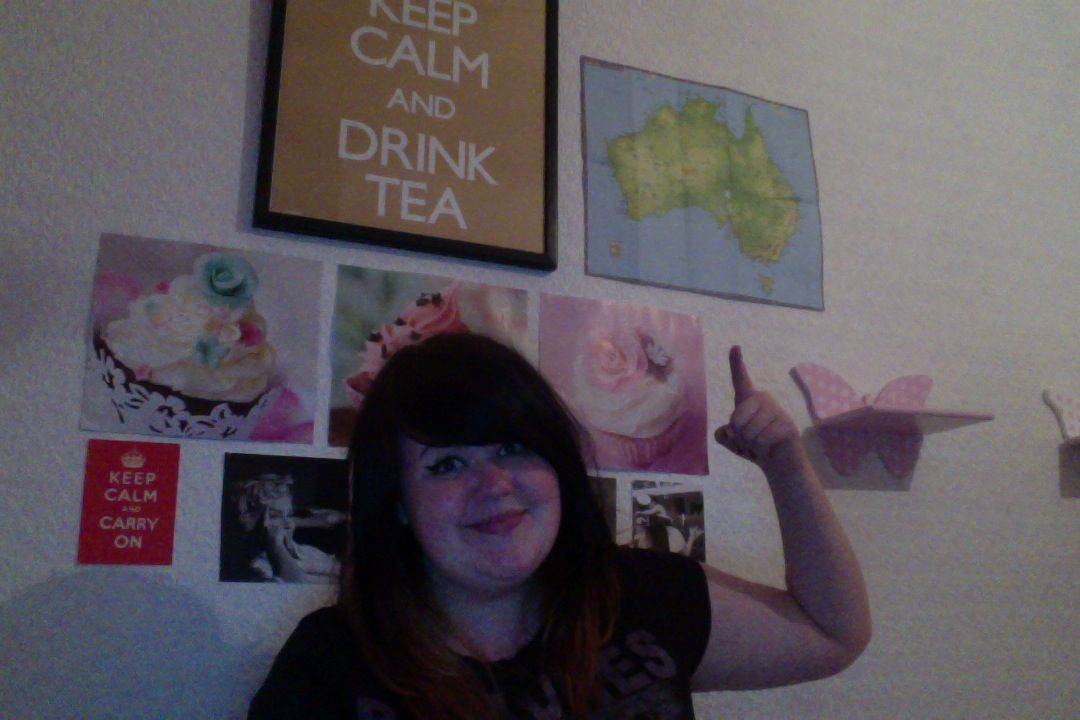 Lonely Planet sent me a map, so of course I hung it on my wall.
I'm not going to last two minutes, am I?
Muchos love,
MessyCarla.