Hey everyone,
This is a post I've been planning for a little while now - I believe that no matter your shape or size, having well fitting underwear is key!
Not only does it make you feel more confident, but it also compliments your clothes, making them fit better.
Confession time!
Until I was 18-years-old, I had never had a well fitting bra. Ever.
I lived in plain, white sports bras, as I thought they were the only kind that stocked my size.
It used to make me so depressed going shopping with my friends in specialised lingerie boutiques on the high street, and see them buy such colourful, interesting and versitile pieces - when I knew that my own underwear came in a box
(I remember it being the same shape as the ones you buy tights in)
, in the sportswear section of a department store.
However, things have come leaps and bounds in the past few years - with new brands offering extended sizes
(And yes, I mean both cups and backs!)
for us to fall in love with.
Like I said, I've been planning this post for a little while - in which I discuss my favourite places to buy underwear.
However as if right on cue - Plus Size Lingerie got in touch with some of their pieces, and
I couldn't resist giving them a shout out
!
Here are some of my favourites from the website: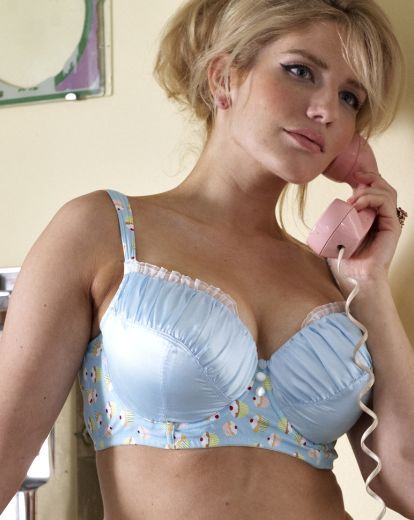 Simply Yours
(Back size:

32 – 48 and cup size B – H

)
Well, Simply Yours have certainly gone out of their way to combine my favourite things - cupcakes, pastels, lace and beautiful underwear.
This is so sweet and dainty, so will feel wonderful underneath a clean, crisp summer dress - and since there are cupcakes on the straps, who care if people get a glimpse of them anyway?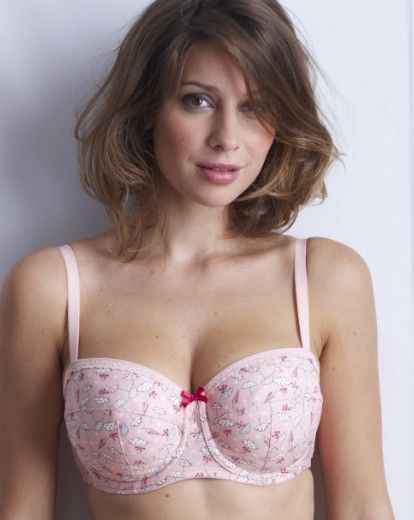 Joe Browns
(Back size

34 – 46 and cup sizes B – G

)
Yet again I'm featuring a bra with a beautiful design - they're umbrellas! It is also a balconette, which means it is cut slightly lower than regular bras, which is perfect if you want to wear a lower cut top or dress in the hot summer months (fingers crossed!).
Balconettes also lift your bust, taking the pressure off the delicate shoulder straps.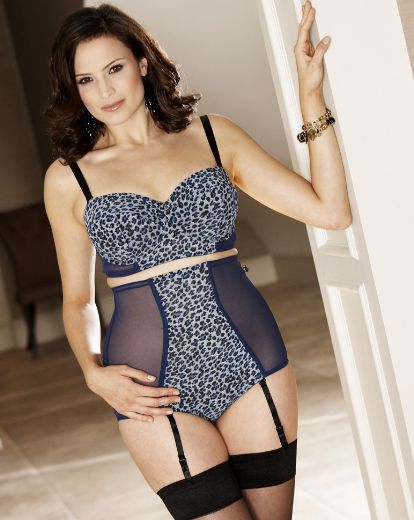 Gok Wan
(Back size 30 - 46 and cup sizes A - G)
I have this bra myself, and I absolutely love it! The cups and cushioned without adding extra weight, the longline shape makes me feel very 'tucked in' and secure. The straps also also detachable, if you require a strapless bra for another look.
Personally, I think this bra is just too pretty to be kept hidden - and it's definitely possible to make it part of your outfit with a sheer top or blouse. Black for a more reserved look, and a lighter shade if you're a bit more daring!
I know that opinion is split when it comes to shapewear.
Personally, I do have a few shapewear pieces, but I don't wear them a lot of the time.
However, when I do want to wear something particularly close fitting - especially
my favourite black bodycon party
dress
- it does give me extra confidence whilst wearing something outside my comfort zone. It's just another stepping stone in my personal journey to complete self acceptance.
But I digress - back to the undies!
With the large range in cup and back sizes, the Gok range has been a winner for bloggers during the past few years. Check out
Lauren's
review
here
, and also
Em's
reviews
here
and
here
.
As to not overwhelm this post with lots of pictures and information, please consider this part one or two as I have so many more brands to talk about!
Muchos love,
MessyCarla.
DISCLAIMER: This post is in collaboration with PlusSize-Lingerie, however all words and opinions are - as always - my own!