Hey everyone,
A little while ago I was contacted by
Feel More Better
(previously Off Our Chests)
an online magazine - who are launching a collection of t-shirts called
StoryTees.
They are called
StoryTees
, as every t-shirt has an empowering message, and also for every t-shirt sold - Feel More Better donates a book to an underprivileged girl.
One in particular is the
Not PhotoShopped
shirt, released alongside the proposed
Media and Public Health Act
, which hopes to pass federal legislation requiring advertising and editorial that meaningfully change the human form through photoshopping or airbrushing to carry
"Truth in Advertising"
labels.
You can find t-shirts
here
and are available in a large range of sizes.
(The one I'm wearing below is a size 3 and it's huge on me!)
Here are some shocking statistics:
42% of girls in grades 1-3 (7-11 year olds) want to be thinner.
51% of 9-10 year old girls feel better about themselves when they're dieting.
53% of 13 year old girls are unhappy with their bodies; by the time they're 17, 78% of them will be.
By the time they're 17, these girls have seen 250,000 TV commercials telling them they should be a decorative object, sex object or a body size they can never achieve.
7 million girls and women under 25 suffer from eating disorders. (myNEDA.org)
40% of newly identified cases of anorexia are in girls 15-19 years old. A rise in incidence of anorexia in young women 15-19 in each decade since 1930. Anorexia has the highest rate of mortality of any mental illness. (myNEDA.org)
80% of women feel worse about themselves after seeing a beauty ad.
$20B is spent on beauty marketing in the US annually.
Nearly 25 million people - male and female - are suffering from anorexia, bulimia or binge eating disorder. (myNEDA.org)
3-12% of teen boys use anabolic steroids in pursuit of a lean, muscular ideal.
Now the campaign is going guerrilla:
Today on the 10th June 2012, 30 girls (including myself) are going to wear their shirt, styled as they wish and post it to their blog - hoping to reach potentially tens of thousands of people.
EDIT:
28 bloggers ended up taking part -
you can see all the photos and blogs by clicking this link
!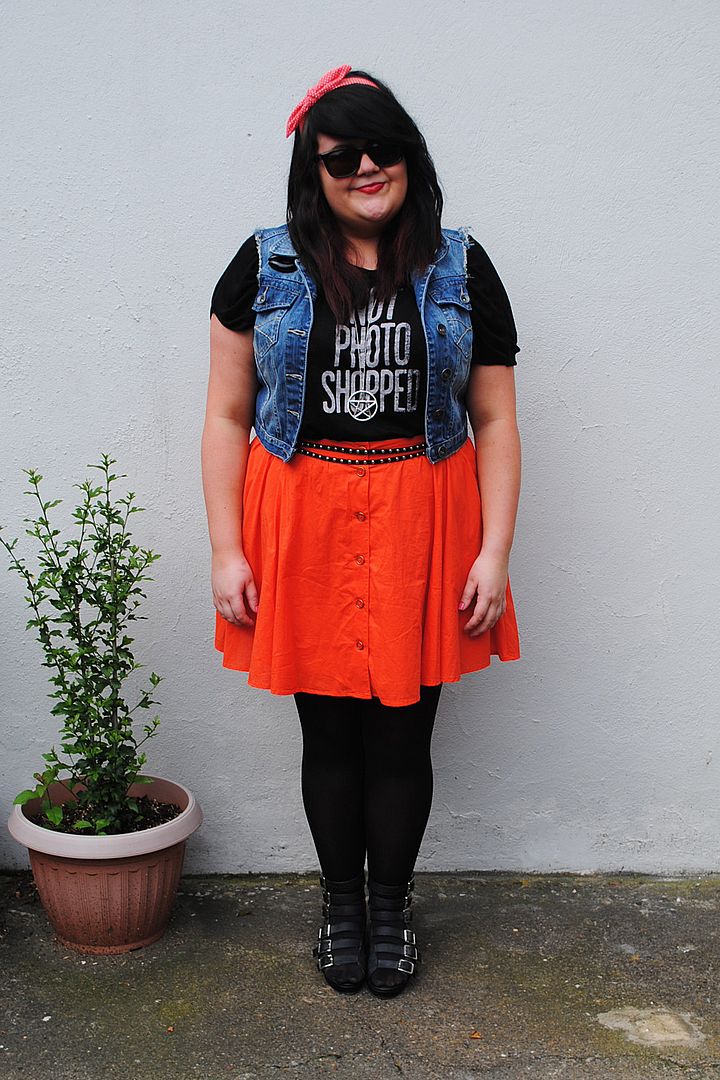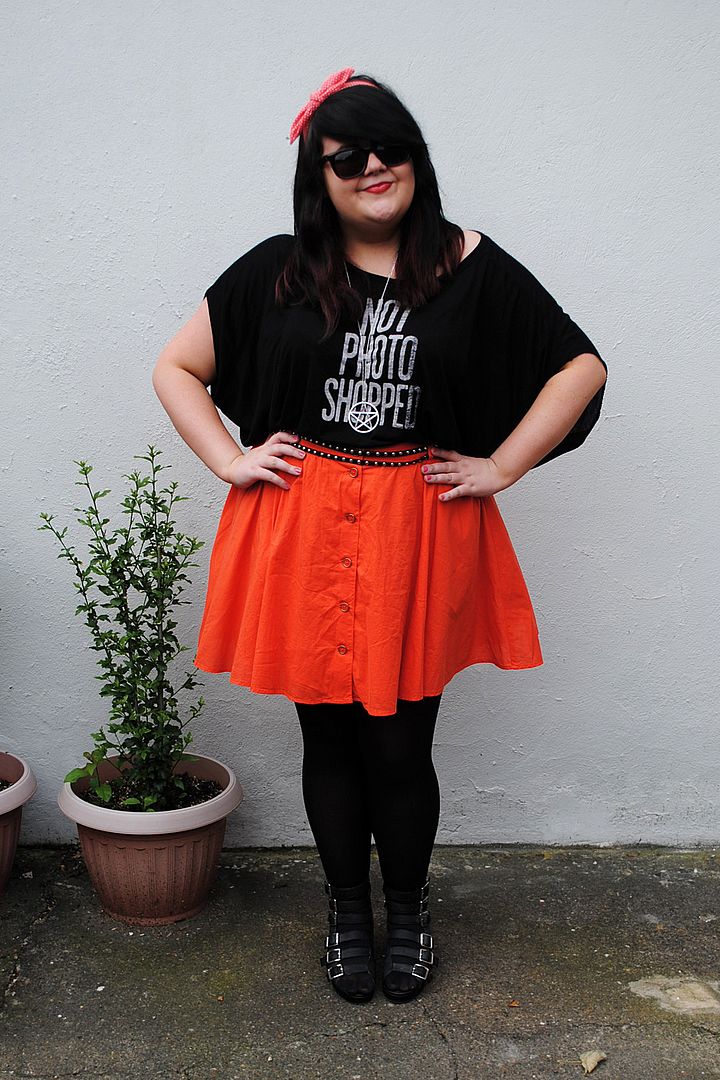 SKIRT: Red Herring
GILET: Dorothy Perkins
SUNGLASSES: Vintage Foster Grant (my dad's from the 1980s!)
HAIRBAND: New Look
NECKLACE: Urban Outfitters
SHOES: Office
POINT OF FASHION: Not Photo Shopped
One of the real joys of reading blogs for me, is seeing how pieces look on a 'real' body - and yes, all bodies are 'real' bodies - whether that body is a size 0 or a size 32+!
Sure, it's lovely when some retailers have handy 360 views, or even a short video of a model sashaying down a catwalk - but there's something about seeing how an outfit hangs on an everyday person you would see in the street that I personally find very inspiring.
I think that some big names in UK fast fashion are quite rightly jumping on this idea, and just a few of these include:
It's all happening!
And I hope today you're all feeling more better. Because you're made of awesomesauce.
All of you!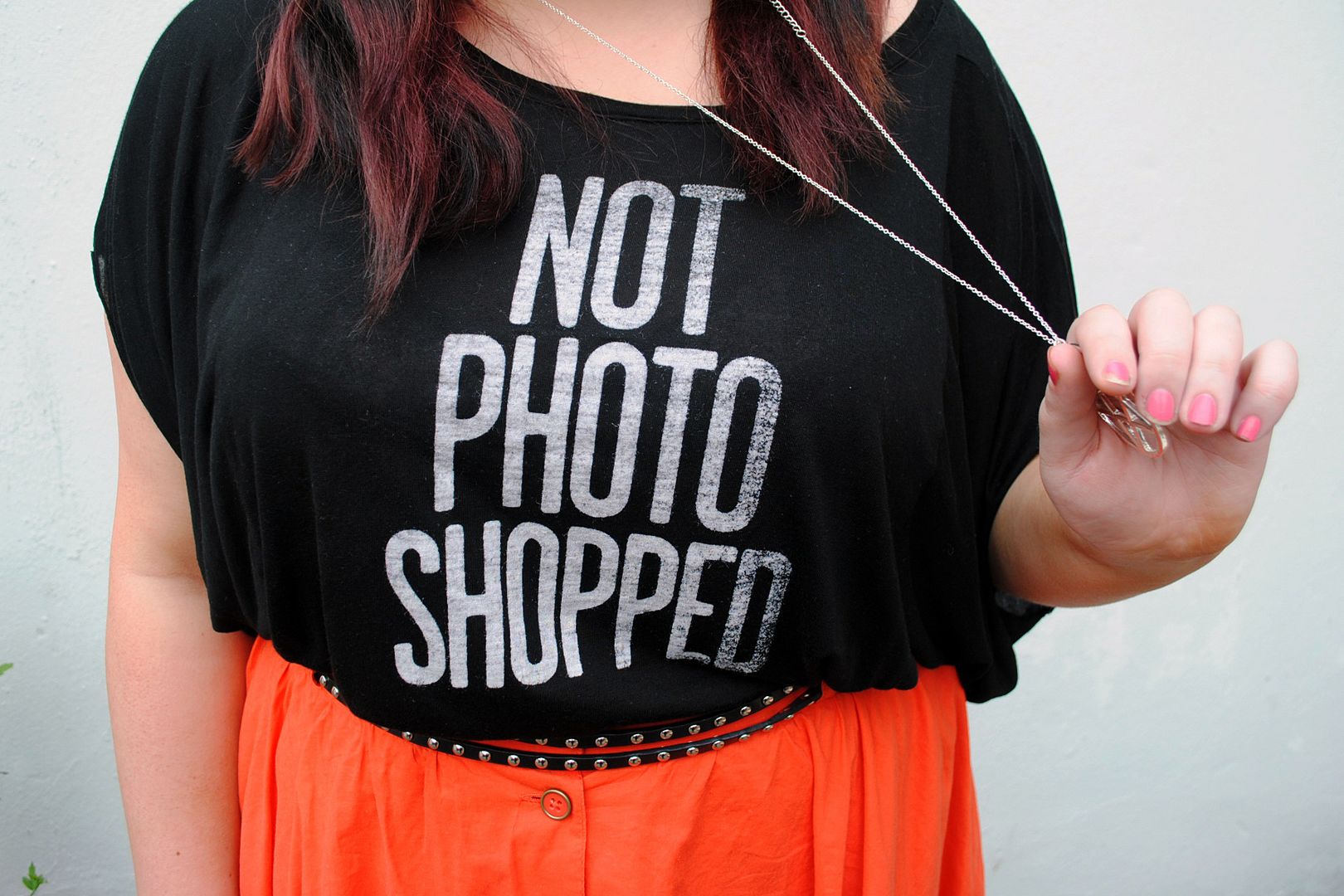 Muchos love,
MessyCarla.
PS: Apologies I've been AWOL the past week - the building work on our house has begun, and although the contractors seem friendly enough, I don't fancy posing in my yard while they stare at me slightly confused, haha!
I also stayed with
Lauren
in London this weekend for
Unskinny Bop
- and also to hang out with my friends Sam and Hattie who currently live in Radlett.
I planned on posting lots of pictures from my time there - mostly of delicious food - but my phone got caught in the rain and unfortunately I've lost most of the photos, which I'm a bit gutted about. But rest assured, a marvellous time was had!
DISCLAIMER: Shirt sent courtesy of Feel More Better. I was not paid to blog about this campaign. All words and opinions are - as ever - my own.