Hey everyone,
Warning...bingo wings at high noon!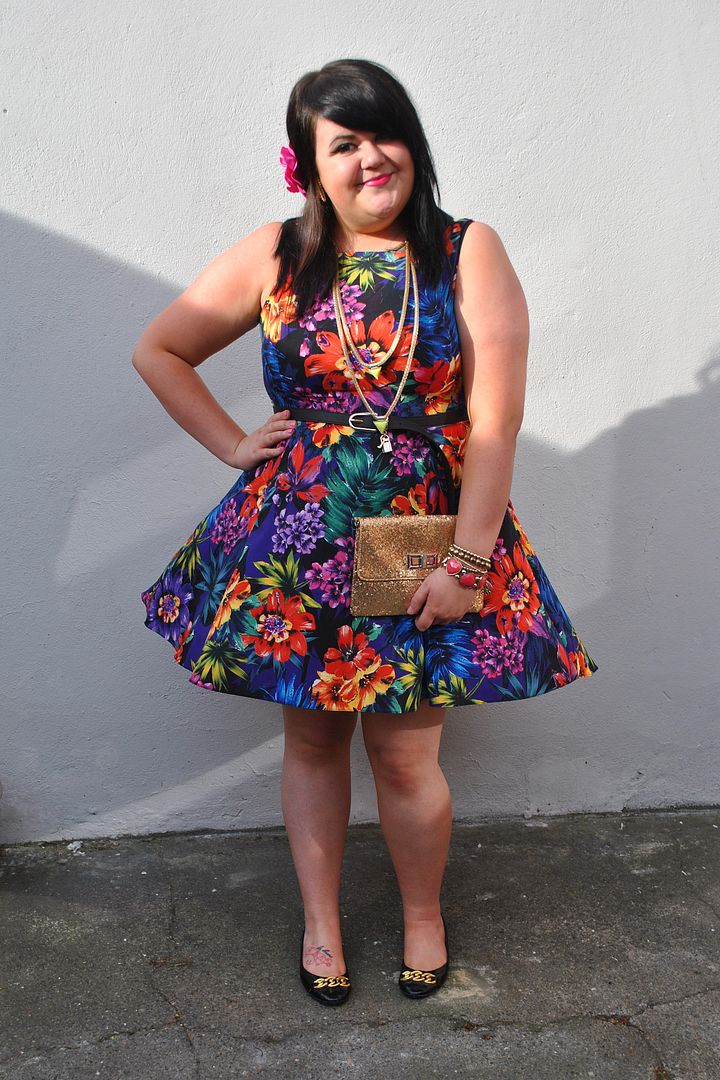 DRESS: Red Herring
BELT: Dorothy Perkins
NECKLACE:
Present from
my sister
, via Topshop
EARRINGS: Dorothy Perkins
HAIR FLOWER: H&M
BAG: Forever 21
BRACELETS: New Look
SHOES: Primark
And so my love affair with tropical florals continues.
You may notice that I am flashing my bare arms for the first time in recent memory. I often get asked in the comments section why I always wear cardigans and tights, even on really pleasant days.
I have a
(quite common)
skin condition called
keratosis pilaris
on the upper outside of my arms, where it's been since I was a child - but in recent years has started to develop on my forearms and legs. If you're not sure what this is, it basically means I have little red marks on my skin which look like slightly aggravated goosebumps.
It's one of those things that people tend not to notice until I point it out, but it doesn't stop me feeling self-conscious.
There is no 'cure' as such, but there are certain remedies that are supposed to help it along - one of the most popular being continually moisturising and exfoliating the area, as well as the use of sun beds.
The latter is completely out of the question for me, as beside all the other scary factors I burn at the mere sight of sun - however I've been fake baking for the last few weeks which helps to somewhat disguise the weird red bumps.
One of these days I'll hopefully be able to feel confident enough to flash my pasty, chicken skin off in all it's glory - but for now it's a work in progress.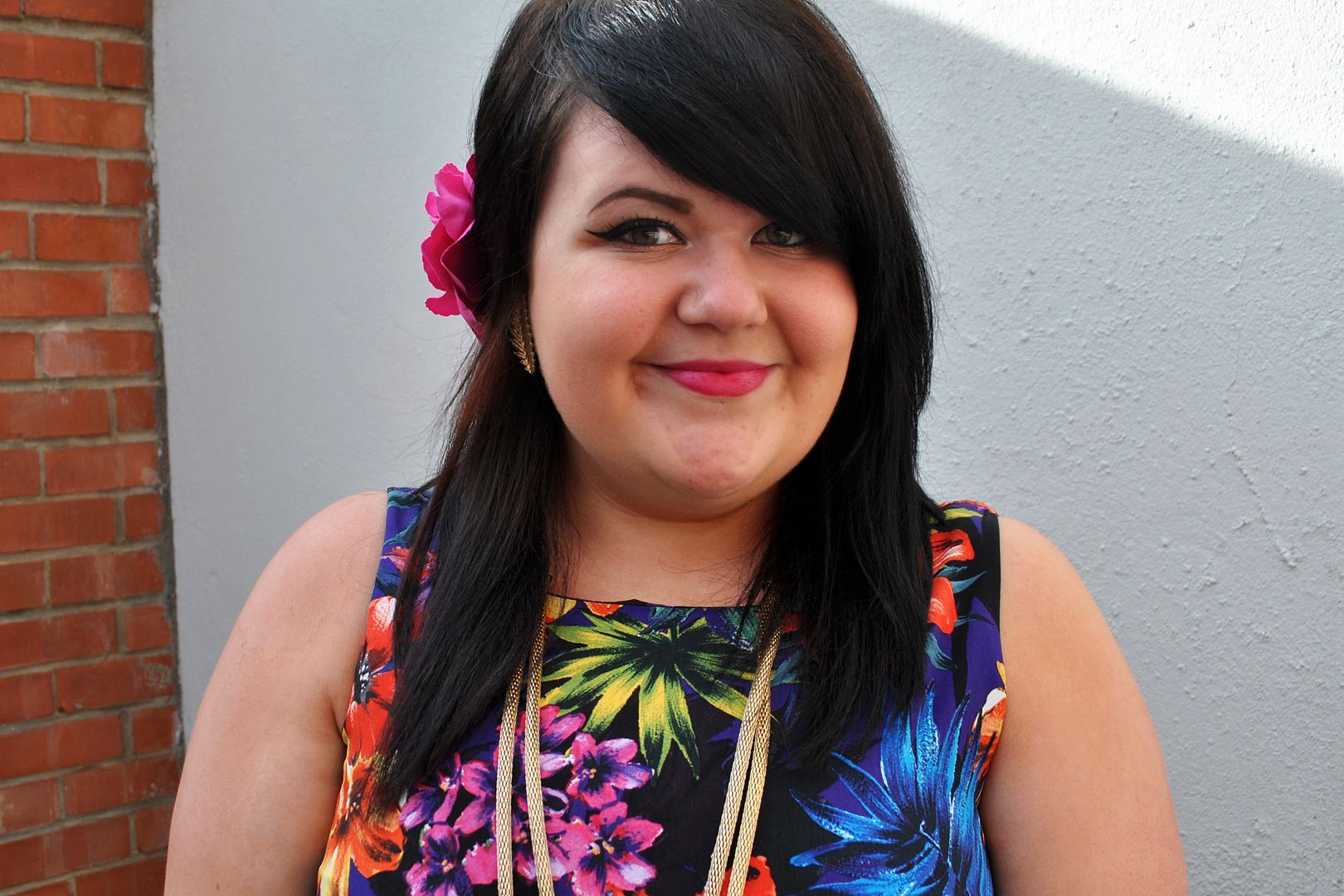 FOUNDATION: Rimmel Match Perfection foundation in 200/Soft Beige
EYEBROWS: Wet N Wild Brow Palette
EYELINER: Barry M in 001/Black
LIPSTICK: Barry M in A Touch of Magic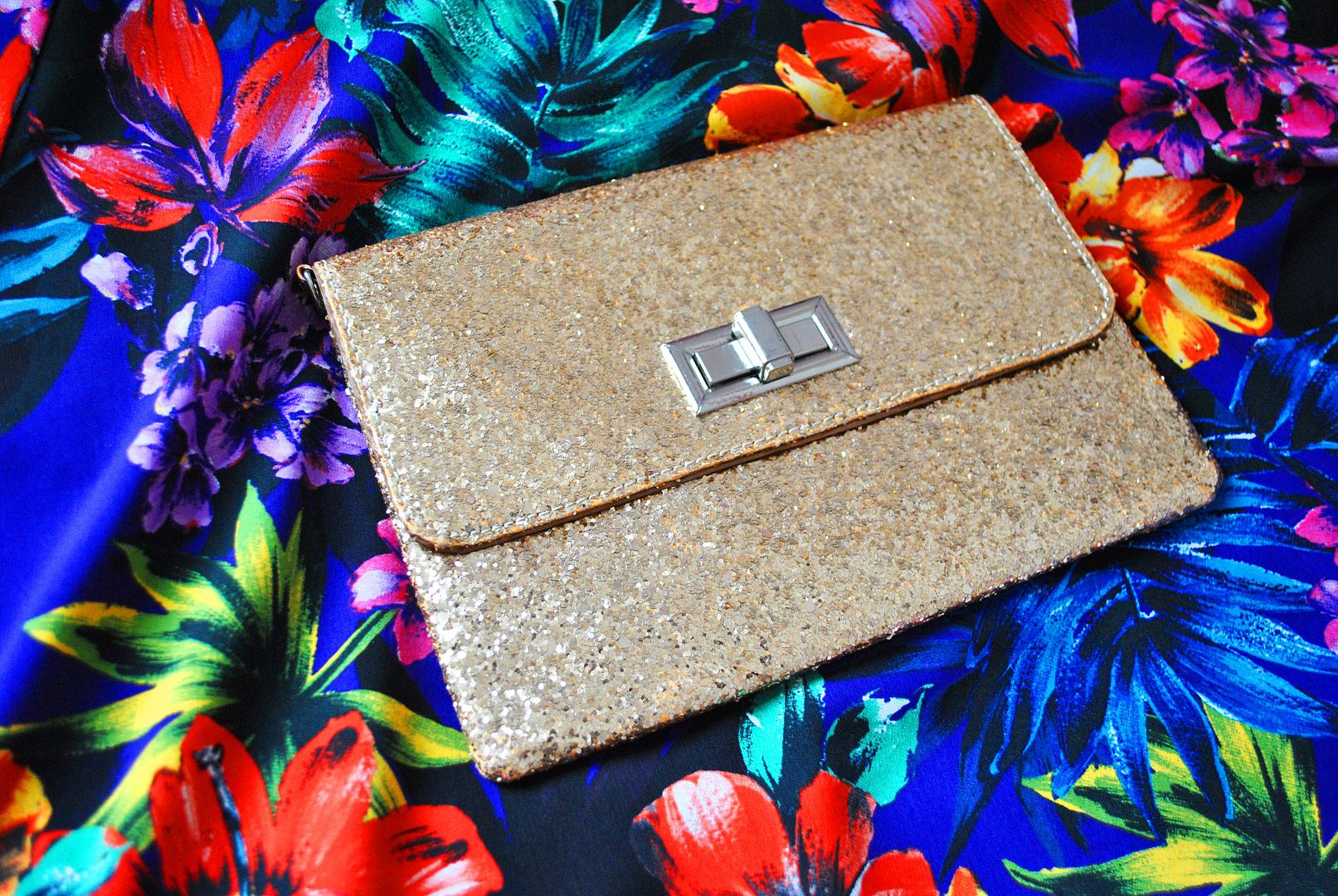 My favourite clutch bag, which was under a tenner at Forever 21.
I can't wait for one to open at the MetroCentre later this year!
(As well as a Krispy Kreme but let's not get into quite how excited I am for that - typical fat girl!)
I've had a quieter week that usual - which always happens when it's the school holidays.
Everywhere is crowded (even the metros) and it's incredibly frustrating attempting to shop at all when people set their little darlings on the loose and they end up playing hide-and-seek in the sale racks.
(As you may have gathered, I'm not a kid person. I'm sure if I ever have one, I'll quite like mine - but for now this particular scene with the little boy eating pesto from Sex and the City comes to mind:)
However, yesterday I had a lovely night out with my old workmates from when I worked at the hostel, and it was such a laugh seeing them again and talking about some of the hilarious things that went on.
I'm sure people who have never worked in a hospitality environment would quite believe some of the stuff that happens - but if anything, they make great anecdotes at parties!
Muchos love,
MessyCarla.
EDIT: OH! I completely forgot to mention the Les Miserables teaser trailer in my last few posts. It's been my favourite musical ever since we performed it at school (I was one of the 'lovely ladies' - nb. spoiler alert! Fun fact - Peter Polycarpou who plays the pimp in this scene came to our school to coach us.) and I don't think I've been quite so excited about a film in a long while!
So I'll leave the trailer here, just in case you'd like to check it out: