Hey everyone,
Just a cheeky quickie today, oh my!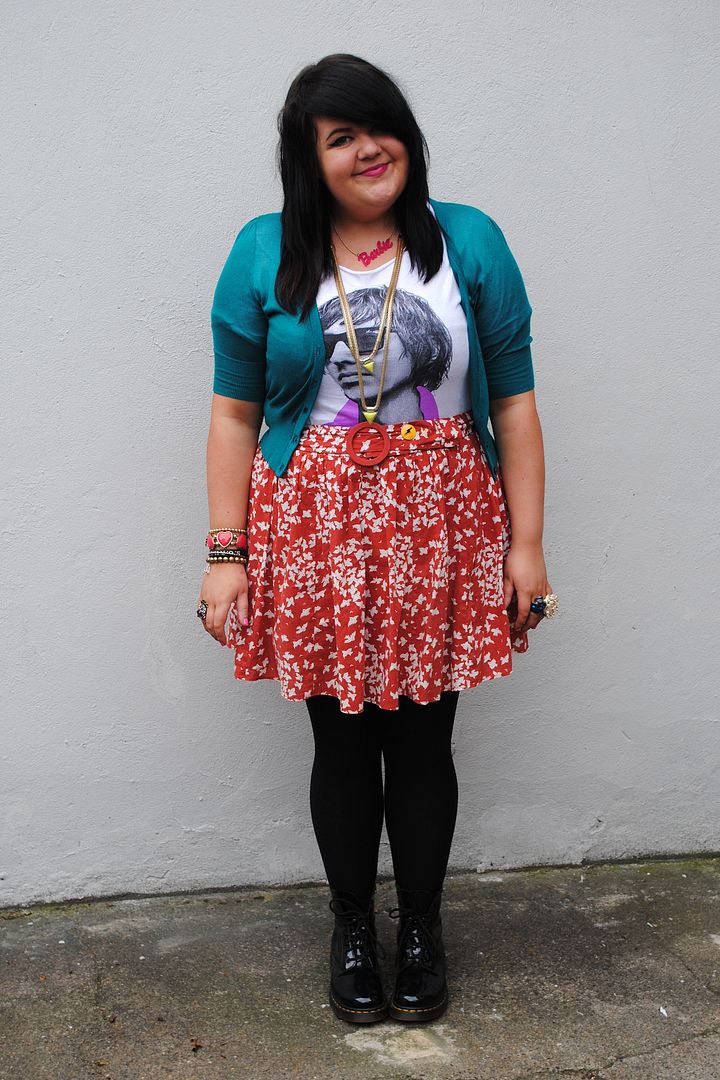 T-SHIRT: Etsy
SKIRT: New Look (circa 2007-ish?)
CARDIGAN: H&M
NECKLACES: Etsy and Topshop
BRACELETS: New Look
RINGS: Dorothy Perkins, Topshop and World Market
BOOTS: Dr. Martens
And yes, eagle-eyed readers will spot the same
Lady Luck Rules OK
(I miss them!)
badge to keep the belt in place!
(I wear band t-shirts to bed and they're all cut into the same shape!)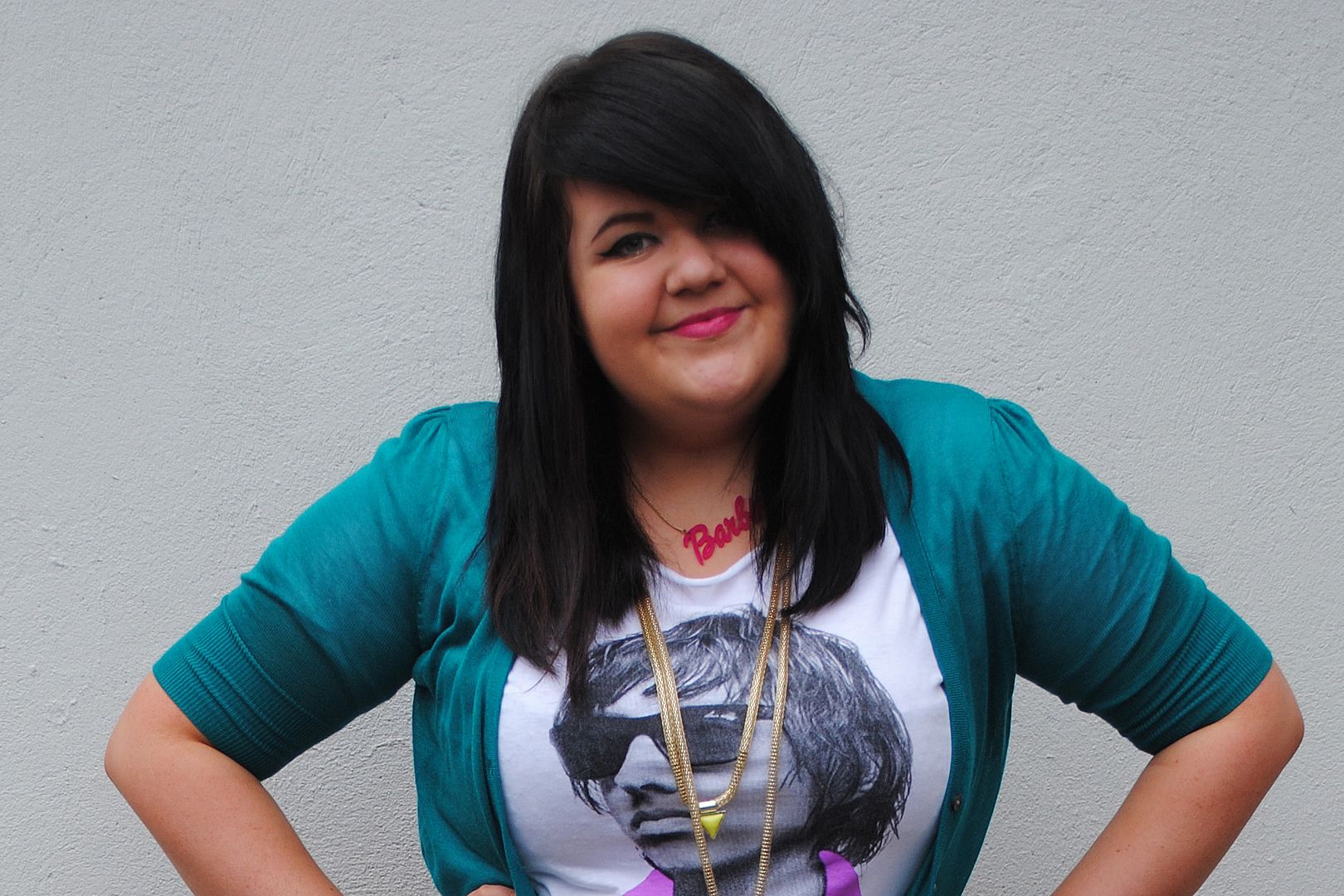 FOUNDATION: Rimmel Match Perfection foundation in 200/Soft Beige
EYEBROWS: Wet N Wild Brow Palette
EYELINER: Barry M in 001/Black
LIPSTICK: Barry M in A Touch of Magic
I apologise that my makeup isn't very creative as of late - it's funny, I feel really creative late at night and cake my face in colours around midnight, then when I get ready in the morning I can never be bothered so just go with my usual cat-eye flick and pink lipstick!
You may have noticed that I'm still fake-baking, even though the weather has considerably cooled over the last week or so.
I've not really talked much recently about what I use or my routine - but just in case anyone is interested:
I first exfoliate my body with a mitt in the shower (or you can use a scrub), then after drying off I quite liberally apply moisturiser. I'm currently using Vitamin E Body Butter from The Body Shop - but any will do!
Then after that has soaked into my skin I use Sexy Skin Gradual Tanning Lotion from Ann Summers, which unfortunately isn't available anymore.
It's such a shame they've stopped making it, but thankfully I did buy quite a few bottles in bulk when they were having a 50% off sale. So as I'm onto my last bottle, I also experimented with using St Moriz Self Tanning Mousse in 'Medium' on top of a lighter layer of Sexy Skin (just in case I didn't like it!).
St Moriz is supposed to give more of a brown/bronzed toned tan, making it appear a more natural glow than most fake tans, which tend to turn out orange based - and I definitely think that's true.
I personally couldn't see a great difference as I've been used to my fake-bake for the past few weeks - but
Daniel
noticed straight away that my tan was a different shade, so it just goes to show!
St Moriz is slightly messier than the Sexy Skin, which goes on like a moisturiser and builds up to a tan after a few hours (very similar to Johnson's Holiday Sun).
On application, it looks very streaky and 'muddy,' but after showering this layer comes off to reveal a very even, natural looking tan underneath! So I'll definitely be repurchasing this when my last bottle of Sexy Skin finally runs out (le sob!).
Phew, apologies for the mini essay!
I'm sorry I don't have any extra photos from my adventures to show you as per usual, but
Daniel
and I just had a chilled day after I stayed up until 4am watching The Tony Awards which were marvellous, as expected.
I was so glad that Judith Light won her category, and that Alan Menken (one of my heroes) finally won a Tony after eight Academy Awards, seven Golden Globes and eleven Grammys! Hugh Jackman being presented his award by his wife when he thought she'd just popped to the loo was hilarious, too!
Of course, Neil Patrick Harris was the perfect host all night and I loved his musical numbers - especially "What If Life Were More Like Theatre":
Wow this has been a wordier entry than usual hasn't it?
I'll stop now.
I Promise.
Muchos love,
MessyCarla.
DISCLAIMER: All products mentioned I purchased with my own money apart from the Sexy Skin Gradual Tanning Lotion which was sent to me to review, however I went on to repurchase myself as mentioned. All opinions are - as ever - my own!