Hey everyone,
So the beautiful weather we've been having has slowly turned to overcast and muggy.
However, my tan remains - it's half real, and half fake-bake after I sat out in the sun for an hour too long and ended up resembling a lobster.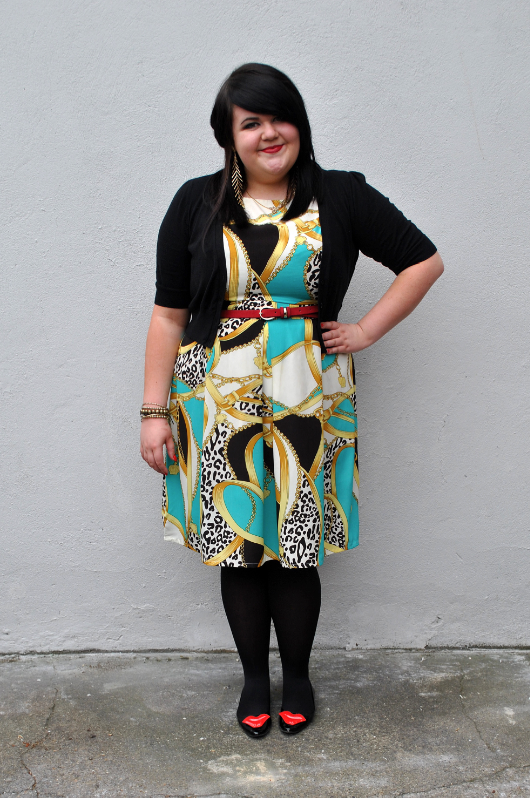 CARDIGAN: M&S via eBay.
BELT: Dorothy Perkins.
NECKLACE: Punky Pins.
EARRINGS: Dorothy Perkins.
BRACELETS: Various.
SHOES: Office.
POINT OF FASHION: Green, gold chains and red.
This dress
was very kindly send to me from
AX Paris
and it is from their new
Curve
line which runs from size 16 to 26.
I'd heard mixed reviews from bloggers on whether the line is true to size, so I ordered an 18 and it fits me perfectly with no clinging.
I'm only 5'4 however, and will probably take this up to just above my knee - I just feel more comfortable with dresses that length. But it's utterly gorgeous, with lovely lightweight material!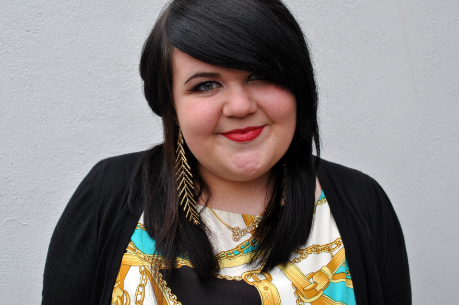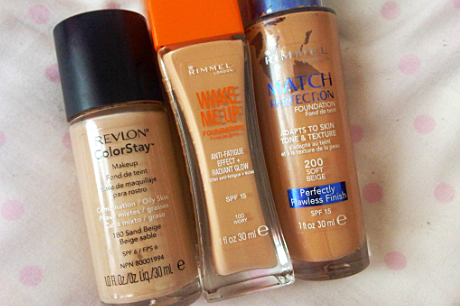 The thing about having a bit of a tan means I have to break out my 'summer foundation' so I mix the darkest one with a bit of the others. I'm so used to being pale blue, it's a bit of an experiment to get the right mix.
So what else have I been up to in the past week?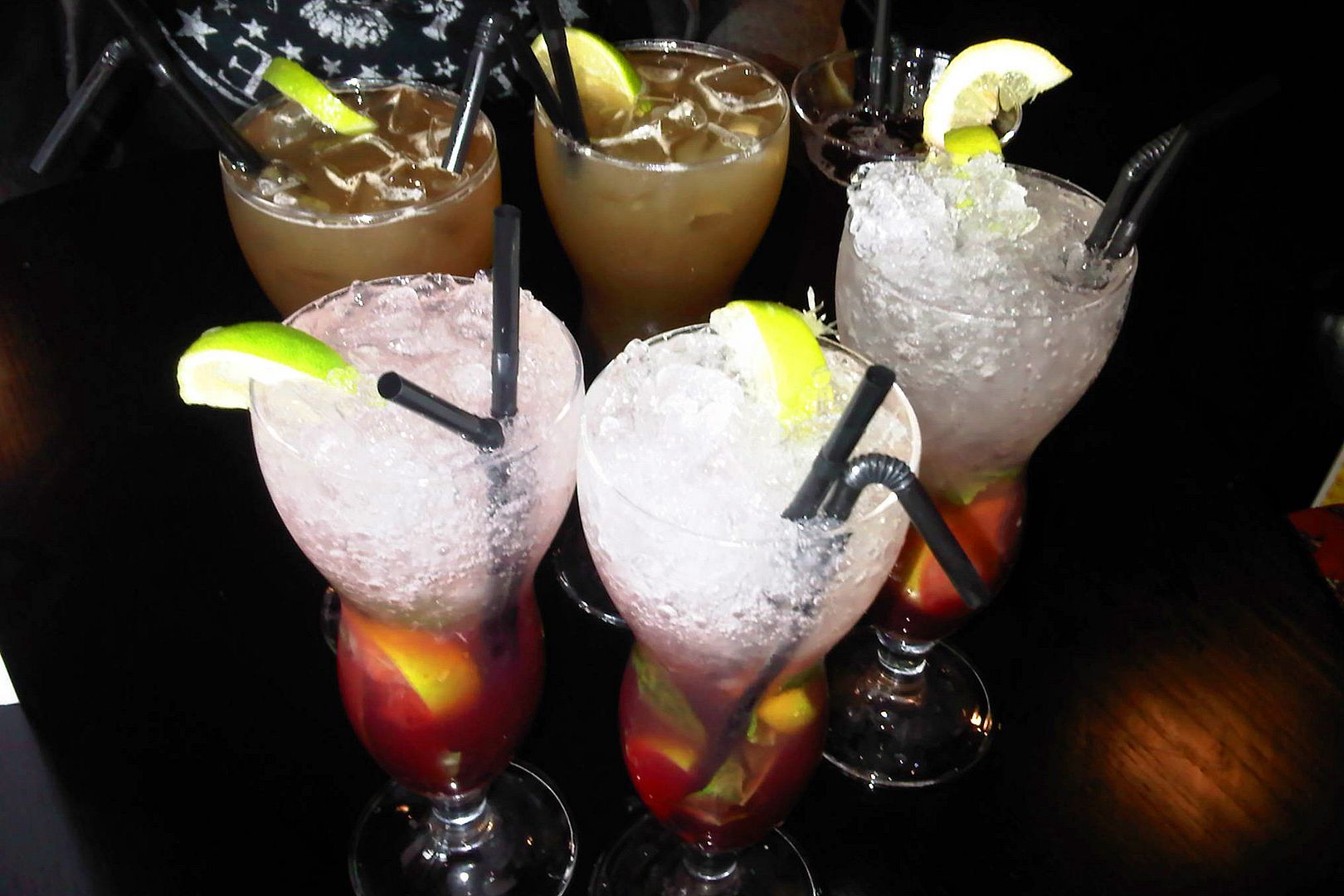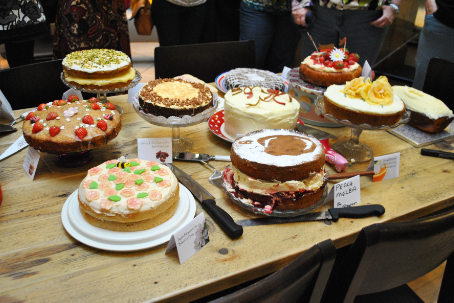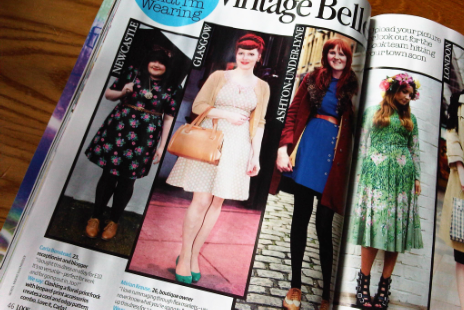 1:
On Friday night I went to see Avenue Q with my friends Lauren and
David
. I'd seen it in the West End, David had seen it on Broadway but it was Lauren's first time which was fun.
We were in the front row, and Trekkie Monster kept pointing at David during
The Internet is for P*rn
so I ended up crying my eyeliner down my face, it was just hysterical!
Afterwards we went for cocktails, and the above is the result of what happens when you arrive at 2 4 1 happy hour with five minutes to spare...classy lassies!
2:
Tonight I went to my first
Clandestine Cake Club
meeting in Newcastle
(I wanted to start last month but it was fully booked)
. The CCC was founded with the sole reason to get people together to eat cake and have some drinks. Now it's turned into a national - and international - movement, with literally hundreds of clubs!
Every month there is a theme with a related venue announced to members only just a week before the event
(for example, tonight's theme was "An English Country Garden" so it took place at Garden Kitchen).
It is not cliquey, and there is no competitive element. Plus, any leftovers are welcome to be taken home!
I had a wonderful night
(I made a sticky toffee date cake)
and can't wait for the next one - be sure to check the
clubs
page of the website to see if there is one in your area. And if there's not - start one!
3:
Finally, in rather exciting news one of my outfits I uploaded to
Look What I'm Wearing
(more information in this post)
made it into Look Magazine this week! I was especially stoked as it's the special Jubilee issue, which is sparkly and full of uber-British fashion and kitsch.
(The 'Jubillee Bingo' page made me laugh - it reminded me of something you might find in the Girl Talk Bumper Summer Issue I would get religiously every year!)
And that's all, folks!
I'm going shopping tomorrow for the first time in ages with
Daniel
(which funnily enough in ten years of friendship we've never really done - except when we have to cut through Eldon Square to get to a pub or a Nando's...classy!)
for some more summer bits as I have two summers to buy for this year, one here and one in Australia! Eeep.
Bring on the tropical florals, even if the weather is not so tropical anymore...
Muchos love,
MessyCarla.
DISCLAIMER: AX Paris dress sent for review.
I was invited by Look Magazine to come and check out the launch of the Look What I'm Wearing segment of their website and to be one of the first uploaders, however all participation was completely voluntary. I have not received any money from either company. All opinions are - as always - my own!