Hey everyone,
Once again I apologise for the sporadic posting.
One of these reasons is I'm working towards a personal project, completely unrelated to blogging/fashion etc.
I won't say what I'm up to until everything is set in stone, but for now I will say that extensive planning is happening.
This includes a particular curbing of "frivolous spends" - for the first time in a long while, dresses aren't the first thing on my mind!
Don't worry though, I'm not going to completely drop off the face of the Earth - but please expect more scattered posting for the time being.
However, last night I tweeted that I made some healthy brownies for Italian Catholic Mother and my sister who are on a healthy eating kick.
Although not on a diet, they have been depriving themselves of chocolate, so I found myself googling healthy recipes for them - and I came across a recipe for brownies replacing flour and butter with beans.
I've heard of putting vegetables into sweet baking before - such as
Zucchini Cake
(that's 'Courgette Cake' to my fellow Brits...) a
nd
Harry Eastwood
's infamous
Beetroot Chocolate Fudge Cake
so I was definitely curious to try it myself.
Last night a few people asked for the recipe which I didn't have to hand, so figured I'd post my version of
this recipe
here with some little tweaks I changed for myself:
Black Bean Brownies
(Recipe yields 16 small, or 12 large brownies)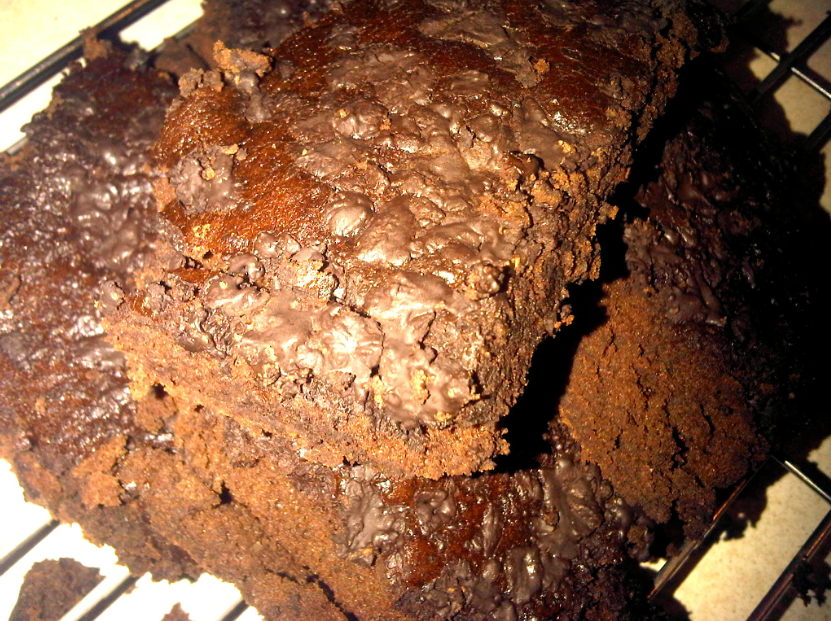 Ingredients:
1 tin black beans, rinsed and drained. (I only had rosecoco beans handy, so used those and they were fine. Pinto beans will work very well too!)
3 eggs
3 tablespoons vegetable oil
1/2 tsp baking powder
1/3 cup dark cocoa powder (I used Bourneville cocoa powder)
1 pinch salt
1 teaspoon vanilla extract
1/2 cup white sugar
1 teaspoon instant coffee (Don't worry if you don't like coffee - you don't taste this at all!)
1/2 cup chocolate chips (I was out of chips, so put a few squares of 70% dark chocolate through my food processor)
Preheat oven to 350 degrees F (175 degrees C). Or Gas Mark 4.
Lightly grease an 8x8 square baking dish.
Combine the black beans, eggs, baking powder, oil, cocoa powder, salt, vanilla extract, sugar, and instant coffee in a processor. Blend until smooth (If you don't have a blender - just mash everything with a fork)
Pour the mixture into the prepared baking dish.
Sprinkle the chocolate chips over the top of the mixture.
Bake in the preheated oven until the top is dry and the edges start to pull away from the sides of the pan, about 30 minutes.
See? Easy peasy!
I love fudgy, sticky brownies, so these were perfect for my taste.
Even my sister, Nadia, who hasn't got a sweet tooth ate two of these last night, and just now when I went downstairs for a cup of tea, she was at the microwave warming up another one.
("I'm addicted!" She said.)
Please let me know if you try them!
So in other news, I thought I'd share some more pictures about what I've been up to this week: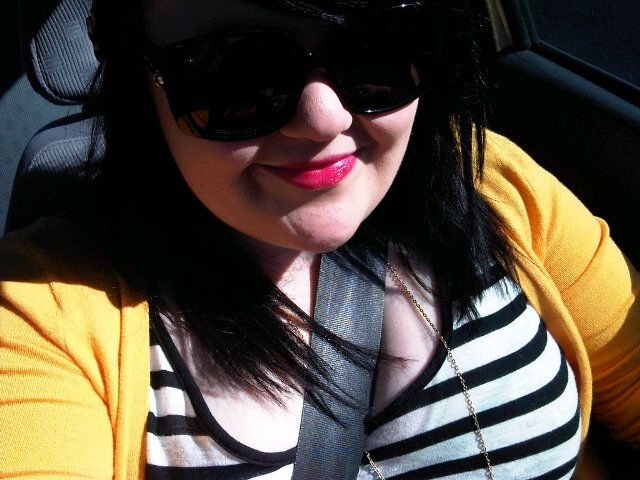 OK, OK you've got me. I did treat myself to a new lipstick!
This is
Touch of Magic by Barry M
, which is more like a lip balm/tint - the colour of which depends on the alkali in your lips. It went a bright fuchsia on me one day, another day it went almost red. So cool!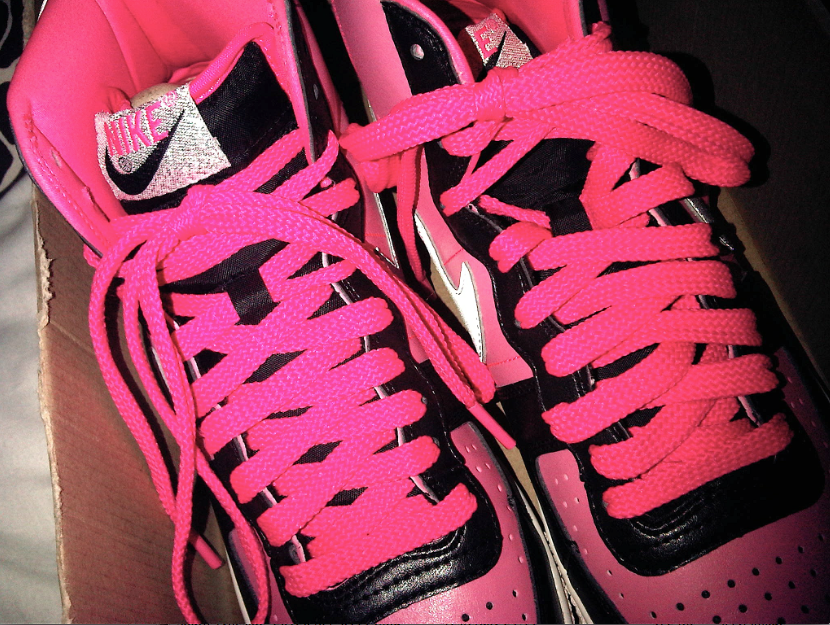 I'm about five years late hopping on the hi-tops bandwagon, but could resist these cool pink ones.
These are my first pair of trainers in about ten years - and just £30 from the Nike outlet shop at Dalton Park.
(Oh and this wasn't a "frivolous spend" - I genuinely needed a new pair of trainers, hehe!)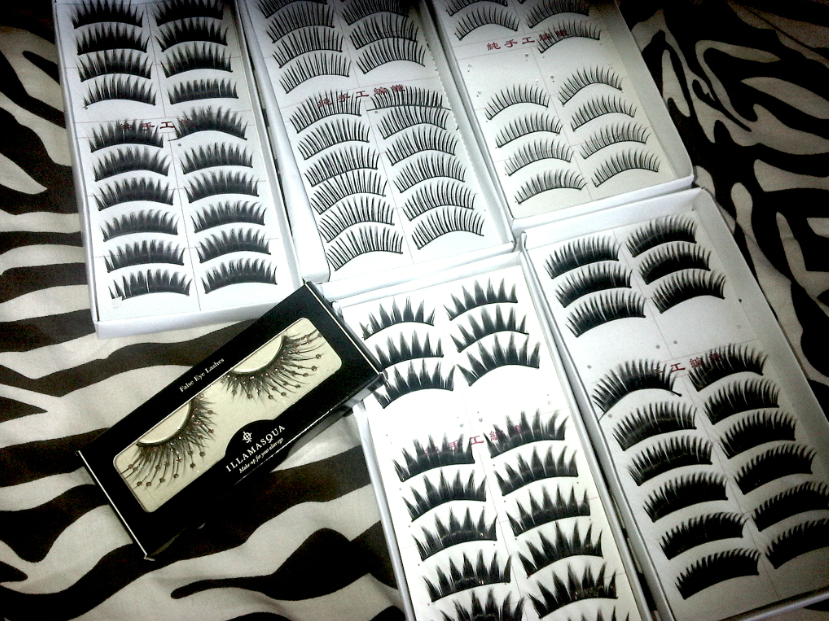 I was going through my cosmetics drawer giving it a tidy up, and thought I'd take a picture of all my false lashes. I think I have quiet enough for now, non?
(Links as to where I bought them from are in my last post)
So yeah, a bit of a random post - but honestly, my mind has just been elsewhere for the past week or so.
Is everyone who celebrates looking forward to a nice relaxing Easter weekend?
Unsurprisingly, it's one of Italian Catholic Mother's favourite times of the year (she's one of those people who sends Easter cards to the family) and she's in her element.
I'm in my element as my three friends are home for break -
Daniel
is home for his birthday this weekend, so I get to see him for the first time this year as he's still working in France.
Hattie is also landing for Easter weekend so let's hope the weather perks up so we can go for our usual wander.
And finally
Sam
is home next week from Mexico and is looking forward to a trip to a good old Hebburn pub. I think she must have had too much sun...
But anyhoo, even if you don't celebrate I hope you still use the opportunity to eat chocolate.
Lots and lots of chocolate.
Muchos love,
MessyCarla.