Hey everyone!
As you may know, this weekend was the
Plus London 2
event and despite the snow
(or more likely London's inability to handle it!)
it was absolutely marvellous seeing everyone!
This is going to be quite picture heavy, despite the fact that it felt like I didn't take loads and loads of photos at the event as I was too busy talking to as many people as I could.
(Or more likely screaming excitedly in their face, like I did with poor Em! :D)
I originally had a much more elaborate and colourful outfit planned, however I changed my mind last minute and went something more simple and monocrome - this dress always makes me feel a bit like a mod!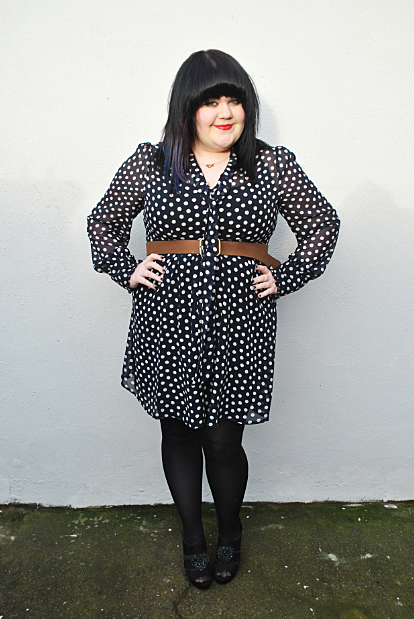 DRESS: Primark.
BELT: Dorothy Perkins.
NECKLACE: Lady Luck Rules OK.
SHOES: New Look.
POINT OF FASHION: Mod girl.

Although the weather was absolutely freezing - it was actually really quite sunny for most of the daytime, so I finally got to try my new sunnies that were kindly sent to me from SunglassesShop.com.
I love that they're a cat eye design and feel very retro and chic without looking like something from a fancy dress shop.
I feel a bit like a girly
Joey Ramone
here with my thick black fringe and shades...or perhaps channelling a little
Helen Love
? Why not!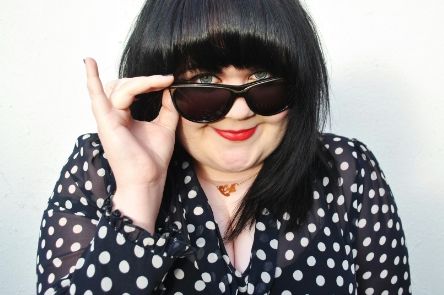 I had several people at the event ask where I got my sparkly shoes - they're actually
plain wedges from New Look
, and I attached glittery clips that I found on ebay to make them look a little more special: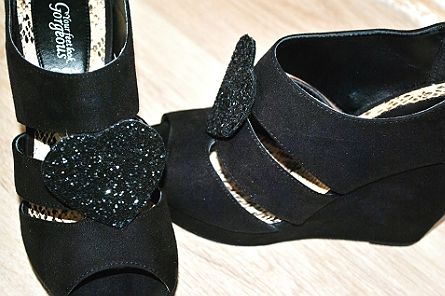 Finally, my makeup: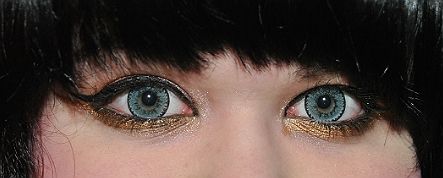 I did my standard cat's eye flick with black eyeliner and gold shadow underneath. I kept my eyes quite simple, as I wanted my red lipstick to really pop. I did wear my
circle lenses
, though!
And now, pictures from the weekend!
Unfortunately my train didn't get into London until the afternoon so I missed the visit to Anna Scholz's studio - but
Mel
gave us all the gossip when we met up at the hotel, and it sounds like an amazing time!
Also, because our taxi was running slow in the snow, we even ended up missing the fashion show!
(I have since discovered that this was a particularly sore point for some attendees which is a tremendous shame - more on Claire's blog if you're interested
.)
Right, I'm going to shut up now
(sort of)
- because it's picture time!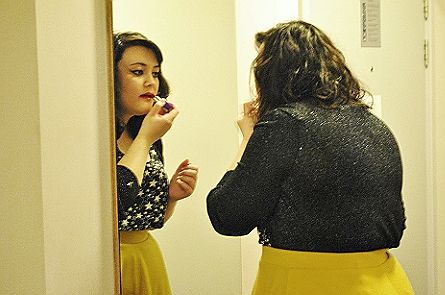 Nadia
glamming herself up!

(Though I did her liquid eyeliner - proud! Welcome to the kitty eye
club!)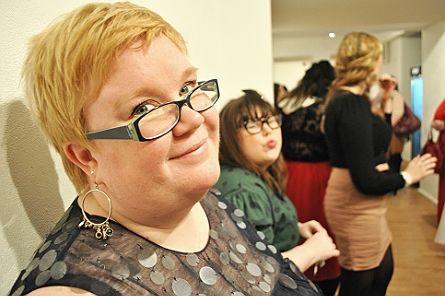 Organiser
Claire
in her fabulous
"jellyfish dress"
from ASOS Curve and
Lauren
looking adorable in a Dotty Noir dress from Domino Dollhouse.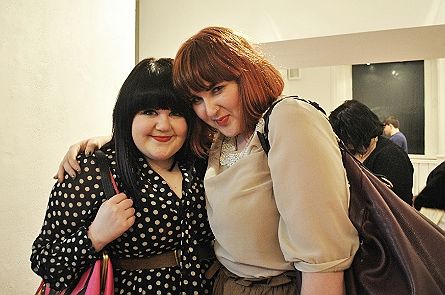 I was dyyyyyyying to meet
Bethany
, as her blog and twitter makes me laugh so much - I love when she livetweets her dates! As expected she was so bubbly and cute, and hopefully we'll meet up for a cheeky London date later on in the year with
Claire
!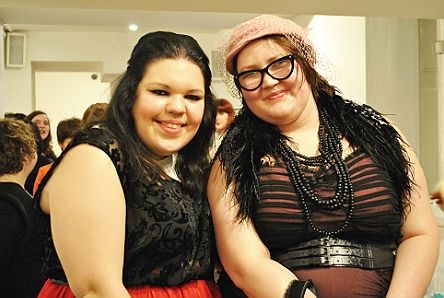 Our hotel mate, new friend and fellow Geordie
Mel
wearing her buys from
Red Bows Boutique
and the ever inspiring
Kirsty
!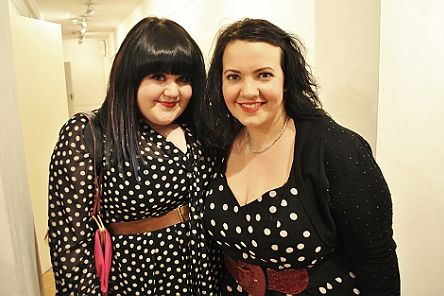 I finally got to meet my favourite Australian
(who is neither a Minogue sister nor a member of a Sydney based 90s grunge revival band...)
Em
, who I have pretty much followed ever since I started blogging!
I love that we were both wearing polka dots with our dark hair and red lipstick - it never fails to be an awesome combination!
Because me and
Nadia
missed seeing everyone during the day - some of us went for lunch in trendy Southwark on Sunday!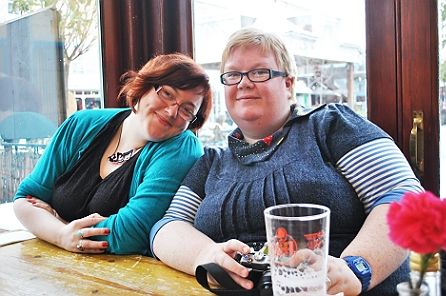 Rachel
(Claire's head cheerleader!)
and
Claire
. I loved Rachel's Tatty Devine necklace!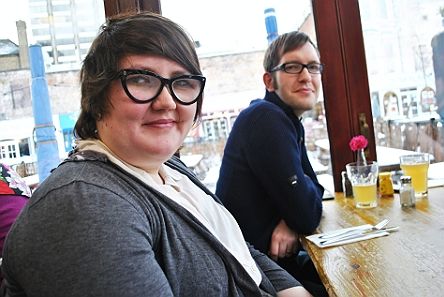 Kirsty
and
Claire's
OH - who I lovingly call "Mr. Claire".
He took great photos all through the event for us - and I thank Claire for not uploading the more
~HERPDERP~
ones of myself. Too much fizzy pop!
Nadia
wearing the infamous Tatty Devine lobster! Such an amazing peice!


It was wonderful to see everyone I've met before - as well as meet some marvelleous newbies!
Thank you to everyone who came up to me and said lovely things about this blog, you are all amazing cheerleaders - and it's such a great feeling putting faces to the names who always comment here and on
the Facebook page
!
And of course a special thank you to darling wee
Rosie
who let me nip through her bra fitting with
Elomi
to use the bathroom. Much appreciated, teehee!
(I peeked, sorry. ;D)
Here's to round three in 2013 - there are already rumours that it may be up North!
Interesting...
Muchos love,
MessyCarla.