Hey everyone,
Once again I come bearing a rockabilly influenced outfit.
I think it's strange how one's personal style chops and changes, which is the beauty of fashion for me, really.
When I first started this blog in late 2009, I was really into nautical colours
(see here, here and here - the first ever outfit post - cringeeeee!)
, then I moved on to more clashing prints, then pastels and tea dresses.
Of course, you will still have to pry my pretty floral dresses from my cold dead hands - I've recently started pairing them with a punky cardigans and animal print accessories!
I've mentioned a few times was a little wee goth
(also known as a "mini mosher"...not that I ever did much moshing as I wasn't allowed to go to gigs!)
and was pretty much known as "Goth Carla" to all the cool kids at school.
So when I went to college at sixteen to do my A-Levels, I underwent a complete re-invention:
I started wearing bright neon colours, wearing homemade necklaces made out of casettes around my neck and going to class with a face full of glitter.
I sneaked into electro club nights, watched
The Mighty Boosh
and listened to bands like
Robots In Disguise
,
Client
,
Hyperbubble
,
Helen Love
,
Polysics
and
Freezepop
on repeat for inspiration.
I thought I was the poop, but of course I looked like a silly kid in lots of plastic jewellery!
So, it's nice after about seven years to be returning to my more rock and roll roots! Sort of: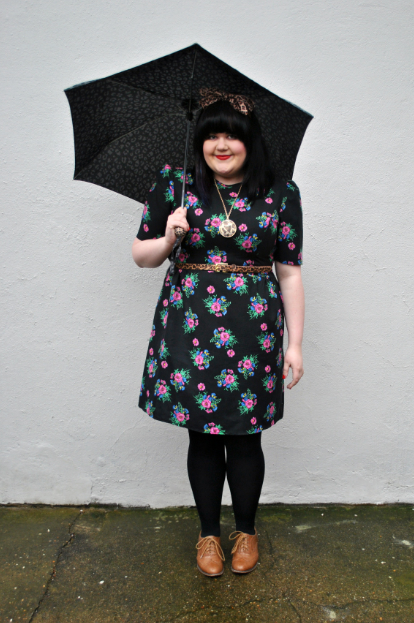 DRESS:
Vintage.
NECKLACE:
Forever 21.
BELT:
Dorothy Perkins.
HEADSCARF:
ASOS.
UMBRELLA:
In my goodie bag from The Look Show '10 via M&S.
SHOES:
Primark.
POINT OF FASHION:
Old school rockabilly.
As you can probably gather from the umbrella, it was such a grey and drizzly night - and I was probably a little overdressed for a date with the girls for a Nandos and a pint.
But as my Auntie Dolly taught us - you don't need an excuse to put on your favourite clothes
!
However you'll all be pleased to know, I didn't just go out
sans
coat
Geordie-style
.
This is quite a summery look with the bright print, so I layered this long, thick cardigan I got at Forever 21 during my time in Virginia. It's so fuzzy and warm!
So what I've also been up to: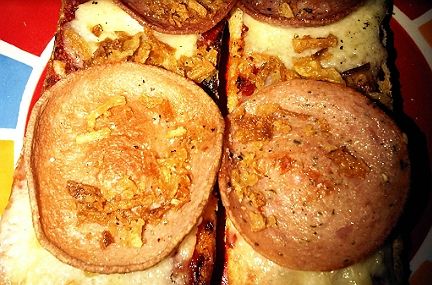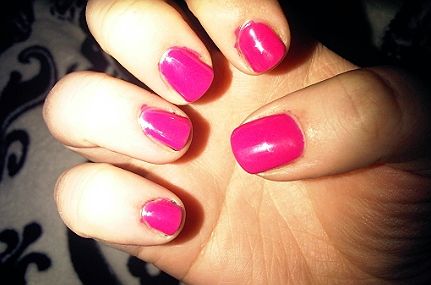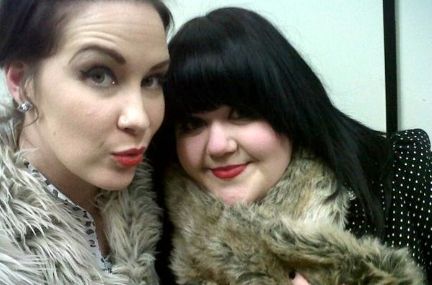 1:
After a bit of a stressy day last week I treated myself to one of my ultimate comfort foods - pizza baguette. It's so simple, but so good - some baguette cut in half, a little tomato puree, cheese and some questionable meat products. NOM.
2:
The week before last I cashed in some Groupon vouchers and got a Shellac manicure. I went to a tiny wee salon called Wag's which was tucked away in a residential area of Heaton, but the manicurist was very friendly and I think I'll be going back! My Shellac has been on for two weeks now and has only slightly chipped - but I'm just freshening it up by putting my own polish on top as if anything, it's an amazing base coat!
3:
The highlight of this week is that my best-friend
Sam
has landed back in Newcastle after working in London for the past three series of Big Brother
(FYI: Gareth Thomas dancing while dressed as a hand roll...amazing!).
We had a bit of a session on Monday frequenting all her favourite pubs she's missed
(The Charles Grey, Trillians, The Dog and Parrot
and
The Town Wall)
and then we were out last night for the afformentioned Nando's date with Hattie.
Otherwise, it's been a pretty chillaxing week!
Me and Sam are rather excited about going to see one of our favourite bands,
Placebo
in Edinburgh in April - we got our tickets during the fan pre-sale on Monday and most were sold in an hour!
The best thing is the gig is at the Edinburgh Picture House which I believe only has a capacity of 1,500 - last time we saw them at Manchester GMEX so I think it's going to be a pretty special evening seeing one of my most beloved bands up close and personal.
Muchos love,
MessyCarla.