Hey everyone,
Hoorah, it has been mostly lovely and sunny this week. Still freezing cold of course, but at least there is sun.
Where I'm from though in my small Northern town on the banks of the River Tyne, people give you a funny look if you wear sunglasses before summer.
Of course it's absolutely fine to remove nearly all items of clothing at the first signs of warmth
(I once saw some guys sunbathing during a cardigan-weather day outside a pub last year...in Feburary)
but if you wear sunglasses, people stare at you like you've suddenly sprouted an extra arm.
So alas, no glasses as of yet. My dear Marc Jacobs are still in hibernation for the time being.
Although this sun has made me crave Spring brights again like butter yellows and teals.
Whenever I wear warm colours like yellows and oranges with my black hair, I always feel a little like Biana from
Goodnight Little Spoon
.
Just monumentally less cute, bawww.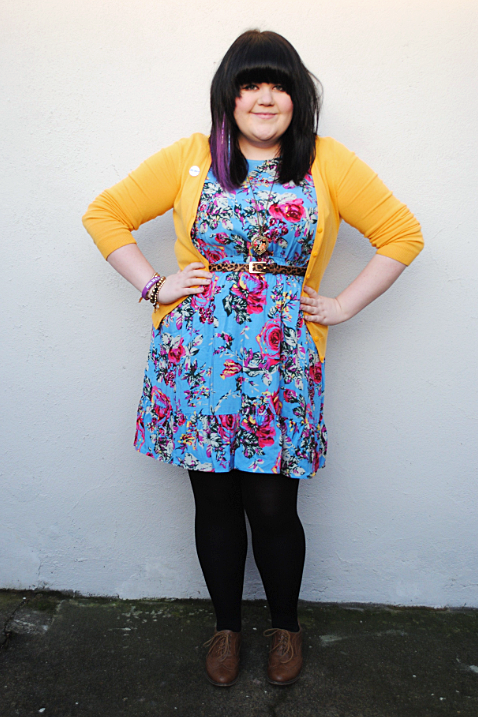 DRESS: Next.
CARDIGAN: H&M.
BELT: ASOS Curve.
NECKLACE: Christmas present.
BADGE: Ebay.
SHOES: Primark.
POINT OF FASHION: Hello, Spring?

Usually I don't like dresses that have that extra little peice of hem along the bottom - but you can't really see it here at all.
Unfortunately the dress is strapless and has some funny little frills at the sides and I don't really like either, but wearing a cardigan makes up for both. I think the frills will be easy to remove, but I'm too lazy to look into it right now. Cardigan wearing is fine.
Also the dress was only £15 in the Next Outlet sale at Royal Quays.
I'm trying to seriously curb my spending over the next few months as I have some big plans I'm trying to put into place - but I couldn't resist this! It's going to be perfect for Spring and Summer.
I'm also trying to share more of my makeup looks as with recent
Outfit Posts
.
However this wasn't the makeup I was wearing with this look - it was from my friend Marie's birthday night out.

You may remember from my before-last post I said I was going to try and apply fake eyelashes properly.
Well I tried and I didn't look too bad. It's a shame I took this before I flicked the ends up so they look wonky here. But they looked qute good and went on first time.
I'm not calling this one of my resolutions done already - but I'm close!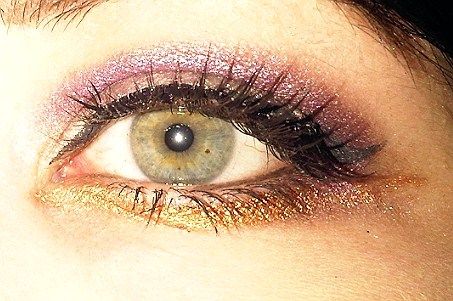 BASE: Chanel Illusion D'Ombre.
GOLD: Urban Decay Baked.
PURPLE: Urban Decay Psychedelic Sister.
EYELASHES: Claire's Accessories.
EYELINER: Barry M.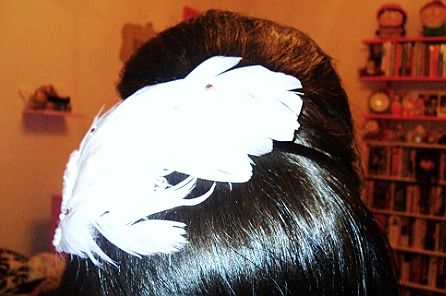 Marie's party was Horrible History themed - so I went in a Marie Antoinette inspired look with lots of lace and cake jewellery. Unfortunately all the pictues of me on the night are appauling - too much fizzy pop!
However I created a beehive with the use of a Bumpit and waaaa too much hairspray and backcombing.
I'm still combing out the knots!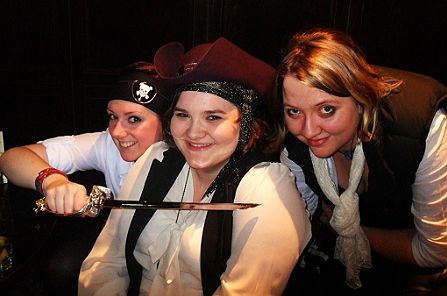 Birthday girl Marie (middle) with Natalie (left) and Julia (right). Pirates, arrrgh!
Julia was Marie's housemate during their time at Cambridge and came over from Belfast especially.
It was so lovely to see her again - and we're all going to stay with her on 31st January! I can't wait wait wait.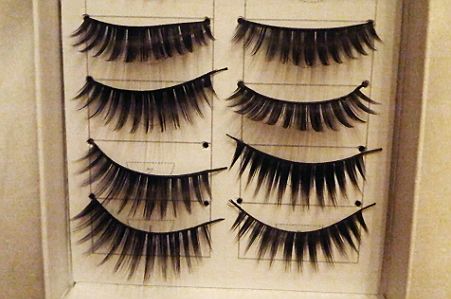 I'm determained to get falses sorted, so ordered these from Ebay for a few quid.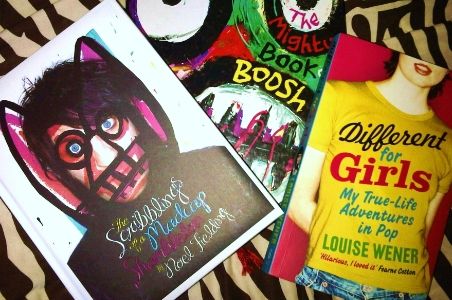 After a few years absense, I'm on a bit of a Mighty Boosh kick so picked up The Scribblings of a Madcap Shambleton by Noel Fielding and The Mighty Book of Boosh in the Amazon sale.
I love them so much - though the centre pages of Noel's book are rather raunchy!
I'm also reading Different For Girls by Louise Wener which I can't put down.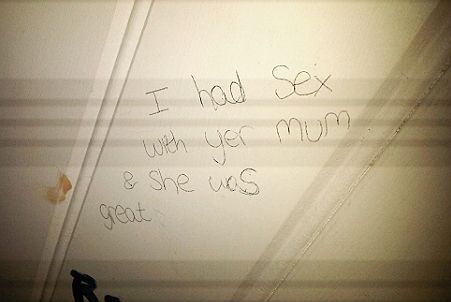 A public service announcement from the patrons of Trillians in Newcastle...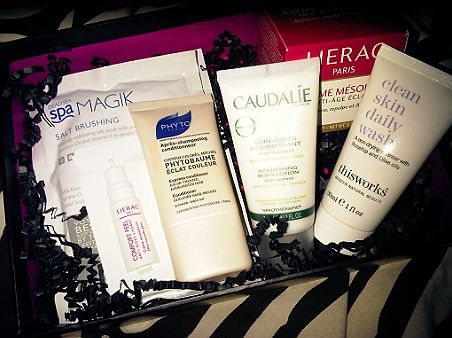 I'm honestly sick to death of hearing about beauty boxes so I'm not going to say too much here - but I tried the January FeelUnique beauty box since I love the website.
I know the theme was 'essentials' for after the holiday blow out everyone has - but I was a little disappointed as the previous boxes seemed a little more exciting.
The cleanser is ok, but I didn't like the moisturiser (it's too heavy and perfumed - despite me ticking the box for 'sensitive skin') or the conditioner (my hair was unmanageable!).
I may try it for one more month though.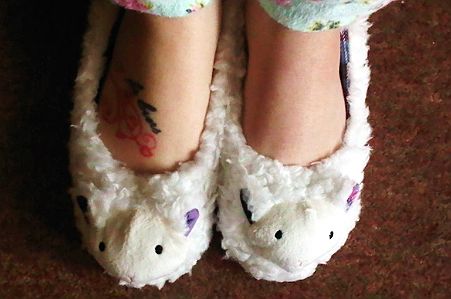 Every year my parents buy me a pair of Next's animal slippers. I already have pigs and bunnies, but this year I got some sheep - they're so cute and have a tartan pattern inside!
Also I think this is the first time I've shared my tattoo on my blog: peek-a-boo!
Riiiight, I'm sorry this was a little long but since I've been away for a week or so I thought I'd catch you all up! I'm glad this month is nearly halfway through - though I have managed to avoid the January blues this year, thank goodness.
However at the end of this month I'm going to Belfast as already mentioned with Marie and Natalie to stay with Julia in her house which apparently has a peacock on the lawn!
We're also going to squeeze in a day to Derry which is going to be aaaaaaaace as my twin
Claire from French For Cupcake
is coming along with us. Waaa I can't wait to see her face again soon!
It's going to be a busy week as no sooner as I'm home from Belfast, I'm going to London for the
+ London Bloggers Meet
(aka: Plus London 2)
.
It's so nice not to be helping with the organising this year, and to just be able to just enjoy the event!
I'm going to be sharing a room with one of my favourite bloggers
Nadia
(who was one of the first ten people or so to follow this blog!)
and also
Mel
who I discovered is a fellow Geordie!
No sleep
(or coat)
for Nadia, then. Hurrhurrhurr.
If you'd like to attend, please check out the
Facebook event
or
Tumblr
for information.
Finally I'll leave you with this song from Operator Please, which I named this blog post after:


Muchos love,
MessyCarla.