Hey everyone,

I hope you all had a wonderful Christmas if you celebrated!
Ours was lovely and low key - we opened presents, had a big lunch and spent most of the day watching my Toy Story trilogy box set.
I couldn't believe my uncle hadn't seen any of them before - the first one especially reminds me of being a little kid!
Of course, I still wept like a child at Jessie's song
.
Christmas for me is all about excess.
Not necessarily about material things
(though nice as those things are...sorry, I'm a Taurus!)
but I love things getting dressed up in a silly, bright, glittery outfit with theatrical eye makeup - despite the fact I didn't leave the house except to take these pictures...
There is a saying in this country if something is "camp as Christmas."
I think I was a bit too inspired by that phrase this year...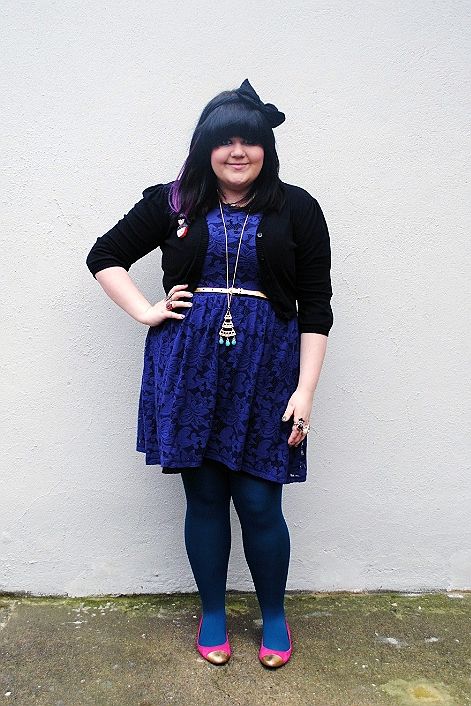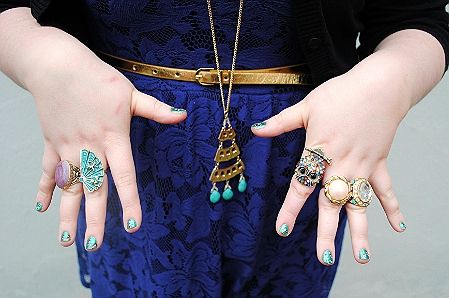 DRESS:
ASOS.
CARDIGAN:
H&M.
BROOCH:
From Bede's World Christmas fair.
BELT:
ASOS Curve.
NECKLACE:
River Island.
HAIRBAND:
Forever 21.
RINGS:
Dorothy Perkins, River Island, vintage and World Market.
TIGHTS:
Dorothy Perkins.
SHOES:
Office.
POINT OF FASHION:
Over the top...it's Christmas!
Apologies that the dress is hanging at a bit of a funny angle - a sudden gust of wind gave me a bit of a Marilyn moment.
I was worried that my tights are a bit too "matchy matchy" and I should have gone with a magenta colour instead, but I really don't care!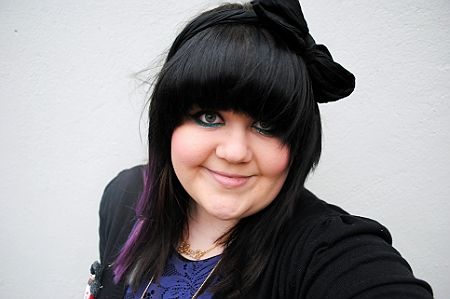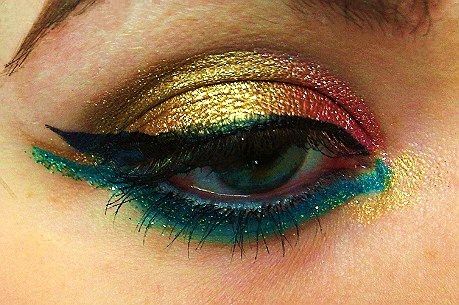 For the eyeshadow on my lid I used Baked by Urban Decay with some Goldilux by Sugarpill on top for extra glitter. I then put a little of Magentric by Sugarpill in the corner. I blended a little in the crease with a brown eyeshadow from my Wet N' Wild Ultimate Brow Kit.
I then used Elf liquid eyeliner and added my regular cat's eye flick.
Due to my heavy fringe covering some of my eyes, I am enjoying playing around with makeup under my eyes lately - so I used Stila eyeliner in Bora Bora
(smudging it slightly and flicking out at the end)
then Urban Decay Heavy Metal glitter on top.
I also put a little more of Baked in the corner and under my cat's eye flick.
Finally I lined by waterline with Sharkskin shadestick by MAC
(Shadesticks are one my desert island products - they can be used in so many ways from primers to eyeshadows and liners!)
, used my Big Fatty Mascara from Urban Decay and coloured in my eyebrows using the Wet N' Wild Ultimate Brow Kit.
You may have guessed from some of the brands above, but some of these were presents I treated myself to in my favourite shop...Sephora!
My friends Jessica and Jaime got me a $50 gift card for Christmas which was so kind of them.
I'll show you guys properly when I get round to taking pictures!
Anyhoo I've had a great Boxing Day
(what we in the Commonwealth call December 26th!)
and in some ways I prefer it to Christmas Day as there's no pressure on anyone, you don't have to cook (hello, leftovers!) and can just sit around looking at your presents - I'm personally working my way through series 4 of
The Big Bang Theory
which I got on dvd!
Then the rest of this week is going to be amazing as I'm hanging out with my friends. I haven't seen anyone properly since coming back from holiday as we've all been so busy doing things with our family.
So I'm meeting
Hattie
and
Megan
tomorrow for dinner and drinks
(I still have to give Hattie her Christmas present though I had to leave most of it behind in America...stupid luggage allowance, thank you Delta...)
, then on Wednesday is the annual gathering of all my friends from school - but for the past few years I'

ve taken
Sam
along as my date
(so more present swapping)
.
Also, I hope to see
Daniel
for a few cheeky fizzy pops and maybe a dance - though he poppped round on Christmas Eve before mass for a hug. I've missed them all so much!
Sorry if I've rambled on, but I do love this time of year!
Finally I'll leave you with the latest DJ Earworm song. At the end of every year
since 2009
, he has created mash ups of the top 25 hits of the last 12 months.
I quite like this year's mix entitled:
'World Go Boom'
:
Muchos love,
MessyCarla.