Hey everyone,
Just a quick "hello and goodbye" from me as I'm signing off for the holidays.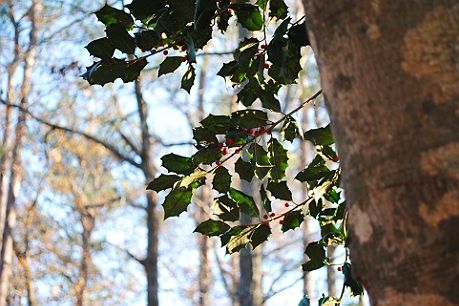 Holly trees at The Noland Trail, Newport News, VA.
Don't worry though I'll be back soon with lots of pictures from my trip to Virginia.
I hope you enjoyed all the lovely guests posts - and you're very welcome to browse them in case you missed any, simply click the
Guest Post tag
to catch up.
I had a wonderful time while I was away and thank you to everyone who tweeted me!
In the meantime, please enjoy this video me and Jessica filmed of us preparing a pumpkin pie!
I'll try to sneak in another post or two before New Years, but just in case I'd like to thank you all for supporting this blog in 2011.
I have a feeling 2012 is going to be a good 'un...
IF the world doesn't end. Fingers crossed, eh?
Merry Christmas,
y'all
everyone!
Muchos love,
MessyCarla.