Hey everyone,
You may have noticed on this blog that I am a bit of a fangirl for acrylic jewellery. I constantly find myself favouriting acrylic peices on Etsy, and last year
I did a big feature on my favourite Carrie Bradshaw -esque name necklaces
.
So when I discovered that one of my favourite bloggers, Lillian, was launching an acrylic jewellery shop with her lovely girlfriend
Claire
- my fangirling reached new heights.
Their venture takes the form of the
Callooh and Callay
.
Advocating themselves as
"purveyors of fine acrylic jewellery. Our designs are influenced by our own obsessions from circuses to heraldy, animals to pop culture"
I couldn't wait for the shop to launch last month.
Which it did, it all it's pinstripey-Brighton-beach-circa-1920s goodness.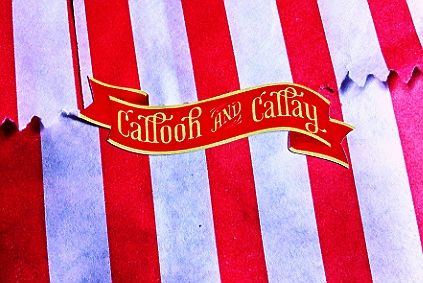 As you can see, their wares come packaged in pretty striped bags, reminding me of the sort you get sweeties in at the seaside.
My order also included as well as a lollipop, a handwritten note and their business cards.
(I'm sorry for the poor quality of these pictures, but I only had my phone on me when the parcels arrived and I couldn't wait to go and grab my camera before tearing them open!)
I have a bit of an obsession with cameos, so when I spied
this acrylic version
I knew it just had to be mine, and I started drafting my Christmas list early just so I could add it to the top of it.
However, because Lillian is just adorable - she asked if I would like it to review for you guys, which I was completely over the moon about!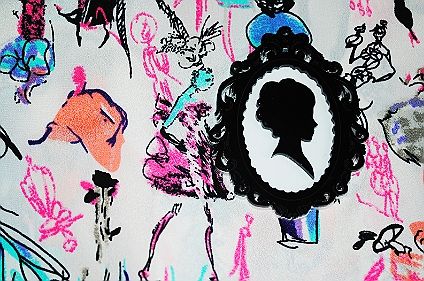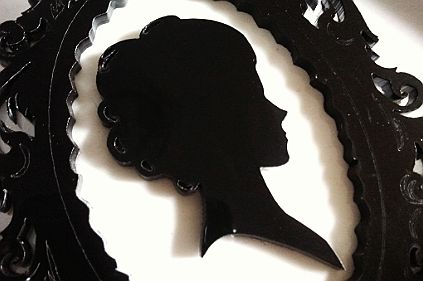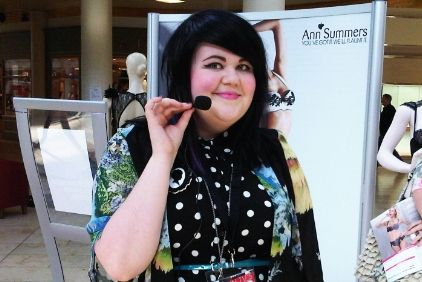 (You can see the rest of this outfit here)
The peice is made with two peices of thick cut acrylic - one white and one black, with of course the Victorian sillouette in the middle.
The cameo was designed by Callooh/Claire and her workmanship
(or make that workwomanship?)
to get the little intricate design of the frame is just fabulous.
Also, the girls sent me a peice from their
Jewels For Gouls Halloween Collection
.
Halloween is one of my favourite times of year, and they obviously know me well as they sent me the
Sneaky Ghoul brooch
, teehee.
There are a choice of five ghosts
(Sneaky, Naughty, Morose, Perky or Gleeful)
or you can of course buy the whole set.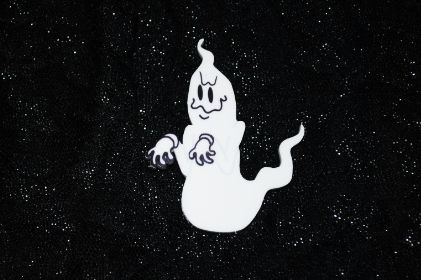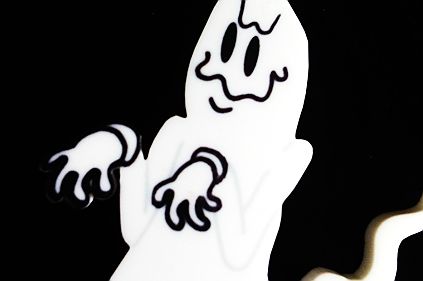 This spooky dude was designed by Callay/Lillian and he reminds me of a character from a 1920s Mickey Mouse cartoon!
Of course I'm always going to be biased about these guys, as I love Lillian!
She's one of the only beauty bloggers I follow because I love her outlandish looks, and how she takes a theme - such as a
Pierott
or a
sailor
or a
carousel
(!) - and really runs with it.
Last year when I asked to be my plus one for an event, I hardly bothered getting dressed up as I knew it'd be the underdressed one either way. And of course she turned up dressed as an adorable wee sailor - complete with a little cap!
I then unintentionally got her drunkety-drunk on complimentary cocktails
(my Geordie stamina stumps unaware Southerners...)
and she then invited me to go with her for elaboate ice cream sundaes, which we consumed while discussing blogging and life.
(My favourite story was about her drama with a certain famous online personality who told Lillian she's the sole reason she's now on anti-depressants. Oh, internet!)
But in all seriousness, their peices are beautifully made and reasonably priced.

So, please support two amazing artists - who also happen to be lovely girls to boot!
Visit:
CalloohandCalley.com
Twitter
Facebook
Lillian's blog
Lillian's portfolio
Lillian's YouTube channel
Callooh and Calley's blog
(Although the prices online are in USD, Callooh and Callay are based in the UK)
If you like anything, you can get 10% off using the code
CARLA
at checkout.
Muchos love,
MessyCarla.
DISCLAIMER: I was given these peices to review for free, however all opinions are - as ever - my own.