Hey everyone,
If you've been living under a log for the past few months, you may not have heard of the fabulous
Domino Dollhouse
- an affordable online boutique for curvalicious ladies, run by the fabulous
Tracy of Chubble Bubble
, whose sassiness simply floors me.
Me and
Lauren
were recently having a discussion about plus-size fashion, and how sometimes it feels like the majority caters for an older demographic to us in our early twenties.
Yet if you turn it around, sometimes unique boutiques can be vastly out of our price range...
Enter
Domino Dollhouse
- all their peices are cute, punky and reminds me of how Torrid used to be when it was BFFs with Hot Topic.
And affordable? VERY. With dresses starting at just $18.
Tracy
was kind enough to send me this
Flora dress
to review, and I absolutely adore it - it's easily one of the best fitting dresses I've had in ages.
It fits perfectly over my chesticles
(with no squishing occuring - the girls can breathe!)
, nips my waist and flares out over my hips without clinging at all.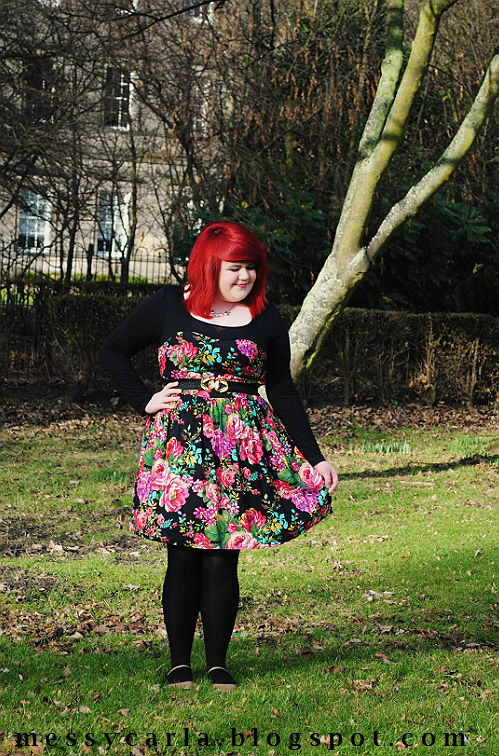 DRESS:
Domino Dollhouse
.
BELT:
New Look.
NECKLACE:
Accessorize.
SHOES:
Dorothy Perkins.
POINT OF FASHION:
A punky tea party.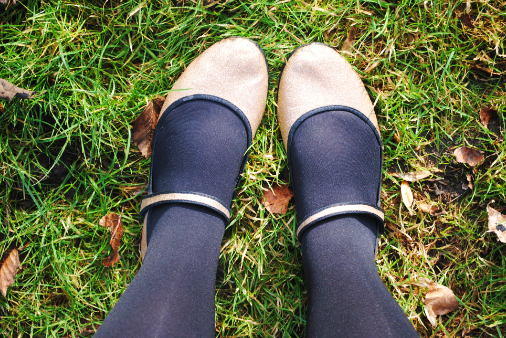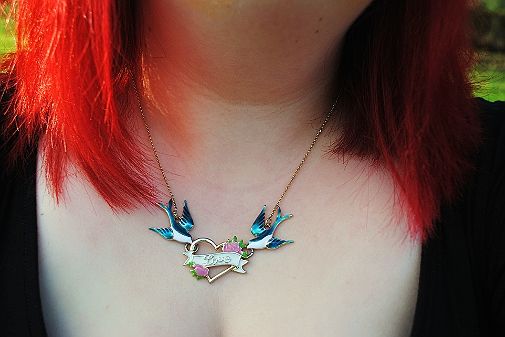 If you'd like to try
Domino Dollhouse
for yourself, they very kindly sponsored Plus London and are offering a voucher code to EVERYONE!
Simply type in
PLUSLONDON
at checkout to recieve 20% off your order, worldwide.
In other news, I mentioned a few weeks ago that I am getting my MODEL GRRLZZZZ on for local photographer
Mandy Charlton
for her 'Dressing Up' project.
She simply asks her subjects to come
"dressed up"
with no other instruction, and it's so interesting to see how this is interpreted!
Some people have turned up in fancy dress, others top-to-toe in 1940s vintage.
I went for my favourite outfit of a 1950s style polka dot dress, faux pearls, crop cardigan with corsage, and high heels.
The reason I haven't shown you these pictures yet?
Why, I wore this to the evening event of
Plus London
of course!
And it would not do for me to turn up in an outfit you'd already seen now would it? Teehee.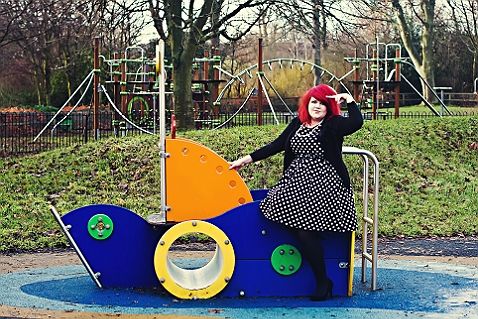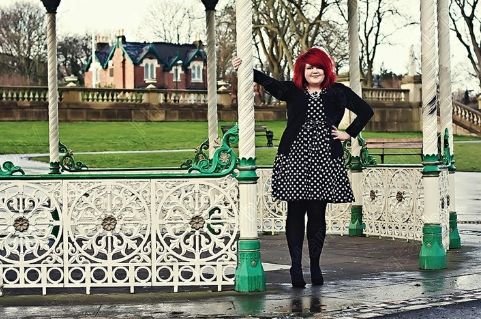 We shot these at Leazers Park in Newcastle, a place that always makes me smile as during my last summer with my friends before I left them for college
(they all stayed on at the sixth form)
we basically lived here - making dens in the bushes, climbing trees and terrorising the children in the play park. Good times!
The first was taken in the play park, and is me trying my very best
(and failing miserably)
at being nautical pin-up chic.
The second is at the fabulous Victorian bandstand, and that's me hanging on for dear life. I'm not used to high heels...
It was SO much fun though, and it was ace how
Mandy
and I clicked straight away - we even went for a coffee afterwards as we had so much to natter about!
North East creatives are the BEST!
Finally, if you are reading this between 2pm-4pm today
(Sunday 13th Feburary)
, you can check out mine and
Daniel's
radio show over at
http://www.prideradio.co.uk/
.
This week, the theme is
Independent Anthems,
as we're both single this year!
There's going to be lots of fun pop tunage and our usual witty
(on his part, anyway)
banter - so please listen and feel free to get in touch during the show.
We'll be happy as ever for any shout outs and song requests!
(Also be sure
to give his blog a clicky-clicky
as it really is hilarious!)
It turned out at Plus London he has legions of fangirls, so go and give him so love. Somebody should, really.
Muchos love,
MessyCarla.
PS:
Oh, and thank you to everyone who has followed my
365 Tumblr
- I've been very good and updated every day so far. Thank you for your support!