Hey everyone,
A week or so ago, I got an email from a lovely reader called Emily who was sending out an SOS:
Hey Carla...

I really need your help... It's a bit cheeky but I'm desperate now!
It's my 18th birthday next month and I'm completely stuck on what to wear...So I was wondering if you could help me?

I'm a size 14/16 on top and 16/18 on bottom and 5'4 too! I always wear baggy tomboy stuff like hoodies, jeans, t shirts, boyfriend cardigans, nothing very exciting.
But it's my 18th, we're going for a meal, and I just want to look really nice for once. I'm thinking something different to what I usually wear... like a dress or top and skirt?

I really love what you wear on your blog so I'd really appreciate if you could give me any advice or tips.

Anyway, thanks a lot!
Emily
I completely and utterly understand, Emily.
Until I was about seventeen, I was very much a tomboy! I lived in jeans and grubby band t-shirts, and rarely wore makeup at all.
So making the transition to a more grown up and glamourous new look can be a bit daunting.
I'm not really a believe in
'capsule wardrobes'
- I'm more of a
'have lots of clothes and have fun with mix-and-matching'
kind of girl.
But I do think if you are updating your look, there's a few key peices that will be suitable for lots of occasions: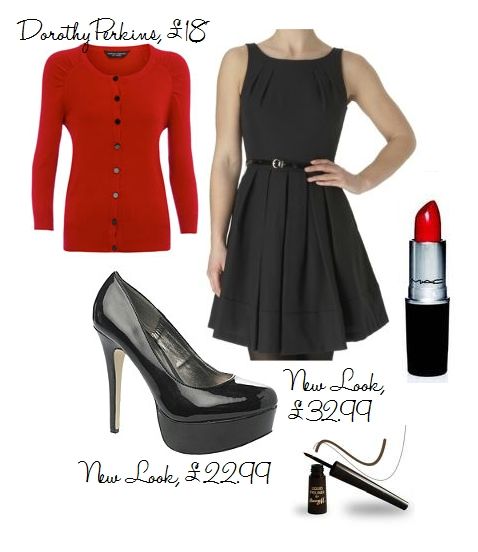 When you're so used to wearing jeans and t-shirts, suddenly having your arms and legs on display can be a bit daunting - so start off with a simple black dress.

I love this structured empire-line dress from New Look. It will nip your waist (my waist is the smallest part of my body - surprisingly - so I tend to go for this shape a lot!) and flare out, making it seem a lot fancier than it actually is.

The neckline is sweet and demure and will look fabulous dressed up with some short or long faux pearls (most high street stores stock these!).

If you're unsure about baring your arms, you can wear a cute cardigan on top. I'd suggest a cardigan cropped at your waist for an evening event, which looks very Chanel chic.

However don't throw away your boyfriend cardigans - you can pair them with your new dress and ballerina flats for more laid back look.
Perfect if you are planning on a cheeky pub date with your friends to celebrate turning eighteen?

A nice pair of black high heels will go with lots of outfits - you don't have to go as high as the ones on the pictures, don't worry!
Finally finish off the look with some black eyeliner and red lipstick.
My favourite black eyeliner is by Barry M, and my favourite red lipstick is Fire by Chanel.
But if you'd like to experiment with a 'drugstore' brand, Revlon do some lovely red shades.
Remember first and foremost than experimenting with your look should be fun - try not to stress out too much, and I do hope you enjoy your eighteenth birthday!
As for everyone else:
Have you ever taken a big plunge with the way you dress?
Do let me know!
Muchos love,
MessyCarla.