Hey everyone,
I'm really pleased so many of you liked the
Girl Crush Wednesday
idea so much - it's going to be lots of fun methinks!
Earlier this week I went with my friends Sam and Ashley to see the band
Mike TV
who had a free show in Newcastle.
This is what I wore:
DRESS:
Primark.
BELT:
Topshop.
SHOES:
Vintage.
POINT OF FASHION:
Black, white and red.
Apologies for the rather rubbish quality picture - I feel like I'm taking it back to old school outfit posts as I would nearly always pose next to my door!
But it was late and I had to shoot this with my light blaring, then try and sort out the white balance in photoshop - which has also made my hair look really dark. Booo!
Anyway though, even though it was a punk gig I went for a bit of a cutesy mod girl look with clunky vintage heels and red lipstick.
I'm not used to wearing long sleeves though, so I ended up rolling the sleeves and wearing a crop black cardigan on top.
My friend Sam turned up wearing a similar dress
(although her polka dots were actually teeny tiny white apples - so cute!)
which the band noticed and told us we reminded them of
The Pipettes
!
Best compliment I've had in ages, really - teehee!
I met the guitarist Jhon afterwards, and he was really sweet: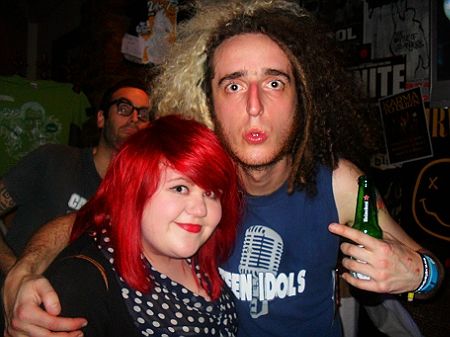 I love Trint from the support band Uncommonmenfrommars photobombing!
They were really ace too, especially when they did a Screeching Weasel cover.
See, I told you my hair is still bright!
Although my sister's camera made me have a crazy eye - I didn't feel like lugging my DSLR around when there was dancing to be done.
In other news, if you follow me on
Twitter
you'll know I've had a few job interviews the past week,
and I was told today that I got it
! Hoorah!
I've been unemployed since Autumn, so I'm absolutely chuffed.
Daytime TV is actually destroying my life!
Finally, you may have noticed I completely side-stepped on talking about Valentines this year - I did however give this card to
Daniel
before our radio show last Sunday: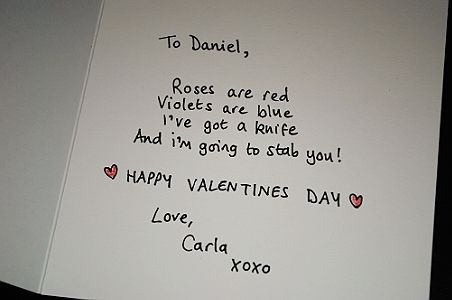 I'm such a charmer.
I'm very excited for our next show this Sunday, as we're broadcasting from one of the presenter, Lee's house and we're calling it
Come Mince With Lee
.
(Working title: Mince And Dumplings. Daniel's got a repertoire of filthy innuendo waiting and ready to go.)
Please be sure to listen live if you can from 2pm GMT on
http://www.prideradio.co.uk/
.
Muchos love,
MessyCarla.