Hey everyone,
Yesterday, Italian Catholic Mother came back from visiting my Aunty Dolly armed with pictures of my aunties as young ladies that had been recently unearthed.
I love old pictures of my aunties, as they were all so glamourous with wide eyes and dark curly hair
(my sister inherited their genes!)
.
One of these days I'm going to have to post some pictures of them here, as they're an inspiring bunch.
Having very little money, they often had to improvise with making their own outfits.
My Aunty Mary for example worked in a theatre, and would often copy designs directly from what the stars were wearing.
I'll save more interesting anecdotes for a whole post about them, but there was one photo that stood out of Aunty Dolly posing in a fabulous pale coat, hat and heels.
Italian Catholic Mother had asked where she was going, dressed up to the nines, and Aunty Dolly replied simply:
"Just to the shops. I didn't need an excuse to dress up!"

So feeling inspired, today I dressed up a little more than I usually do for just a shopping trip:
DRESS:
Dorothy Perkins.
CARDIGAN:
Vintage.
BROOCH:
A present.
NECKLACE:
Accessorize.
SHOES:
Vintage.
POINT OF FASHION:
No excuses!
I finished off the look by having smoky dark eyes, and applying a slick of my favourite red lipstick - Fire by Chanel.
So what else have I been up to over the past few days?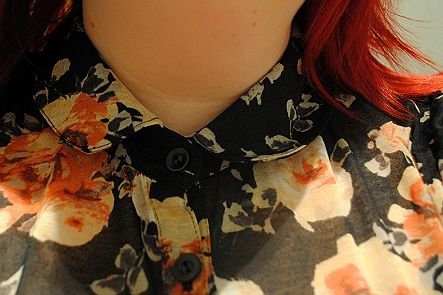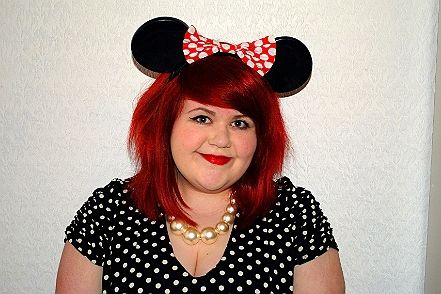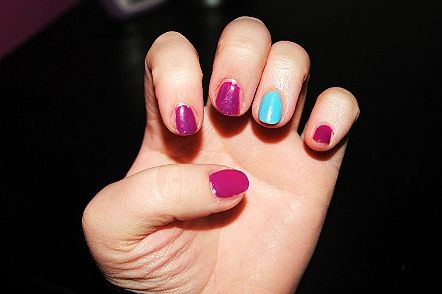 1: Miss Selfridge has some gorgeous peices in this season, and I'm especially in love with this 1970s inspired shirt.
I felt very chic with it buttoned up to the neck, but I'm struggling to find anything to wear with it as I don't think I suit the cut of cigerette trousers, I never find jeans that fit properly and I rarely wear shorts anymore as I used to live in them during college and university. Hmmm.

2: "Oh Mickey, you're so fine! You're so fine you blow my mind!" I was rooting around a cupboard and found my Minnie Mouse ears from a trip to Disneyland as a child. Can I incorporate them into my everyday wardrobe, please?!

3: Shock horror, I actually painted my nails this week! I'm far too clumsy and impatient to do nail art, so this is as exciting as it gets. The colours are both by Barry M.


Finally, I've just this minute finished watching Lady Gaga's new video for Born This Way.
It's interesting to say the least!
I especially liked the introduction, which is incredibly theatrical and over-the-top (if pretentious) but the song still hasn't won me over. Of course the message is a lovely one.

I really do respect her though for promoting individuality and constantly pushing the boundaries, especially as such a mainstream artist.
For example, I really liked her egg stunt, and I guess the video is carrying on the (re)birth theme, right? Hmm.


Muchos love,
MessyCarla.


PS: I've added some new items to my shop. Please check them out? xoxo