Hey everyone,
I'm sorry the posts have been a little sparce this week!
For some reason I'm asked quite a lot via email how I do my makeup, especially on my
YouTube videos
.
I'm flattered, but my makeup is usually quite simple
(black eyeliner with a flick and lipstick)
, and I really don't have a steady hand so I'd be useless at any sort of tutorial.
There's so many fabulous makeup gurus anyway I'd find it a bit pointless.
However I do love talking products, which I don't think comes across a lot in this blog - as again, there are so many fabulous makeup bloggers who are much more clued up than I am.
I thought you might be interested however in checking out my favourite products from my makeup bag: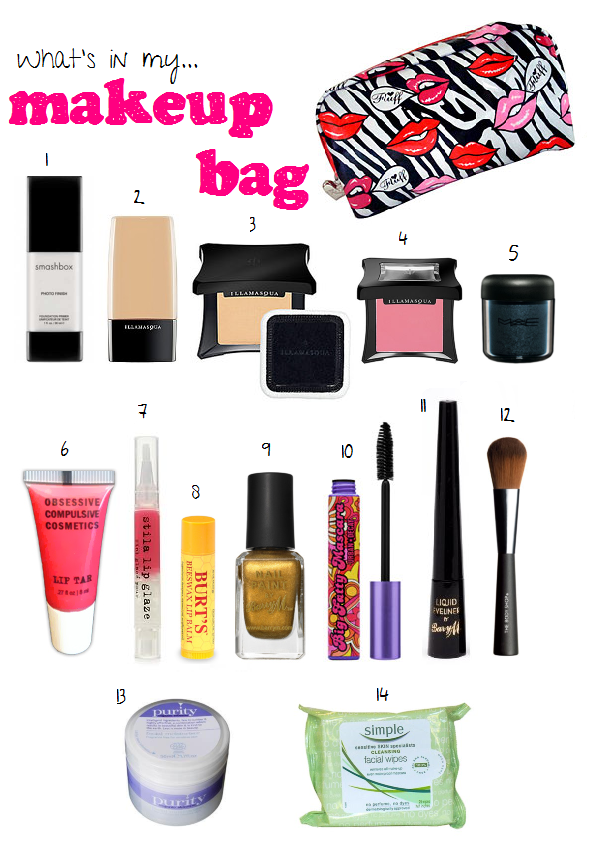 1. PRIMER: Smashbox.

2. LIQUID FOUNDATION: Illamasqua.

3. PRESSED FOUNDATION: Illamasqua.

4. BLUSH: Illamasqua.

5. EYE MAKEUP: MAC.

6. LIPSTICK: Obsessive Compulsive Cosmetics.

7. LIP GLOSS: Stila.

8. LIP BALM: Burt's Bees.

9. NAIL POLISH: Barry M.

10. MASCARA: Urban Decay.

11. EYELINER: Barry M.

12. BRUSHES: The Body Shop.

13. MOISTURISER: Purity.

14. MAKEUP REMOVER: Simple.
Of course I always love trying new things, but these are pretty much my to-go favourite products.
Who are your favourite YouTube makeup gurus/beauty bloggers?
My favourites are
What Style Is To Nickel
,
Lauren Luke
,
xSparkage
, and
Funny Face's Place
amongst lots more!
Muchos love,
MessyCarla.