Hey everyone,
What? What's this? An
OUTFIT POST
?!!
I'm so sorry this is my first
outfit post
in forever - but honestly, with the weather lately you'd just see a lots of pictures of me looking grumpy in my polka dot coat.
Also, the sun has been setting earlier and earlier
(It started going dark at 2pm on Tuesday!)
, so it's tricky to take decent photos without a glaring flash
(ooh-err!)
.
But I actually was out the house at a decent hour today, so here is my outfit:
DRESS:
New Look.
CARDIGAN:
Primark.
HAT:
River Island.
HAT PIN:
Vintage.
BELT:
New Look.
NECKLACE:
Lipsy.
TIGHTS:
We Love Colors and Asda.
LEG WARMERS:
Primark.
BOOTS:
Borrowed from my sister.
POINT OF FASHION:
Braving the snow...
I promise I did wear my coat as well! Teehee.
Yes, those boots are my sister's as I never did get around to buying a decent pair this season - I'm going to try and snap some up in the sales.
She's two sizes bigger than me in shoes, so I had to wear two pairs of tights, socks and legwarmers to make them fit!
The week leading up to Christmas is one of my favourites, as I get hang out with my friends and do fun, festive things.
So far I've had milkshakes and swapped presents with Hattie and Sam, had a tea date with Megan, and tomorrow I'm seeing
Daniel
for yet more exchangin' of presents!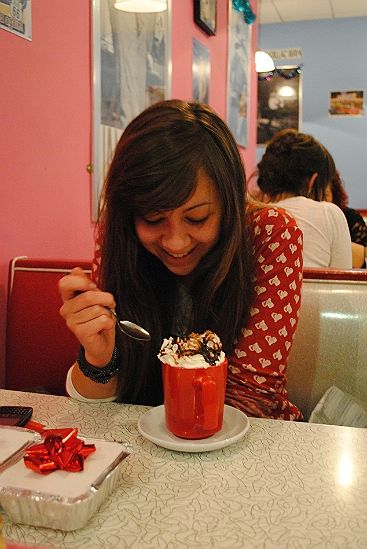 Hattie and her white chocolate cocoa.

The takeaway containers held some of my presents to Hattie - as well as a Twinings mug, I made her some rocky road and cookies as she loves my baking!
Both were amaaaaazing if I do say so myself, and there's not many of the leftovers left in my fridge...
As well as seeing
Daniel
tomorrow, I've also got to bake my contribution to Christmas dinner on Saturday:
Sticky toffee pudding
!
I
posted the recipe and pictures
a few months ago as part of my
Cupcake Week series
, and it's actually not as divorced from Christmas as you'd think: apparently the recipe is not too different to that of figgy pudding!

So as this is going to be my last post before Christmas, I'd like to wish you all a very Merry Christmas!
I hope everyone has a fabulous day, and Santa visits you all after a detour to the shops...
Muchos love,
MessyCarla.