Hey everyone,
Last week, my lovely hairdresser Chris asked me to take him shopping for an outfit he could wear to the Toni & Guy awards in a few weeks.
It's in London, and there's going to be a fashion show, so he wanted to look smart but on trend.
So I steered him away from his beloved sweatpants
("But they're my safe clothes!")
and proposed a look not too far away from my last
(on-topic)
post, but an obviously masculinised version.
And this is what we came out with: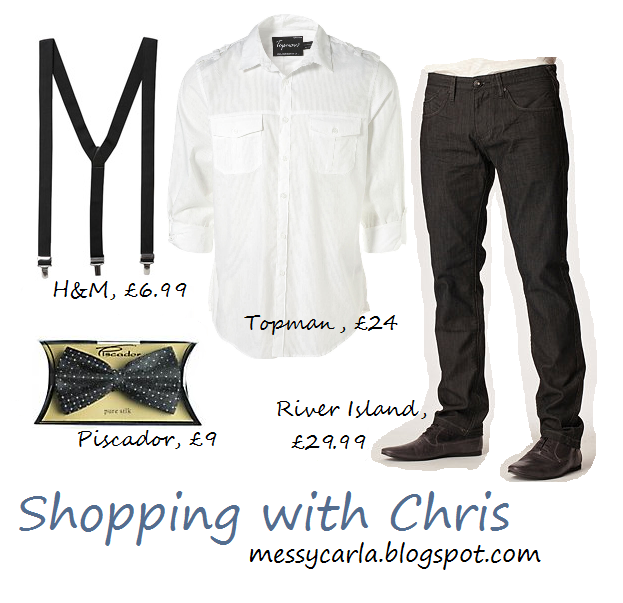 I think we did quite well, considering I don't usually have a lot of guy friends to shop with!
I felt a bit like Amanda in Ugly Betty when she suddenly declares she's a stylist...


Hmmm...maybe not? ;)
We were originally going to go with a more traditional dress pant, but since Chris is quite casual, I picked out these very dark denim jeans instead which can always be brought out for clubbing.
The shirt is also quite casual compared to a lot of the ones from Topman, but the bow-tie and braces will instantly smarten it up.
It was definitely a lot of fun.
I thought it would be a bit of an awkward turtle situation, since the only time we see each other he's pointing a very sharp pair of scissors at my hair while I glare at him. But it was ace!
Afterwards we grabbed some munch, then went for a drink and had such a laugh.
He told me some horror stories from his job, which is one of the many, many reasons I think they should bring back
The Salon
.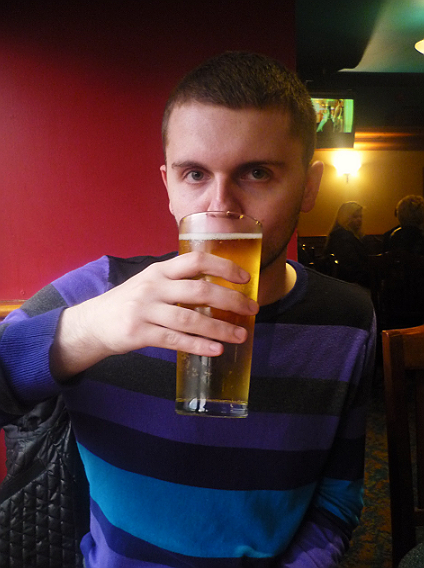 "You're not going to put this on the blog are you?"
"No, not at all!"

In other news, my poor compact Lumix has been on the blink for a while now and the little screen on the back finally packed in.
I was going to get a DSLR for Christmas anyway, but I might have to be naughty and bring this forward out of my savings. Grrr.

Thanks for all your suggestions on Twitter, though - you were all very helpful with your recommendations and I at least have somewhere to start when it comes to models. A lot of it I think is down to personal preference, so I'll have to get myself down to Jessops this week and see for myself.


Finally, in light of the tragic events that have been happening lately in the LGBT community, could you please check out Dan Savage's 'It Gets Better' campaign.
Also if you are a Twitter user, please use the hash tag #itgetsbetter to keep this topic trending and spread the word about this worthy cause.

This is a project very close to my heart, and the tragic events of late really shouldn't have any cause to happen.

Muchos love,
MessyCarla.