Hey everyone,
I treated myself to a pair of lovely new shoes a little while ago, and have just got around to photographing them now.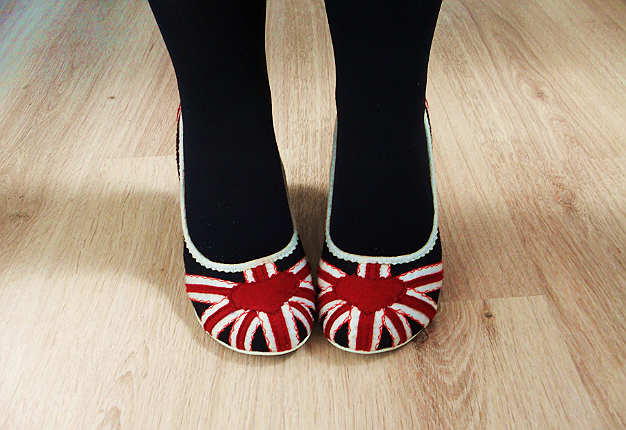 *hums Land of Hope and Glory...*

I've adored Irregular Choice ever since my friend Marie turned up to a party wearing a pair of their shoes with a tape measure design, and just couldn't resist this kitchy union jack design!

They're also available in a traditional
blue design
(which is of course the real colour scheme of the union jack)
but I thought I'd look a little too much like
Ginger Spice circa 1997
.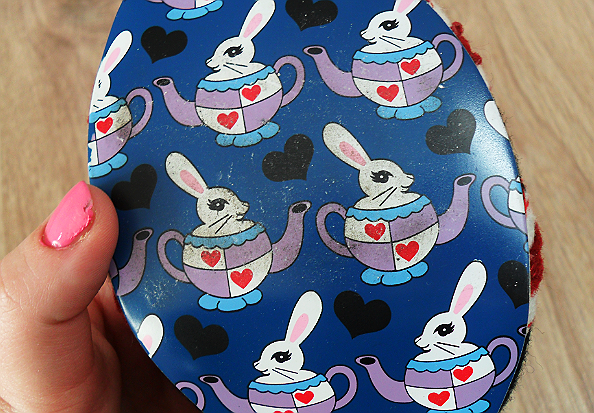 Best. Soles. EVER.
Although I've only walked around the house in these, and they're already a bit scuffed - so I don't think they'll last long like this. *sadface*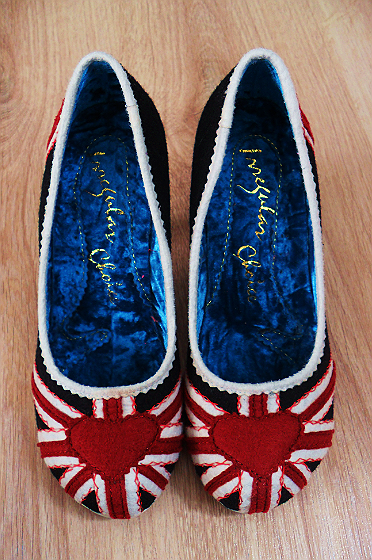 Even the insoles are luxuriously padded with a cosy flocked material, which will definitely keep my toes warm during the winter.
Also, the design on the website showed the inside material to be pink, but I really prefer the rich turquoise!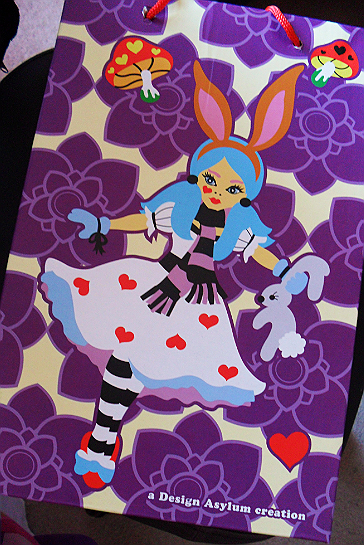 Oh, Irregular Choice! Even your packaging is bloody adorable!
(The box was also filled with yellow tissue paper with a red heart design)
I'm actually not the sort of girl who bothers a lot with shoes - I have a lot of different pairs of pumps, but only a few heels - two of which are just plain black.

So it's lovely to have something a little bit out there on a heel - especially if I'm wearing quite a plain block colour.
I got these at the online store
Aspire Style
, whose customer service is second to none.
I originally ordered a dress from them, but it was too small
(Damn you, Cupcake Week! *shakes fist*)
and they exchanged it for these shoes with absolutely no problemo.
I mentioned my blog, and they've even provided a voucher for you all to use
on their store
- and they do ship internationally!
So when you are at the checkout,
please use the code
MESSY
to recieve 10% off your order
.
My friend Georgina
(who is a regular to the Oxford store)
has
this gorgeous overnight bag with a travel design
which I've been lusting over ever since. *le sigh*
I hope you're all good in your hoods.
I was originally planning to do a video/post this week all about lipstick, but the universe has decided to bestow upon me the gift of a coldsore this week. And believe me, you don't want a close up of it - yuck yuck yuck.
I'm getting paid this week FINALLY, so I treated myself to a few
Eyeko nail polishes and an eyeliner
from the ASOS sale.
I can't wait for them to arrive!
I'm also scheduling myself in for a hair appointment sometime this week.
I'm having to wear my hair pinned back much all the time now, as my it's so out of shape
(like me)
and full of split-ends - so that's why there haven't been a lot of pictures of me, lately!
Muchos love,
MessyCarla.