Hey everyone,
Thank you so much for your
kind comments on my last post
.
I'm feeling a lot better now, and ready to get my blogging mojo back!
I think one of the reasons I've been a bit low is because I still can't get a job - despite having lots of experience
(I've had a job pretty much non-stop since the age of sixteen)
and a degree.
I've had four rejections and the rest just haven't bothered to reply.
But something will come up.
This does mean however that my pursestrings have been tightened, which SUCKS for a fashion blogger, right? Especially as the holidays are upon us!
So I've been doing things that cost as little money as possible.
Which included one of my favourite activities me and my friends used to do during college breaks -
"Acting like tourists."
We would take our cameras out, and pretend we were tourists in our home city of Newcastle. We'd even try to visit cafés and exhibitions we wouldn't usually go to, to make everything feel authentic. It's SO much fun and cost effective.
My friend
Sam
is pretty much in the same situation as me right now, so we bundled ourselves up in jumpers and coats, and went out to explore.
A new club night is using the poster for
A Clockwork Orange
- my favourite film.
Sam in the kid's area.
Just past central station - lots of lovely bars and cafés.
Typical Newcastle - full of old buildings next to modern monstrosities.
Sydney Harbour Bridge
Tyne Bridge
The Sage building - crazy non?
The Quayside. Used to be a shipbuilding site, but in recent years has become quite cosmopolitan with lots of expensive bars and restaraunts.
The
Baltic Centre for Contemporary Art
used to be a flour mill.
Ahhh Newcastle, you are so cute and craggy. Sometimes.
I've put
more pictures on my Flickr
, and you can click the ones above for the full-size versions.
If any of you guys use this fun idea - please link me to your photos or blog entry.
I'd love to be a tourist in your city, too!
In other news, I've also been baking and cooking a lot.
I'd set myself a challenge to perfect cookie recipes, as mine always turn out very stodgy, or they rise too much like cake.
But these
spicy molasses cookies
turned out PERFECTLY - sweet and crisp on the outside, and spicy and chewy inside.
Perfect for autumn, teamed of course with a steaming mug of tea!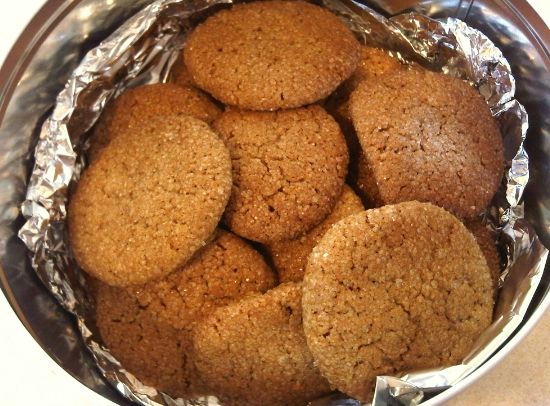 (Apologies for the picture - this was taken on my Blackberry)
RECIPE:
2 cups (260 grams) all purpose flour
1 teaspoon baking soda
1/4 teaspoon salt
1 teaspoon ground cinnamon
1 teaspoon ground ginger
1/2 teaspoon ground cloves
1/2 cup (113 grams) unsalted butter, room temperature
1 cup (210 grams) dark brown sugar
2 tablespoons vegetable, canola, or sunflower oil
1/3 cup (80 ml) unsulphured molasses (I used Lyle's Black Treacle)
1 large egg
1/2 teaspoon pure vanilla extract
1 cup (200 grams) granulated white sugar for covering the cookie balls before baking
METHOD:
1. In a large bowl sift or whisk together the flour, baking soda, salt, and spices.
2. In the bowl of your electric mixer (or with a hand mixer), beat the butter and sugar until light and fluffy (about 2 - 3 minutes). Add the oil, molasses, egg, and vanilla extract and beat until incorporated. Beat in the flour mixture mixture until well incorporated. Cover and chill the batter until firm (about 2 hours or overnight).
3. Preheat the oven to 375 degrees F (190 degrees C). Line two baking sheets with parchment paper.
4. Place about 1 cup (200 grams) of white granulated sugar in a medium sized bowl. When the dough has chilled sufficiently, roll into 1 inch (2.5 cm) balls. Then roll the balls of dough into the sugar, coating them thoroughly. Place on the baking sheet, spacing about 2 inches (5 cm) apart and, with the bottom of a glass, flatten the cookies slightly. Bake for about 9-10 minutes, or until the tops of the cookies have crinkles yet are barely dry. (They will look a little underdone.) Remove from oven and cool on a wire rack. Store in an airtight container for up to a week.
(
Recipe by Stephanie Jaworski
.)
Apologies for the lack of fashion in this post - everything will get back to normal soon, I just thought I'd catch you up on what I've been up to.
Muchos love,
MessyCarla.