Hey everyone,
Brrrrr the weather has really dropped this week hasn't it?
But not to worry, here's some lovely neutral treats to keep you warm: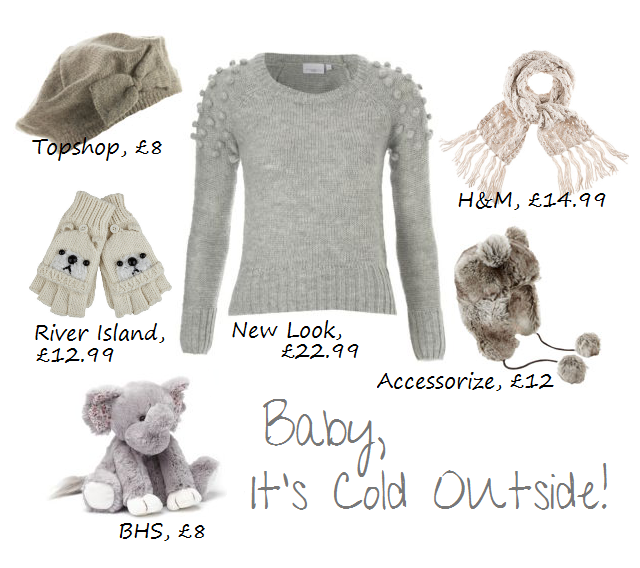 If you're wondering why there's a sweet little elephant in there - he isn't just a plush, oh no!
You can take out his middle, pop it in your microwave for a few minutes, put it back in his tummy and he's lovely and warm.
Even though I'm 21, my mam slipped a pink unicorn one into my stocking last year and I love him!
Teehee. I really need to grow up right...?
Also, I just love the song I named the set after. The best known version in this country is probably by
Tom Jones and Cerys Matthews
.
But my favourite is from a Gap campaign a few years ago with Selma Blair and Rainn Wilson:

I love that they switched the male/female parts! It's so cute.
I don't really dare to ask this - but has anyone began their holiday shopping yet?
I tend to start early, but then I have a bit of an excuse seeing as before Christmas I have
Sam's
(November 23rd)
, mam's
(November 29th)
and
my sister, Nadia's
(December 6th)
birthdays to buy for too.
I can't believe Nadia is going to be 17, she's still my little bambino!
Nowadays I do most of my shopping online
(I can't stand the crowds!)
but tomorrow I'm going with my mam to Boots to pick some things up.
If you have an Advantage card, you can pick up £12 worth of points for every £50 you spend. And that can soon add up - especially if you team up with some family members!
So for you local people, the points event is
tomorrow
at Eldon Square and Silverlink Boots between 3pm and 9pm.
It's
tonight
for the Metro Centre
(same times)
- and for everyone else,
check the website for your nearest store
.
Just thought I'd give you a head's up as you could get some great bargains!
Muchos love,
MessyCarla.