Hey everyone,
As I mentioned a few posts ago, I'm not doing anything this Halloween this year.
It's the first year I haven't really been inspired by it. Don't get me wrong, it's still one of my favourite holidays, but I just have no real desire to go out and celebrate it.
So looks like it's going to be a night in front of the TV
(
Sarah Millican's 'One Night Stand'
is on Dave, and I was in the audience when they recorded it with a few of my friends - I've already spotted some people I know in the clip!)
in my new polka dot pyjamas sipping hot chocolate with marshmallows.
Then probably watching my Vincent Price DVD box set. I really adore him.
So what I thought I'd do instead is provide with you with a picspam
(remember them from the good old days of LJ?)
of my costumes over the past year or so.
For a 21 year old, I really have dressed up more than necessary...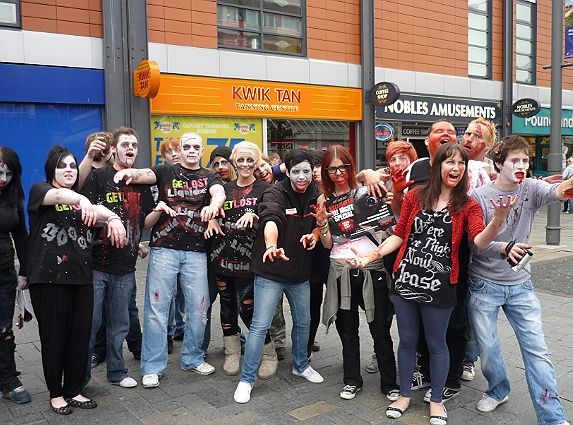 Last Halloween a bunch of us dressed up as zombies to promote a Halloween all-nighter in Sunderland.We were ejected from The Bridges shopping mall by security...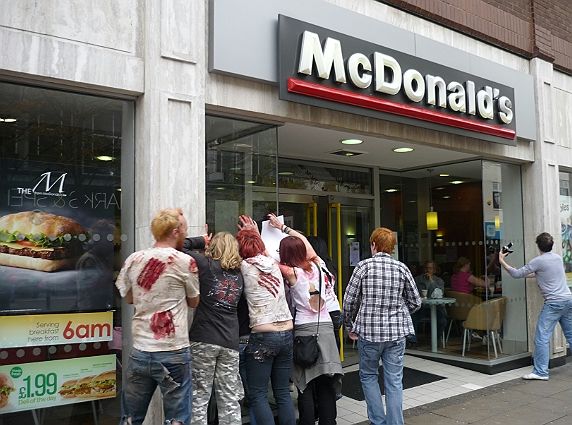 LOVE this picture from the zombie day. Sometimes they're in need of a change from eating brains all the time...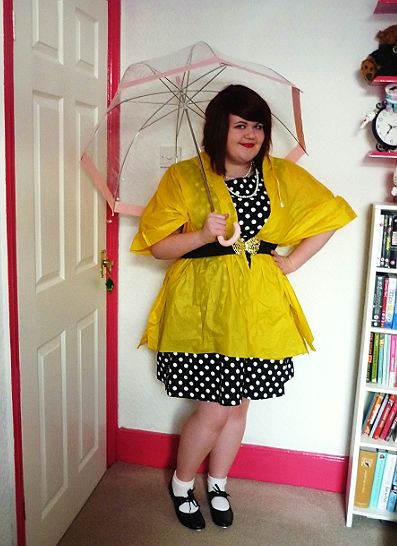 Kathy Seldon from Singin In The Rain for Faye's TV & Film birthday party.
(People thought I was Tracy Turnblad from Hairspray...)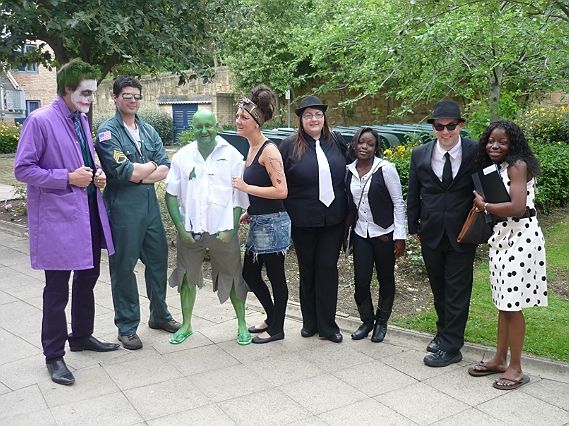 My old work buddies for another TV & Film party.
How many do you recognise? ;)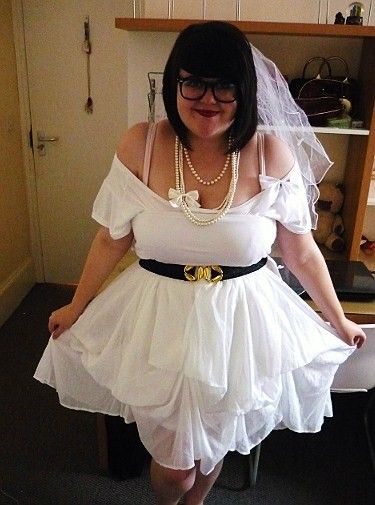 My cheapo costume from Halloween 2009 - an 80s bride. I got everything for under £10.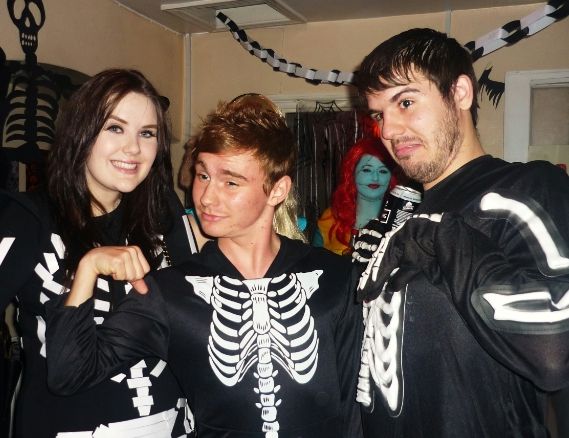 Hannah, Kristian and Tom as FunnyBones.



Two Alex DeLarges!
I'm not just being biased, but I think my friend Neale looks the best with his fringe.
I also drew his eyelashes on for him.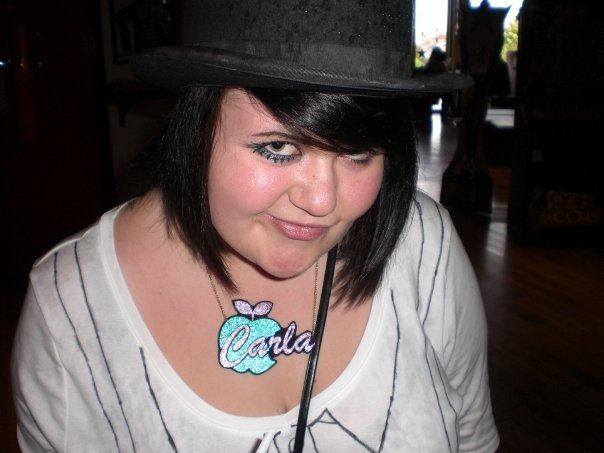 I've been dressed as Alex Delarge this year too...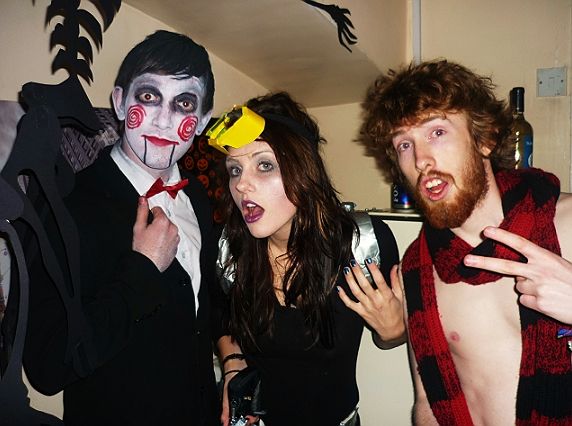 Tyler as Jigsaw, Kelsey as a dead scuba diver and some guy as very convincing Mr. Tumnus.
I actually ignored Tyler for the first hour or so of the party as I didn't recognise him!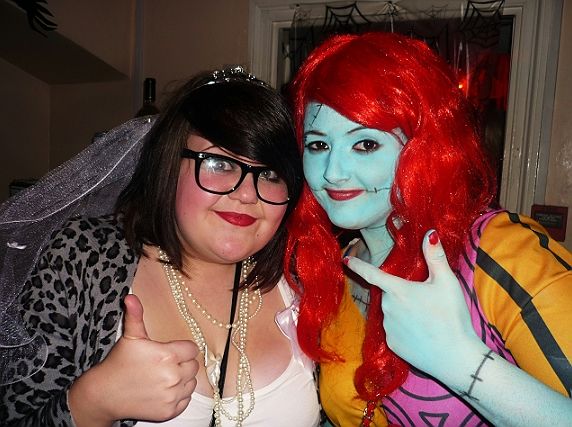 With Becky as Sally!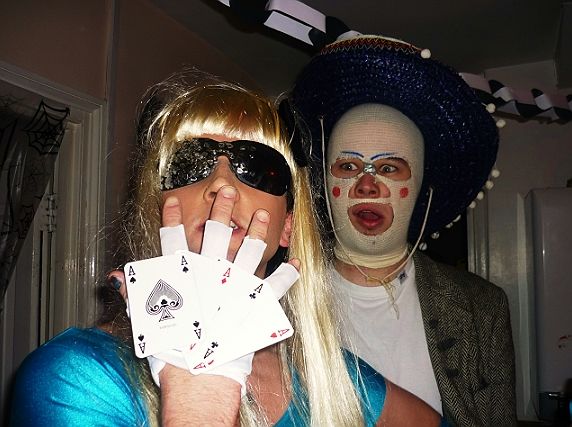 Joe as Lady Gaga and Jamie as a wrester (I think...?)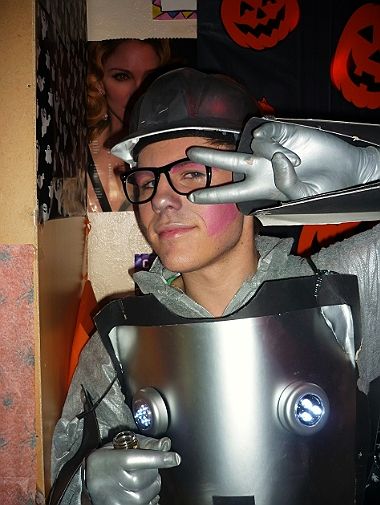 David's homemade robot costume was my favourite last year - I especially loved his light-up nips!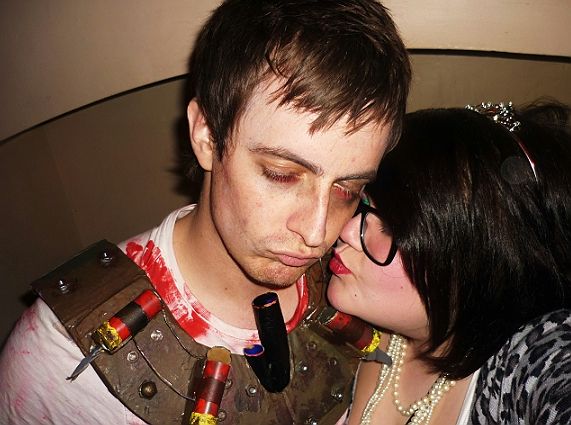 Kisses for my poor friend David because he's stuck in a Saw trap. *sadface*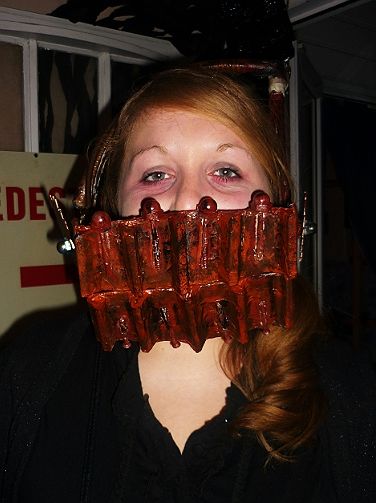 Fran's amazing Saw trap costume. All made herself with odds and ends she found, then painted.



RAWRRRRRR! Dragon Adam!
"He spent all day making that bloody flame, he's so proud of it!" - my friend, Megan.

I did warn you that Media students take Halloween VERY seriously, right?
If any of the people above have a link with their name, give it a clicky-clicky as they'll take you to their various blogs/showreels etc. They're a pretty talented bunch!
But if you have a last minute party to go to, hopefully I've given you some last minute inspiration.
Oh! I almost forgot - I found this on an old hard drive a few months ago, and it is quite possibly my favourite fancy dress idea ever...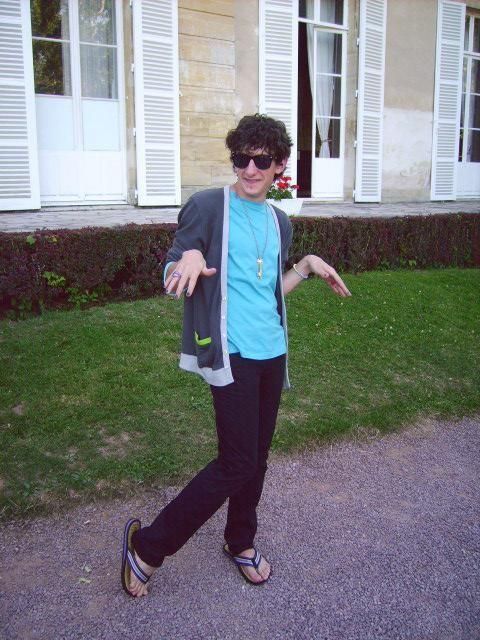 Curly hair, bright t-shirt, cardigan, necklace, wayfarers, painted nails, flipflops and a pose?
James went to a fancy dress party a few years ago dressed as Daniel!
Heh.
So do any of you guys have Halloween plans this year? What are you dressing as?
Do let me know, I love hearing back from you guys!
Muchos love,
MessyCarla.