Hey everyone,
Wow, the temperature has really dropped this week hasn't it?
Although I'm not the biggest fan of Autumn and Winter - the dark mornings and short days set off my
S.A.D
which has already been putting me on the blink this week. Bah!
BUT, what I am looking forward to enjoying is shopping for some gorgeous jumpers.
And a few days ago, I had my first
'Jumper Day'
of the year - where it's still a bit too warm to my winter coat, but too nippy to go out without a jacket: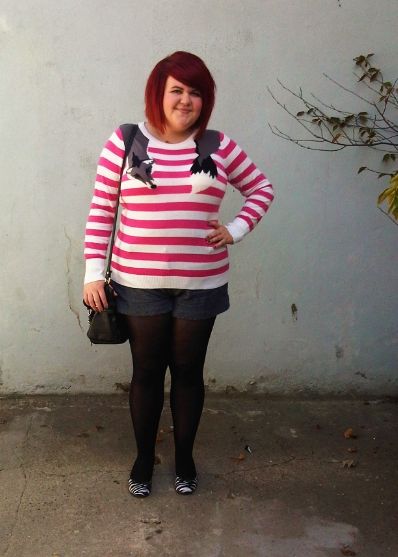 JUMPER:
H! by Henry Holland,
£38.

SHORTS:
Dorothy Perkins,
£Can't remember.
BAG:
River Island,
£40ish.

TIGHTS:
Dorothy Perkins,
£4.

SHOES:
Ebay,
£5.

POINT OF FASHION:
First 'Jumper Day' of the year!
I absolutely adore the Henry Holland jumper - the fox is so cute, and the white tip of the tail even has extra fuzzy-wuzzy bits.
Also, some more lovely knitwear that I've put on my wishlist: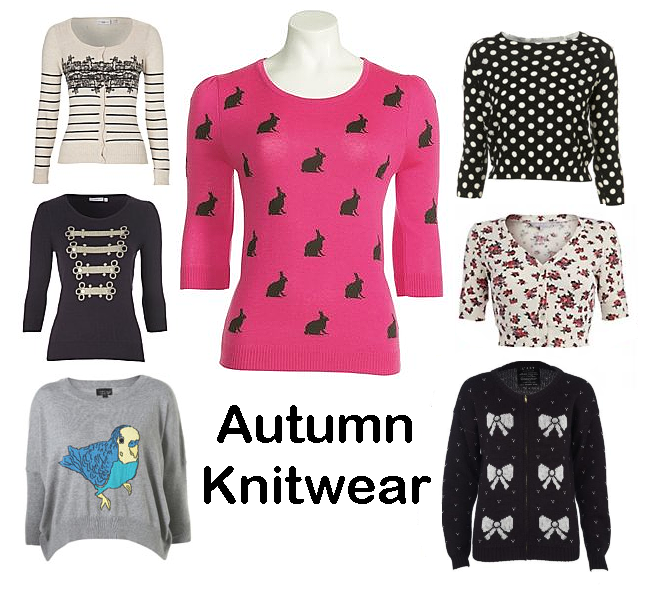 RABBIT JUMPER:
Next, £25.
(
Georgina from Cupcake's Clothes looks adorable in this!
)
POLKA DOT JUMPER:
Topshop, £35.
FLORAL CARDIGAN:
Red Herring, £20.
LACE PRINT CARDIGAN:
New Look, £22.
MILITARY JUMPER:
New Look, £20.
BOWS CARDIGAN:
River Island, £36.99.
BUDGIE JUMPER:
Topshop, £28.
I've just realised I've done almost a full circle with this blog -
my very first post was all about upcoming Autumn collections
! How time has flown...
I do have a fun idea for my first blogoversary on September 30th.
Stay tuned for more information, folks!
I've also
added a bunch of pictures to the Facebook page
from my life away from the blogosphere, so you can see what sort of stuff I get up to that doesn't make it onto this blog.
If you could consider becoming a fan, you can get updates of new blog posts plus some more cool stuff straight to your news feed.
Muchos love,
MessyCarla.