Hey everyone,
Some of you may remember me explaining how the only resolution I set myself for 2010 was to learn to cook and bake.
(I keep meaning to post more recipes here, but don't know how many of you would be interested?)
But as it's
National Cupcake Week
, I've decided as a special for this blog - I'm going to bake and post a different batch of cupcakes
every day
this week!
The darling Katie from
Katie Cakes
and
Pet Lamb Patisserie
funnily enough had exactly the same idea - so please follow her blog too for some fabulous recipes.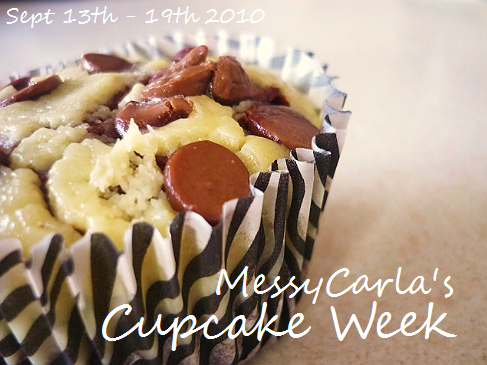 So I thought I'd kick this off with Black Bottomed Cupcakes which is a recipe from The Hummingbird Bakery cookbook.
I don't have the most luck with cupcakes, so usually I don't make extremely fancy cupcakes - so thought I'd be a bit of adventureous.
They have a lovely chocolate sponge base, then a sweet vanilla cheesecake topping.
The original recipe had icing/frosting on top, but I thought the cupcakes looked so pretty anyway, I decided against it in the end.
Ingredients:

For the chocolate sponge base:
190g plain flour
120g caster sugar
40g cocoa powder, plus extra to decorate
½ tsp bicarbonate of soda
40 ml sunflower oil
1½ tsps white vinegar
½ tsp vanilla extract

For the cheesecake topping:
140g cream cheese
60g caster sugar
1 egg
½ tsp vanilla extract
A pinch of salt
100g milk chocolate chips

How To:

1. Preheat the oven to 170°C (325°F) Gas 3. For the chocolate sponge base put the flour, sugar, cocoa powder and bicarbonate of soda in a large bowl and mix on a slow speed until all the dry ingredients are well incorporated with a sandy texture.

2. Put the oil, vinegar, vanilla extract and 125 ml water in a jug and whisk to combine. While the electric whisk is running in the flour bowl, slowly add the contents of the jug, increasing the speed of the blender as the mixture thickens. Continue to beat until all the ingredients are incorporated.

3. Line a 12 hole cupcake tray with paper cases. Spoon the mixture into the paper cases until two-thirds full and set aside.

4. For the cheesecake filling beat together the cream cheese, sugar, egg, vanilla extract and salt on a medium-slow speed until smooth and fluffy.

5. Scoop about 1 tbsp of the cheesecake filling on top of the cupcake mixture, sprinkle the chocolate chips on top and bake in the preheated oven for about 20 minutes, or until the cupcakes are firm to the touch and they have an even golden colour on the cheesecake filling. Don't overcook as the cheesecake will become very dry and crumbly.

6. Leave the cupcakes to cool slightly in the tray before turning out onto a wire cooling rack to cool completely.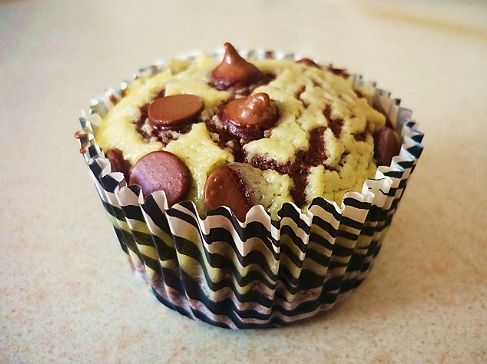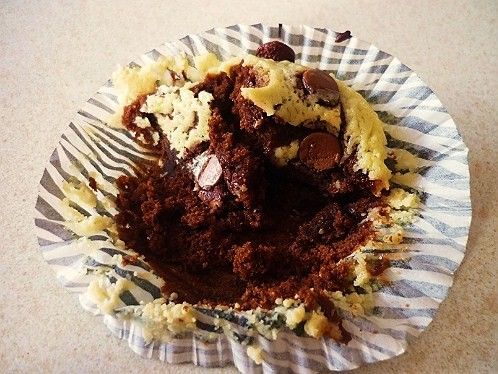 This recipe is from the Hummingbird Bakery's Cookbook, published by Ryland and Peters, £16.99. To buy it, click here.


Sorry for my lovely American readers who usually use cups for measurements - I just prefer using scales to measure.
I'm sure there's a few converters online with a bit of Google-ing!

Do let me know if you try them - they're not the healthiest cupcakes in the world, granted.
But pah! It's Monday, I need lots of sugar to get me through the day!


Muchos love,
MessyCarla.