Hey everyone,
I got some lovely new tights from
We Love Colors
a week or so ago.
I'm usually so boring with tights, sticking to black and am often nervous experimenting with bright colours!
But
We Love Colors
looked very good quality, and a fantastic range of colours, so I thought I'd give them a go.
I got two colours:
Royal
(Shoes: Office)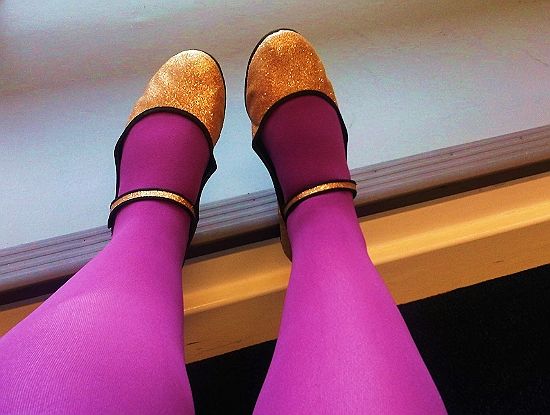 Rubine
(Shoes: Dorothy Perkins)
I wore the Rubine ones today for work, so snapped a quick pic of my outfit!
Apologies again for the Blackberry snapshot, I keep forgetting my digital camera.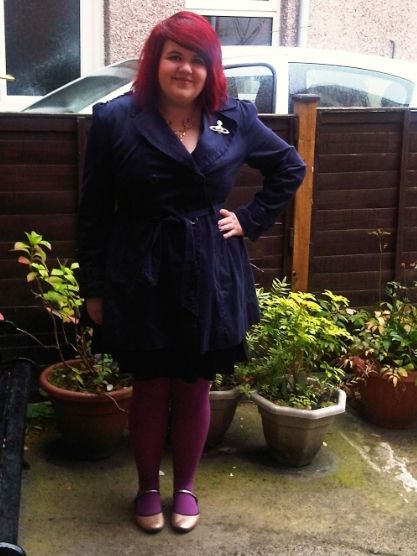 DRESS:
Can't remember.
COAT:
New Look.
PIN
: Vivienne Westwood.
TIGHTS:
We Love Colors.
SHOES:
Dorothy Perkins.
POINT OF FASHION:
Purple and pink.
The only downside is that at $9-$16 per pair, plus $15 shipping to Europe
(only $5 in the USA)
, plus I also had £11 customs tax to pay, it turns out to be a bit of a splurge for tights.
Especially if you're like me, and used to multipacks from Asda for £3.
But they're so luxurious and good quality, I reckon it's worth paying for if you're going to get a lot of use out of them. And as somebody who wears tights nearly everyday, I've found them totally worth it.
I do prefer the Royal to the Rubine, just because I prefer darker, richer coloured tights - but for a bright tight, I do like the Rubine.
I was worried they'd look like the cheap ones Primark do that give a sheer look
(REALLY don't like those!)
but they're just as opaque as the darker ones.
DEFINATELY check them out:
http://www.welovecolors.com/
!
In other news, me and
Daniel
went to Edinburgh to see Celebrity Autobiography yesterday.
Really we only went because it's taking the mick out of celebrities and stars
Michael Urie
(who we both fancy)
- but it was absolutely fantastic! I laughed from start to finish.
It's a show where actors give dramatic readings
(but not acting)
of real celebrity autobiographies. Acting simply isn't required as the stories are always far fetched enough.
My favourite readings were the autobiographies of Peter Andre
("I like Trivial Pursuit, but I can't play the Genuis version...")
, Katie Price
(she keeps mentioning her "bits")
and Tommy Lee.
(His book is ALL about the rumpy pumpy!)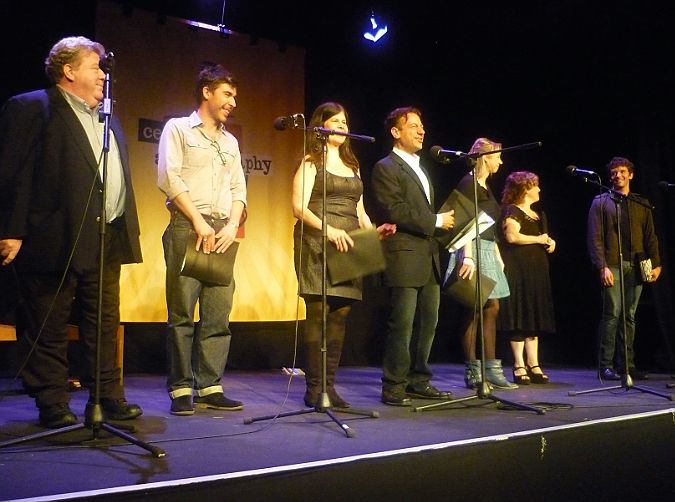 The cast!
FUN FACT: The actress standing second right next to Michael Urie is Claudia Shear, who is the lady in that episode of Friends who steals Monica's credit card!
Also, check out where the show was held.
It is hands down the oddest venue I've ever been to: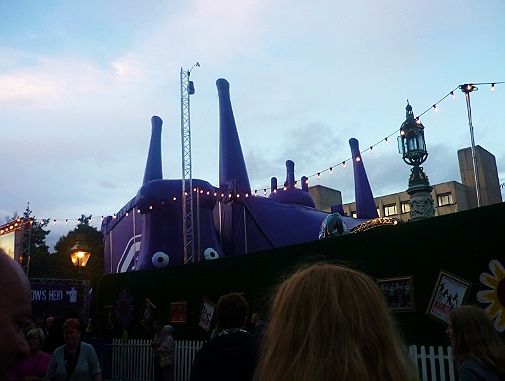 The Udderbelly is a big, purple cow lying on it's back!
HOW CUTE?!
Anyhoo, I hope you're all good.
Sorry for the lack of mid-week nails - I painted our nails in the park yesterday and the blue glitter is refusing to budge!
Be sure to keep
following me on Twitter
.
Now I have my new phone I'm twitpic-ing a lot more than I did before.
Muchos love,
MessyCarla.