Hey everyone,
While I'm usually all about bright bold colours, this year I am beginning to embrace something I never have before...beige!
While girly and childlike pastels such as mint, baby pink and lilac were popular during Spring/Summer, Autumn/Winter is going to be all about more "grown up" colours, such as dark creams, off-whites, light browns and beige.
But beige, definately doesn't have to be boring!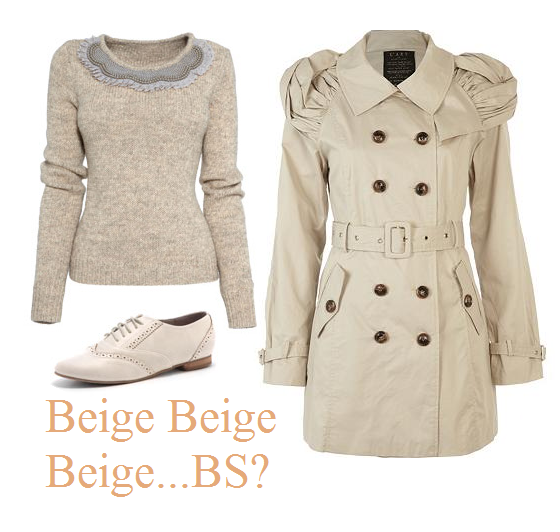 COAT:
River Island, £59.99.
JUMPER:
Next, £40.
BROGUES:
Dorothy Perkins, £25.
If you're like me and still in need of a wild splash of colour - imagine how amazing that coat would look with a pair of opaque tights in deep mauve, or rich purple?
(Try
WeLoveColors.com
for some examples - they have practically every colour under the sun)

But it is hard not to think of beige as a 'boring' colour.
It always reminds me of a scene in the third series of Sex and the City.
('Easy Come, Easy Go')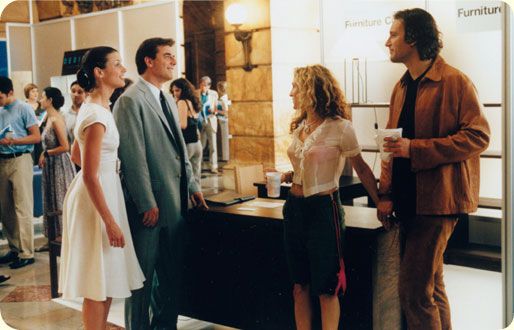 After Carrie and Mr. Big's initial relationship has ended, he marries Natasha who he met whilst working in Paris.
Unlike Carrie, she offers Big stability, which bores him senseless.
BIG:
"Everything is my apartment is now beige. Beige...is bulls**t."
CARRIE:
"I thought you wanted beige?"
BIG:
"Yeah well, it doesn't quite...fit."
And it's quite obvious they're no longer just talking about furnishings.
Hmmm.
So how about you guys?
Do you think beige is chic and will you be wearing your neutrals this A/W?
or
Are you with Mr. Big? - Beige is bulls**t!


Do let me know, as I love hearing your thoughts.
Muchos love,
MessyCarla.
PS:
In other news, my best friend from college got engaged this week! Many many congratulations to Claire and Andy.
We met up yesterday so I could see her rock, and it's STUNNING!
(And because she's a diva, had a new stock of rings sent to her jewellers so she could pick the best quality stone...you can tell she used to work in H Samuels!)
All the best for the future, you two! xxx