Hi everyone,
As I mentioned in the last post, this is the second part to a big post about some events I've been to lately.
So please tuck your ice cream pots under your seat and sit back, act two is about to begin.
Saturday was
British Style Bloggers
' first meetup to celebrate their first birthday.
The lovely editor Amy had arranged a birthday picnic one of York's beautiful parks surrounded by trees, ruins and squirrels. (
"SQUIRREL!"
)
I took this picture of all the girlies in attendance:
Rachel, Florrie, Sarah, Amy and Becky.
Anyway, since my last entry was pretty word heavy, you wanna see more pictures, right?
Right.
Becky's Momiji had my hairdo!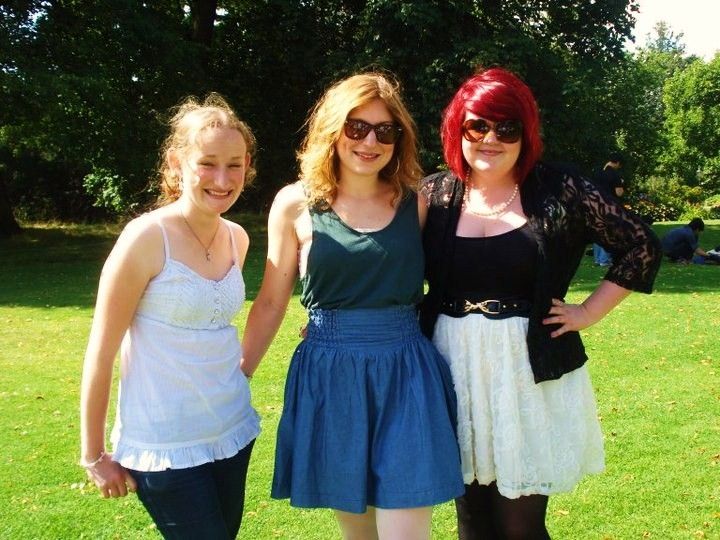 With Amy and Becky.
What I wore:
DRESS:
New Look, £18. (Was £28 but for some reason a tenner was marked off!)
CARDIGAN:
New Look, £25.
BELT:
Can't remember - maybe Topshop?
NECKLACE:
Vintage, £My mam's.
TIGHTS:
Dorothy Perkins, £5ish.
BOOTS:
Fenwicks, £25.
POINT OF FASHION:
Lacy and girly.
I'm LOVING that dress - I originally got it as I wanted a new dress for when I visit
Claire
in Belfast, and in case we go out for drinks.
(I'm a Geordie, she's Irish - not wanting to stereotype but I reckon it's going to happen... ;))
But I dressed it down ever to slightly with studded flat boots and a simple necklace.
It's still very dressy, but will look moreso with nicer tights and heels.
We were lucky with the weather - the sun shone all day. And just between us because we're all friends here, I slighty burnt my
decolletage
. Yowch!
"They shouldn't have been out then, should they?" Asked Rachel.
She had a point.
The girls were also very amused that I dropped a bit of sandwich down my chest, and they didn't see my rummaging around my bra for it - I guess it's become second nature.
I really am a classless specie.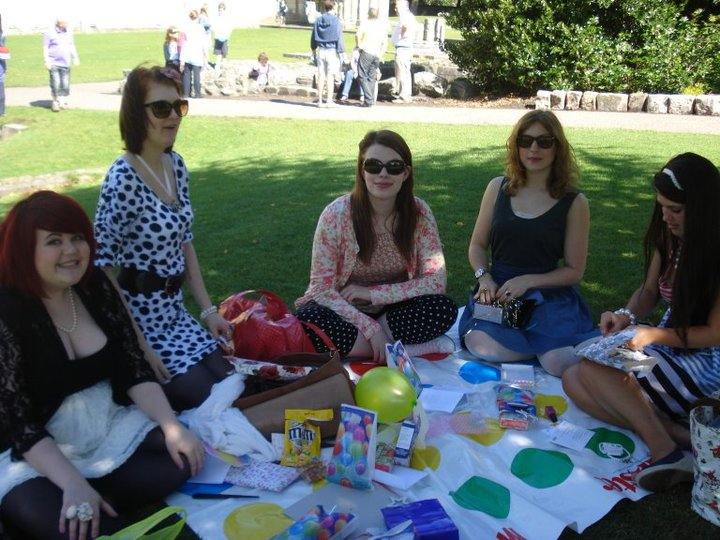 Look at my face. I'm obviously in my element.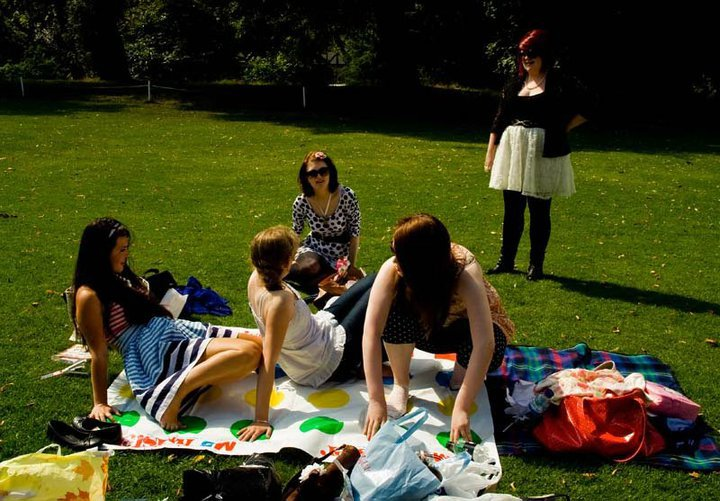 (CAPTION CONTEST, ANYONE?
)
You can see
more pictures on the British Style Bloggers Facebook Page
.
Anyway, I always love meeting bloggers as everyone is so varied and have many different reasons to why they blog.
I also think it's interesting how people are different to how they are perceived online.
For example, I asked Rachel if she thought I was different to how she expected - and she said she was surprised by my rather crude sense of humour and sailor-talk mouth, as I don't even swear on my blog. Hmmm, interesting.
Finallement
, Amy also put together this video of us all having fun.
I'm so loud and annoying in it, please so excuse me!
Roll on the next one!
Muchos love,
MessyCarla.