Hey everyone,
You all know I love my hair products, and am usually loyal to the ones I know and love.
But I'm always happy to buy new additions for the family.
Due to a week of hot sun, humidity and being seperated from my heat protector sprays, I had
worse split ends than Worzel Gummidge
(remember my hair is bleached too, under the red)
!
I was definately due a haircut.
Usually, after my cut, I have my hair blowdried in quite a sleek way - but I asked my stylist
(Shout-out to Chris who always keeps me from looking like a hot mess)
to add more volume to my fresh, chunky layers.
And he came back with this product: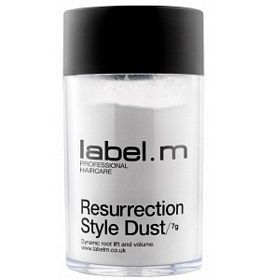 Oh yes. THAT'S a volumizer.
It's completely different to a mousse or volumizer spray. It's DUST!
All you have to do is shake it up, sprinkle a little onto your roots, rub it in, scrunch and watch your hair expand!
It's really cool when you shake it up, the dust fills up the whole bottle, then slowly settles again.
That's how clever it is:

I thought at first it was going to be the same consistancy of dry shampoo, which I have never really liked. My hair always feels weighed down and limp.
But the texture is very light, and slightly grainy, like very very fine salt. But it doesn't leave any residue in my hair.

The dust does work best if you like that big messy hair look, like I do. It's especially brilliant if you have a lot of layers as it can really give them a kick.
But if you like neat, chic hair with that extra oomph, it may be best to give this one a miss as it gives a bit of a bed-head look.

The only downside is that you can really 'feel' this working in your hair.
Personally I like that matte feeling of texture, but it really grosses some people out.

What I like best is the fact that with this, I'm able to eliminate several harmful processes to my hair.
Such as to get the same look I've had to add a volumizer, blow dry the opposite direction to my hair growth, pile on the hairspray and backcomb. My hair is crying out in pain, I tell thee!

With this, I just have one easy process - sprinkle and scrunch!
No backcombing or hairspray needed.

Sorry for the appauling webcam picture (my camera's battery is currently on charge) but this is how my hair looked TEN HOURS after the initial application: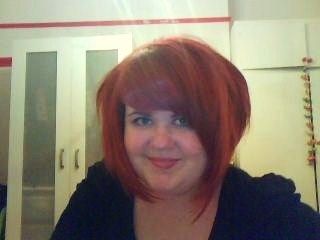 My hair has never looked this decent at 11pm after snugging under my duvet for a few hours with series 5 of Buffy The Vampire Slayer (God, I could never stand Dawn!).

And if my hair got limp throughout the day, I just gave it a bit of a scrunch and joozjh - and it was massive again!
It's a miracle I tell you!
You can buy Label. M at all Toni & Guy salons or there's plenty of places online if you do a quick search.
Label. M Resurrection Dust costs £10 for 3g and about £15 for the 7g (which I got).


How about you guys?
Have you ever tried a product that was a bit off-the-wall?
Did you love it or hate it?

Muchos love,
MessyCarla.
NOTE: I paid for this product with my own money, and all opinions are my own. I was given no compensation for writing this review.