Hey everyone,
It's my first outfit post in a little while, and one of my new favourite looks I've put together.
I wore this on a night out with
Daniel
.
The drag queen
Miss Kitty
announced to the whole pub that
I look like Kathy Burke in Gimme Gimme Gimme
!
Oh well, I do love that show so I suppose it doesn't matter too much! Teehee.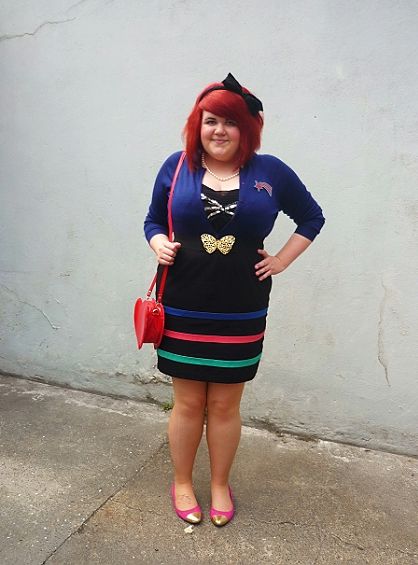 TOP:
Dorothy Perkins, £12
(sale).

SKIRT:
Forever 21, $15.
CARDIGAN:
Vintage, £8.
BELT:
New Look, £2
(sale).
NECKLACE:
Vintage, £my mam's.
HAIRBAND:
Forever 21, $3.80.
PIN:
Heidi Seeker, £3
(through Lillian's blog sale).

BAG:
Topshop, £10
(through Lillian's blog sale).
SHOES:
Office, £12
(sale).

POINT OF FASHION:
Primary Colours.
I know that pink and green aren't primary colours, but the main focuses are red and blue. I like that my bag matches my hair.
I was going to go for red lipstick too, but didn't want to be too gimmicky.
My mam and dad didn't recognise a lot of the clothes when I came downstairs and badgered them for a lift to the metro. But actually a lot of the clothes are quite old - I got the sparkly vest when I was about 17
(FYI: it's a size 12! :O I've never been a size 12 since I was about 10!)
and I picked up the cardigan at a Vintage Fashion Fair early last year.
I love wearing clothes I already have in a different way to create a completely new look.
Like I've never tucked a cardigan into a skirt before - but it may well be my new favourite thing to do!
Notice how I'm flashing my pins for once too?
Well, I do have sheer tights on
(I just don't like the feeling of being barelegged. I don't like to mention 'chaffing' but apparently the topic has come up here...)
but still.
AND you can actually see my tattoo for once - see my right foot?
Yesterday, I went to the
Cluny Craft Market
with
Rachel from Mon Polkadot Cheri
.
It's so lovely to have someone local who's into the same blogger-y/shopping escapades at me!
Also we think it's funny because I call her Miss Polkadot and she calls me Miss Messy. Hehe.
Oh! I almost forgot. At one point we took a wrong turn and ended up on the dodgy side of town where tracksuits and scruffy trainers reign.
Thankfully we managed to get a taxi to
The Cluny
for a few quid. And we really did stand out a bit.
Our taxi driver came out with the almighty:
"YA'S LOOK LIKE PICK 'N' MIX! A WOULDN'T MIND HAVING A BITE, ME LIKE!!"
Welcome to Newcastle, everyone! I do love it.
Anyway, there was some wonderful local talent there including:
Tara Scholes Jewellery Design
.
Mia Design
.
(I could have honestly have spent all of next month's pay here!)

Emma Louise Originals
.
Rule Brittania
.
BOBU Couture
.
and
Little Miss Delicious
.
(
who you already know I love!
)
New York has still pretty much wiped me out until I start my new job on July 19th, so I couldn't buy as much as I would have usually. But I did get a few bits and peices: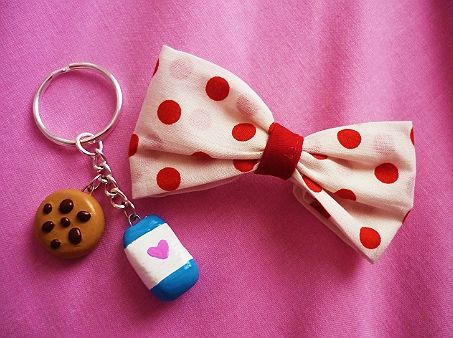 The keychain is by Little Miss Delicious.
I also bought a yummy cake ring, but because I'm an idiot - I put it in the bottom of my bag, and two of the deliciate peices on the crust broke off - so I'm asking Maxine to fix it for me!
The bow pin (I can never resist anything with a bow - or polka dots) was by BOBU Designs.

Rachel bought an Australian stamp pendant by Emma Louise Originals.
It was actually mounted on a vintage Scrabble peice, which I thought was really cool!

I know a couple of you went to the event after hearing about it on this blog, which is absolutely ace ace ace.
If you did miss it - don't worry!
Everyone is going to be back this Saturday (10th July) for the Launch party for 'Made In Newcastle', which is a brand new pop-up shop opening in Nunn Street.
It's amazing that local designers will have a premises to sell their designs in.

And the launch is going to be super-fun!
There's going to be a catwalk fashion show, a doodle jam and a swap shop.
The last one basically means - come bring something you'd like to swap, for something new!
Especially great some someone (like me) who is currently counting the pennies.

Local folk please consider coming, supporting and having a great time.
(Click the links to take you straight to the Facebook event page)


Next, thank you to everyone who tuned in and got in touch with me and Daniel during our first radio show together.
There were a few technical hitches at the start (due to debut show nerves) but we soon got into the swing of things for our 4th of July special.

We're back next Sunday July 11th, again from 6pm-9pm GMT on PrideRadio.co.uk.
Yes. Right when the stupid stupid stupid World Cup Final is happening.
So we're having a People-Who-Don't-Like-The-World-Cup Party - all the best tunes from your singing WAGS (Cheryl and Posh, mostly - are there any others who are singers/in bands/useful?).
And also our favourite artists from around the world!
I'll post rememberals on Twitter closer to the time, so be sure to listen out for us.


Finally, I got my university degree results.
I am now Carla Benstead, Media Production (Televison & Radio) BA (Hons) 2.1.
YES. 2.1.
How I managed that, I frankly have NO idea.
(If you fancy studying Media - this is the link to my course)

My graduation is in exactly a week's time.
Outfit planning must commence.
It's suggested we wear something with a collar, and my wardrobe is entirely collar-less.
Hmmm. Shops ASAP, I reckon.

Muchos love,
MessyCarla.


PS: I'm selling some items on Ebay!
Please go and check them out? Thank you, muchly.