CLOSED!!
Winners announced 01/08/10!
Hey everyone,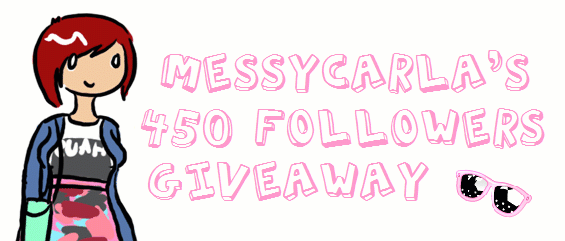 It's finally here - the 450 Followers Giveaway!
Just like last time there are two sets of prizes to be won: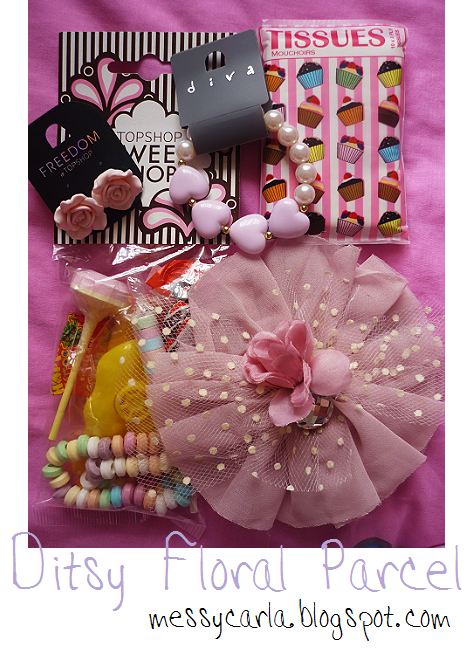 The Ditzy Floral Parcel is inspired by the florals and pastels trend this Spring/Summer.
Dainty and feminine items - perfect for a Summer picnic with tea, sandwiches and cupcakes.



Pink rose earrings from Topshop.




Pearl and hearts bracelet from Miss Selfridge.




Corsarge (can be worn as pin or hairclip) from Dorothy Perkins.




Cupcake tissues from Peacocks.




Pick 'n' Mix sweets from Topshop.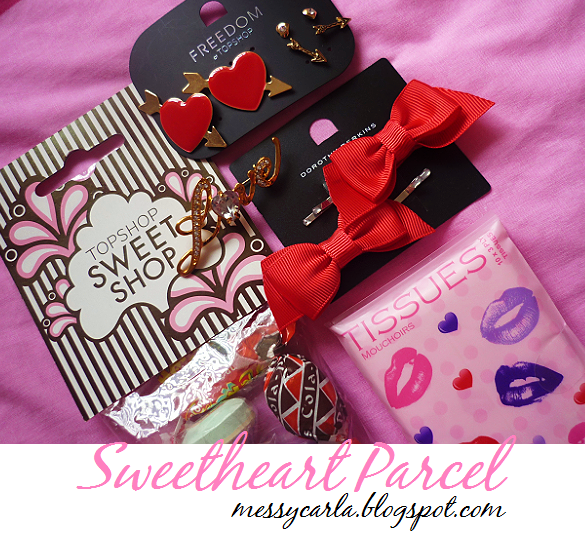 The Sweetheart Parcel is a Rockabilly love story wrapped up with a big lipstick kiss. Stereotypical Valentines-style items - as "the most exciting, challenging and significant relationship of all is the one you have with yourself" - Carrie Bradshaw.
Set of heart and arrows earrings from Topshop.




Red bow hairclips from Dorothy Perkins.




Love pin from Miss Selfridge (sorry I had to remove the packaging - it was practically destroyed!)




Kisses tissues from Peacocks.




Pick 'n' Mix sweets from Topshop.


"So Carla! How can I be in with a chance to win these lovely prizes?" I hear you cry.
Funny you should ask:

This giveaway is open to all followers - it's because of you guys I love doing what I do here!

If you leave a comment here: 1 vote.
If you tweet about the giveaway on Twitter: 1 vote.
If you post about the giveaway on your blog: 1 vote.
If you have a permanent link on your blog for the duration of the giveaway: 2 votes!
Just let me know in the comments the link to your tweet/blog/entry if you promote.
You'll also be automatically entered into both draws!

The 450 Followers Giveaway will close on Sunday 1st August at 12noon GMT.
I do hope you all enter - and best of luck to you all!

Muchos love,
MessyCarla.