Hey everyone,
Happy Pride Day
to my lovely locals. Here's my
Outfit Post
for today: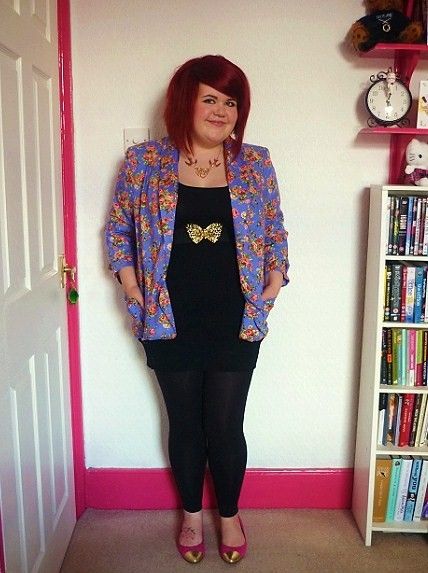 DRESS:
New Look, £30. (Limited Edition range)
JACKET:
River Island, £17. (sale)
LEGGINGS:
Primark, £2.50.
NECKLACE:
Miss Selfridge, £2. (sale)
BELT:
New Look, £2. (sale)
SHOES:
Office, £15. (sale)
POINT OF FASHION:
Off to Nothern Pride!
I absolutely LOVE my new River Island jacket - it was just too pricey for me at RRP, but I found it in the sale a few days ago.
Me and Daniel call it my Graham Norton jacket!
Today was
Northern Pride
– a LGBT event covering the Newcastle/Sunderland/South Shields and surrounding areas.
My favourite clubbing destination has always been the
Newcastle's gay scene
.
It's so funny when people who aren't regulars come in and stare, as really nothing surprises me now.
Please don't ask me to explain what goes on in the cellar of 'The Eagle'.
There's something both seedy and comforting about the scene.
Especially mine and
Daniel's
favourite destination,
The Bank bar
.
Such as, the drag queen will wave cheerfully at you when you enter, but
(no matter your gender or orientation)
chances are you will be felt up at the bar.
As I once explained: "It's like
Cheers
with free condoms."
Daniel's blog entry goes into better - and funnier - detail about our escapades
!
Back to Pride!
I've also been lucky enough lately to be involved with the lovelies at
Pride Radio
- so I took some rainbow cupcakes over to our station manager Tony when he was doing the outside broadcast.
They got rave reviews! A bit squished after being in tupperwear for a few hours, but still very yummy.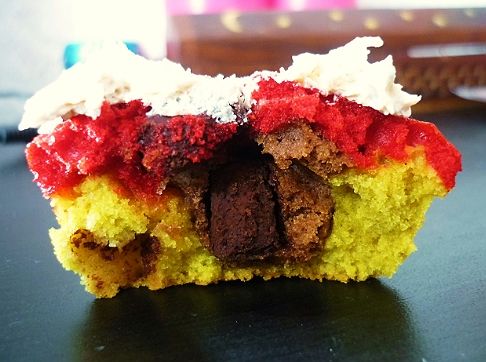 Vanilla sponge, with chocolate sponge in the middle and massive chocolate chunks.
If you want to try making them yourself, this is what you'll need:
Carla's Rainbow Cupcakes:
1 1/2 cups all purpose/plain four
1//2 teaspoon baking powder
1/4 teaspoon salt
1/2 cup softened butter.
3/4 cup granulated sugar.
2 eggs, room temperature.
2 teaspoons vanilla extract.
2/3 cup milk. (Room temperature)
As many chocolate chips/chocolate chunks as you can handle!
Makes 12 large cupcakes, or 19 smaller cupcakes.
1. Preheat oven to 350 degrees/Gas Mark 5.
2. Line a cupcake tin with wrappers.
3. Sift together flour, baking powder, and salt. Set aside.
4. In another bowl beat the butter and sugars until light and fluffy.
5. Add the eggs one at a time, mixing just until blended.
6. Beat in vanilla.
7. Add the flour mixture and milk. Combine, but do not overmix.
8. Separate your mixture into three bowls. In one bowl add red food colouring, in another bowl add chocolate powder (The darker the better), and in the third add green.
9. Mix together until combined, then gently stir in your chocolate chips/chocolate chunks.
10. Add a teaspoon of mixture to each cup until they are 2/3 full.
11. Bake for 18-24 minutes or until cake tester comes out clean.
12. Cool completely and frost/ice.
I was both lazy and wanting the icing to be a talking point - so instead of regular frosting, I used
Ann Summers' Vanilla Body Icing
and decorated with sprinkles and gold glitter.
Anyhoo, hope if there's a Pride event in your area you go along and wave that rainbow flag!
I'll try and
pop some more pictures from Nothern Pride onto my Facebook page
.
Finally,
Thank you thank you if you've entered my 450 Followers Giveaway! And if not - please do
!
Muchos love,
MessyCarla