Hey everyone,
It's that time of the week already: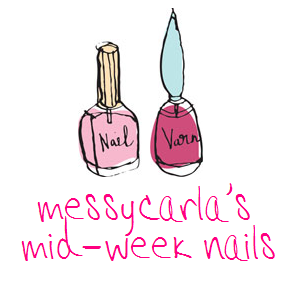 This week's colour is another Barry M nail paint - and it's 308/Berry Ice Cream.


I know, I know. I can hear you all yelling at your screens - "Oh Carla! Don't you know there are actually other brands of nail polish?!!"
Well, I hear ya. But Barry M is one of my favourite makeup brands (without a doubt my favourite 'drugstore' brand) and their nail paints are always fantastic.

I've been getting bored of mint green, but not quite ready for bold oranges and yellows.
And I was quite lucky to pick up this colour as it's sold out a lot of places, including online.
It went on lovely (although as usual - I put too much on so it went slightly gloopy) and as my new job entails a lot of typing, it wore of pretty quickly at the tips.
But I do love love love it!
This is my first lilac nail polish, as I've always prefered dark purples. But I think I'm converted!

There's going to be slightly less posts that usual at the moment because as I mentioned, I've now started my new job, and getting used to the routine.
It used to be: Doss about in pyjamas all day, think about doing essay nap, plan essay, write blog instead, sleep. Heh.
Now it's get to Sunderland for 9am (forgot how much I hate early metros...), work hard all day, go home at 5pm, watch Buffy, sleep.

In exciting news, I'm having a new banner made by local illustrator Lucy Farfort.
I came up with the concept, but as everything I do on this blog is made on MS Paint I needed a helping hand.
And I saw a rough draft yesterday and it looks fantastic - I can't wait!

I love the banner I have (made by the gorgeous Janis) but to be honest I'm sick of the sight of my own face when I click this blog. Plus I have red hair now.

Finally my laptop decided it needed to be formatted last night, so I thought I'd lost everything. However, the clever thing has been secretly backing up without telling me, so I still have MOST of my music and pictures. Whew.
I'm NOT going to enjoy having to catagorise my Itunes again - I'm a bit OCC that everything is labelled correctly. Plus I had some great playlists that I was going to make into mix CDs (one for Claire from French For Cupcake, whose is LOOONG overdue!)

Blog-wise I have some events coming up that I'll be telling you guys all about.
Rachel from Mon Polka Dot Cheri managed to score us tickets to a 1940s Victory Celebrations event, which is so our cup of tea! There's going to be warsongs, everyone in vintage clobber and cupcakes.
Then on the evening is a rationing-style meal, with a menu including potted crab, rabbit in cider and Victoria sponge cake. How fun?
If you'd like to go, you can buy tickets from the The Next Big Event's website.

As for what I'm wearing - I'm re-watching Brief Encounter (one of my all-time favourite films) for some inspiration!

Then later on in August I'm meeting the girls from British Style Bloggers.
I haven't been with them for very long, so it's going to be lovely getting to know everyone.
There's even going to be a summer Secret Santa, and I'm quite glad I don't know the girl who I'm buying for as it'll be a bit of a challenge. And I do love a shopping challenge.

As for me, I'm going to Edinburgh next month with Daniel to see the adorable Michael Urie in Celebrity Autobiography.
Marc St James is one of my favourite TV characters, so it's going to be très exciting to see Michael - I'll have adorn my asthma inhaler in sparkles so we match!

Don't forget to enter my 450 Followers Giveaway - two themed sets of lovely items to be won, from some of my favourite shops including - Topshop, Miss Selfridge and Dorothy Perkins.
(Also I was asked if I bought all the prizes myself, and the answer is a resounding YES!)

Sorry this entry has been talk talk talk for the most part. Back to normal soon, I promise!

Muchos love,
MessyCarla.