Hey everyone,
To brighten up our mid-week blues I'm introducing a brand spanking new series here!
Every Wednesday will feature a lovely NOTD (Nails Of The Day) post.
And it's going to be called: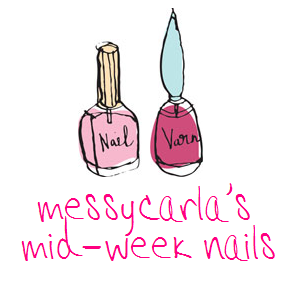 Ta-dah!
Right, to kick everything off - this mid-week's nails is Barry M's 297/Blue Glitter polish: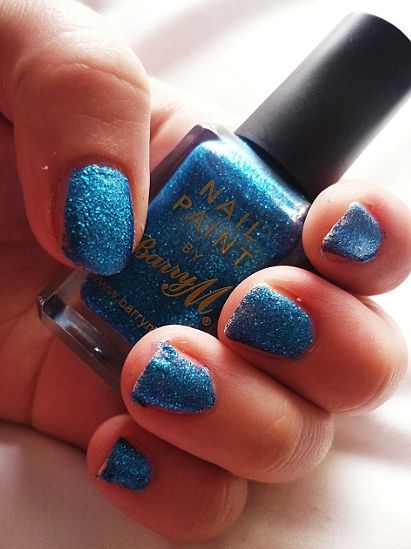 As much as I'm loving my pale nails at the moment, I will always have a soft spot for glittery polishes.
They remind me of the ones I used to adore as a kid.
I just got this yesterday so I can't comment too much as yet of the wear-and-tear.
It covered beautifully after just two coats
(and a base coat underneath)
.
Although my fingertips needed a bit of a touch-up, as you can see in the picture.
I really do adore Barry M's nail paints - I'm sure you'll be meeting more of them in the coming weeks!
In other news I haven't been able to blog much this week as I've been SUPER busy, especially over the past few days.
Saturday was my friend
Megan's
surprise birthday party.
I was DYING to make a reference to it on Twitter or something, but Megan has great intuition, and I reckon she would have figured something was up.
It was organised by her fabulous mam, Diane
(or as we all call her Absolutely Fabulous Mother - AFM for short!)
and was at a lovely Italian resteraunt in Sunderland.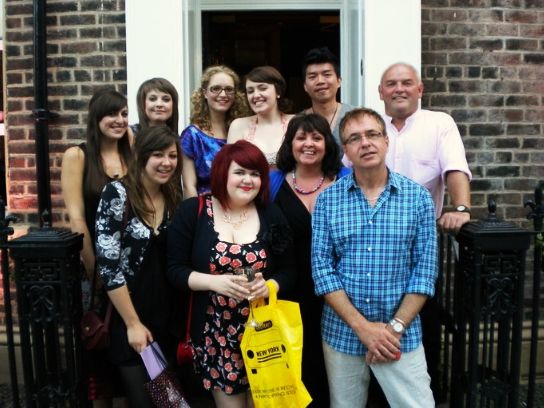 BACK (L-R): Sarah-Jane, Jayne, Alexandra, Megan (birthday girl!), David and Drew.
FRONT (L-R): Hattie, me, Diane/AFM and Paul.
Teehee we made poor Megan cry! But good tears.
For her present I'd
bought her a Dundie Award
when I was in New York as she got me into The Office, and it's all her fault I'm now a rabid fangirl.
They're such a warm, lovely group of people - I only met Paul on Saturday, and when he spotted me in town today, he came over to chat.
Also, on Monday I finally graduated from university.
It's been a long three years, and there's been a good few times I've considered throwing the towel it.
It's definately not been easy or particularly enjoyable for the most part, but it was nice to say goodbye to everyone properly, and celebrate a period of my life ending.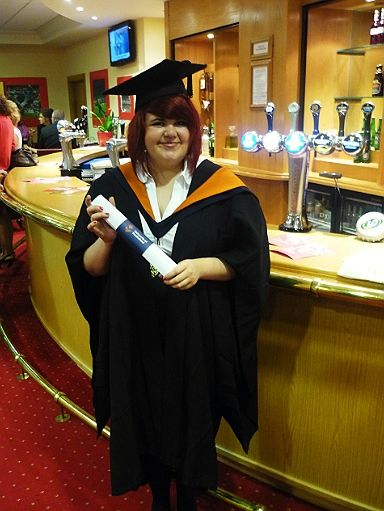 Carla Benstead: Media Production (Television & Radio) BA Hons. 2.1.
I know, I know. My outfit isn't very interesting - especially compared to a lot of girls who went all-out in cocktail dresses.
But I wanted a fairly classic combination of white shirt and black skirt so my official picture would be as timeless as possible. I'm getting that in a few weeks.

My favourite lecturer Martin came over to chat to me and my family after the ceremony and said some rather lovely things.
He's trying to convince me to come back in a year or so do to a Masters in Radio.

I can tell I'll be back to university in a few years to do something when I realise that real life is a bit boring and I can't have lie ins anymore.
But doing what exactly - I'll just wait and see.

The favourite thing Martin said was "Carla is always full of surprises."
My mam replied "She's been surprising me for twenty-one years" which may have been a bit sarcastic, but I'm letting it slide.

This is the beginning of my unofficial gap year (or Gap Yah) - I'm not planning on doing anything particularly exciting for now, but really I'm just finding my feet - trying new things (including courses, work experience and placements hopefully) and deciding what I want to do for the rest of my life.
I'm going to be working full-time until I'm at least 65 - I'm going to make this year count.
And yes, I've got a few holidays planned. Teehee.
Muchos love,
MessyCarla.