Hey everyone,
Notice anything different around here? That's because I have a fancy schmany new layout with the help of fabulous local illustrator,
Lucy Farfort
.
I discovered
Lucy
through her design for the
Made In Newcastle
promotional flyers and artwork, and instantly fell in love with her kawaii designs.
Since I wanted to give this blog a little makeover
(as it's just a few months shy of it's first birthday!)
I thought it was time for a change.
And I gave
Lucy
a very intricate design of my own to work from: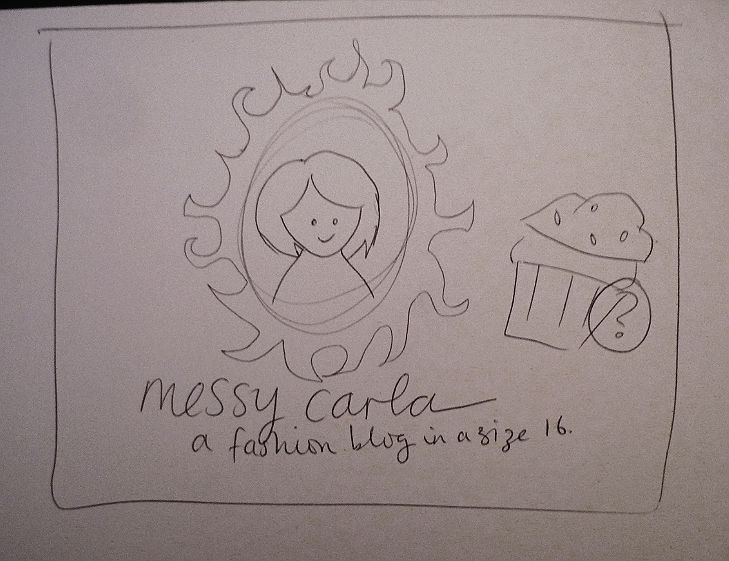 I know. I'm SO good at art, right?
Tracey Emin is probably bricking it right now...



I knew I wanted an illustration of myself (hello, vain!) in a baroque-style frame with all my favourite things around me - teacups, makeup, cupcakes and accessories!

A few people have mentioned the polka dots hurt their eyes a little - so I asked Lucy to come up with something in monocrome, and now I have fantastic lipsticks-and-lightning-bolts action going on behind everything.

Oh, and the outfit I'm wearing in the illustration - I actually own it!
See: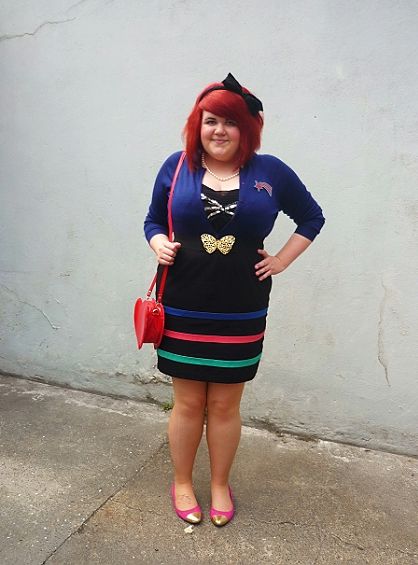 (You can see that Outfit Post if you clicky this link)


I absolutely love, love LOVE it!
When the first proof came through email, I was at work and made squeaking sounds only dogs could understand!

So I just had to quiz Lucy on everything oh-so-arty!

1) How did you first get interested in illustration? Were you creative as a child?

I can remember very vividly the day I decided that I wanted to become an illustrator. From a young age I loved creating things and knew that I wanted to do art in some form. For many years fashion design was the passion but my head was turned at the age of 14 (this was in about 1993 yikes!) when I fell in love with anime and manga.
I was staying round my cousin's house and he was harping on about anime. He lent me the famous Japanese animation Akira and urged me to watch it, so I did and i was awe struck. I think I must have watched it about 5 times in a week. I became obsessed with manga and all things Japanese so after extensive research on how I could get into this as a line of work I vowed to be an illustrator.
So here I am, not quite the anime/manga artist but its close enough.


2) Where do you find most inspiration for your work?
I am inspired by so many things. I'm a bit of a visual junky and the internet is such a huge source of visual information like Etsy, Folksy, the countless online portfolios, galleries and creative shops. It is hard not to feel overwhelmed by the amount of stuff out there and sometimes I find its best to take breath and avoid looking at all if possible.
I have recently become part of a collective of artists and makers in Newcastle (Made In Newcastle) and I find being around them and sharing ideas is really inspiring, especially considering I normally work on my own in a box room which can be pretty isolating.
I love the work of Susie Ghahremani, Lisa Alisaa and Hayao Miyazaki (had to get an anime reference in somewhere). There are so many talented people out there so I could go on and on and I don't think the list will ever stop growing.


3) What are your favourite pieces you've created?
In terms of big illustrative pieces I guess the Resting Place illustration (Click!) will always be a personal favourite, but inevitably a lot of the work I do is small design jobs for businesses etc so in regards to I still love the logo I created for the Monster Ceilidh Band (Click!).
In relation to my work as a maker i suppose the best product in terms of popularity are my glasses cases (Click!), but one of my personal favourite creations is the lolly & ice cream notecard set (Click!) which I produced for a special giveaway earlier this year and anything with the Robot Love illustration on (Click!).


4) Do you find the North East to have a thriving creative community?
I think the creative community in the North East is growing fast, but its still quite small compared to a lot of other cities. To be honest though this is great for me (says selfishly) as it means the market isn't saturated like a lot of other places. I lived in Manchester for 8 years after graduating and the creative community there is enormous.
There is so much stuff going on in terms of exhibitions, markets, creative shops etc that interesting things become run of the mill and you take if for granted. I like Newcastle as its much more focussed and compact and the creative community is so friendly. I really feel part of something here.


5) How can people get in touch with you??
I love working with people and coming up with new ideas for design job especially when their for a creative business or indy designers like myself.
People can visit my website http://lucyshappyplace.com/ to see my illustration portfolio and my online shop where I sell all my handmade products

Aside from this I also have a little blog (http://lucyfarfort.blogspot.com/) and people can get in touch on Facebook (http://www.facebook.com/pages/manage/#!/pages/Lucy-Farfort-IllustratorMaker/275447902018) , Twitter or simply email me on lucyfarfort@yahoo.com.
I also sell on Folksy(http://www.folksy.com/shops/lucyfarfort) and Etsy (http://www.etsy.com/shop/lucyfarfort) and from a number of shops in the North East.


In other news, I've been rather quiet still on the blogging front this week, as I've just begun to settle into my new job. It's still quite tough having to get up before 7am everyday, but I do really like it.
Saying that - old habits die hard and I'm always too busy rushing for the metro to have time to take pictures for Outfit Posts. Le sob! I'll try better very soon, I promise!

Also, no mid-week nails this week! Sorry sorry!
I met up with my friends who are home from uni for the summer mid-week, so didn't have time for blogging. (I had to catch up with all the gossip - even from my poor friend Marie who is recovering from having her appendix removed! Yowch!)

I'm going to the seaside tomorrow, though. One of my favourite things in the world to do with three of my favourite people.
I'll try and take lots of pictures to make up for this week!

FINALLY, the 450 Followers Giveaway ends tomorrow, and I'll be picking a winner on Sunday (via Random.org probably!).
So this really is your last chance to enter! Go! Go! Go!


I've had such a great response with you guys - I just hope everyone who follows me knows about this and enters.
It's for you lot, after all. Because you're all lush!


Muchos love,
MessyCarla.