Hey everyone,
I'm a glutton for anything a little on the dorky side, and here's some stuff from TEH WISHLIST: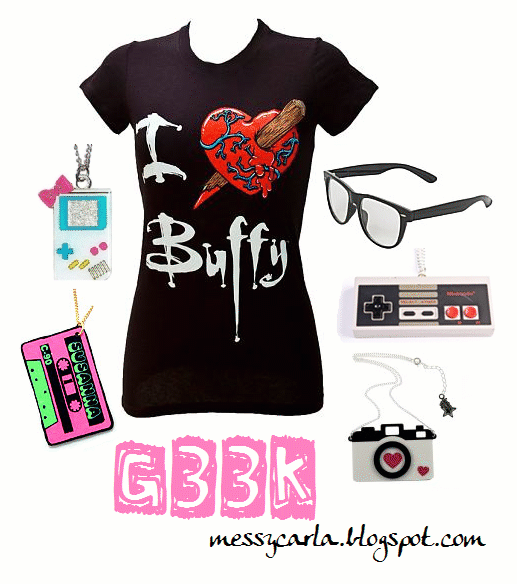 T-SHIRT:
TruffleShuffle, £21.99
GAMEGIRL NECKLACE:
Junkie Lovers, £6.
GLASSES:
New Look, £4.
NINTENDO NECKLACE:
Culture Vulture, £14.99.
CAMERA NECKLACE:
Punky Pins, £10.
CASETTE NECKLACE:
Heidi Seeker, £10.
I think however much people try to deny it - there's always something they like to geek-out over.
(NOTE: Links include spoilers!)
A few years ago I was involved in a good few fandoms, most predominently with Gyakuten Saiban/Ace Attorney, which is a series for the Nintendo DS.
I fell in love with the story of well-meaning lawyer Phoenix Wright, and his friends Maya Fey and Miles Edgeworth.
I also found it interesting how a lot of the online communities seemed to be run by female gamers. When I asked them why, a lot of them replied it was because the game features a lot of powerful but beautiful women, such as Mia Fey and Ema Skye.

I'm always fascinated with gaming, the internet, social networking and why people love it so much - I even took a class in my first year of University called Introduction To Cybercultures.
Our lecturer Rob walked in and said "Welcome Newbies to STUDY OF TEH INTARWEBS!"
It was honestly the coolest class ever. His first slide even read "A/S/L?"

What do you guys geek-out over?
I always love to hear what makes you tick and go all fangirly!

*Squee-out!*
Muchos love,
MessyCarla.