Hey everyone,
Okay, okay I admit it. I'm completely and utterly
stealing this idea from Lillian
!
But I rather love talking perfumes - the excitement of finding a beautiful new 'signature' scent, to a single smell that can evoke memories from years ago.
These are my top 5:
5: Classique by Jean Paul Gaultier: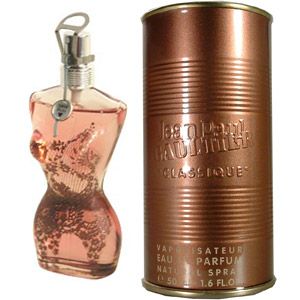 SMELLS LIKE: Vanilla, musk, rose, jasmine, amber.
I love all of Jean Paul Gaultier's scents, so picking a favourite was rather difficult.
But like Sui Love
(below)
I've gone back to the first one I ever tried.
Like
most of of JPG's fragrances
, the bottle is very sexy – with this one being a curvy female torso with the design looking very much like a basque and suspenders. Ooh la la, indeed!
The only possible downside is that when removed from the tin packaging, you'll find the bottle has no lid, just a spray-top. This is held with a pin, and you have to take this out to release the perfume. So next to the others in my collection on my dresser, it does look a little bare – or like I've simply lost the top.
It's a very light, easy-wearing perfume beginning as very sweet and developing into a scent which is a lot more musky and dry, but again – never overbearing.
4: Sui Love by Anna Sui.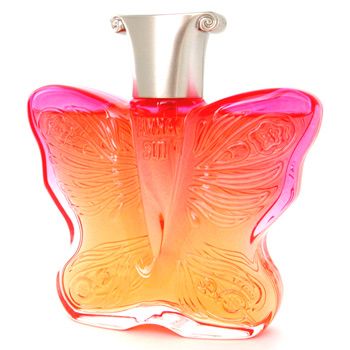 SMELLS LIKE: Bergamot, passion fruit, jasmine, white rose, vanilla.

This is the smell of my teenage years! Seriously even the smallest whiff takes me back to listening to Alicia Keys, watching Friends and doing something creative like card-making, journal writing or scrapbooking in my friend Amber's bedroom.
It's also a very light, summery smell, and the pretty butterfly bottle is too cute.
I adore all the Anna Sui scents, especially Dolly Girl, but this is my all-time favourite!


3: Lovely by Sarah Jessica Parker.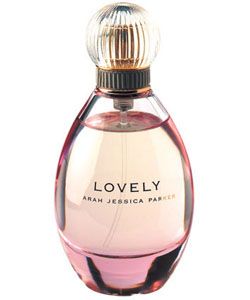 SMELLS LIKE: Lavender, mandarin, apple martini, musk.
I'll admit it, I'm a bit of a snob – I turn my nose up at most 'Celebrity' scents. For me they're less about the smell and more about the endorsement as a bit of a quick-cash ploy. But the Big
(pun, anyone?)
exception to the rule is Lovely.
SJP said in an interview with Vogue how much time she spent developing a scent that she could be so passionate about, and it's definitely paid off!
For me, it's a very feminine perfume, very sweet but classic.
Rather like SJP herself
.
Sadly, I'm not a big fan of her other scents
(I think they're very similar to ones you can find in Next for a quarter of the price)
– and although the bottle is a bit boring, this is definitely one I recommend.
Okay, it was SO difficult to pick a favourite out of these two - as I love them equally, but they are very different. So I've just gone with which I've been wearing most lately.
2: Daisy by Marc Jacobs.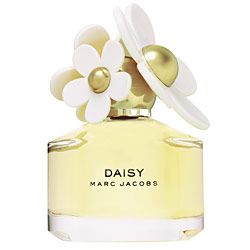 SMELLS LIKE: Violet, jasmine, strawberry, vanilla, musk.
This is such a cult fragrance! A lot of it's success has been through word-of-mouth, and you can definately see why.
As the name suggests this is very light and floral – but also has tone of vanilla and musk to stop it being too sweet. The packaging of course is fabulous too – with the plastic white and gold daisies, it is quite possibly one of the best perfume bottles ever!
(Bloggers and reviewers on line have commented on how they've kept the bottle long after the perfume has been used as it's just too pretty to throw away)
It's also available in a necklace with a sold version of the perfume
(my friend Megan owns this, the lucky duck)
which is a really good idea – an accessory and easy way to top-up in one!
1: Boudoir by Vivienne Westwood.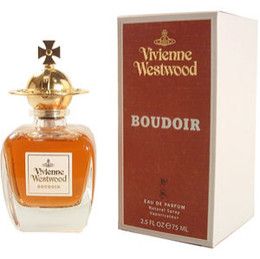 SMELLS LIKE: Turkish rose, coriander, French marigold, tobacco, sandalwood.
I'll admit it; this perfume is not to everyone's taste. Actually the first time I smelled it, I thought it was way too heavy – very similar to Chanel No5. But the more I browsed the shop with the little scented card under my nose, the more I grew to love it. It is heavy, and smells like an older-person's scent, whereas I usually prefer something much lighter. It does soften too when it develops.
My mam loves this one too – she says it reminds her of the glamourous material shops her Italian aunties would visit to make their dresses they'd copy from the actresses in the theatre they worked at
(more about them in an up-coming post!)
.
The name matches perfectly – it actually smells like a 1940s boudoir with a vanity and mirror, quilted bedding and plush curtains.
If you're familiar with Vivienne Westwood shops, you'll recognise this as what they smell like. I asked the assistant in the Newcastle branch, and she told me they spray it around everyday!
The bottle is absolutely fantastic too – with the famous orb design on the top, it's also quite petite to hold, and looks wonderful on my dresser.
Very vintage classic – definitely give it a second, third and forth sniff. I'm sure it'll grow on you too!
So how about you guys, what are your favourite perfumes?
Muchos love,
MessyCarla.