Hey everyone,
It's been a little while since I've done a proper
Outfit Post
, and that's generally because I haven't got a lot of new things to show you at the minute. I've had to curb my shopping lately, as I'm off to NYC in just TEN DAYS!
Then - believe me - I'll be making up for lost time. Heheh.
My t-shirt is new though, and the cardigan is one I found in the back of my wardrobe, never worn.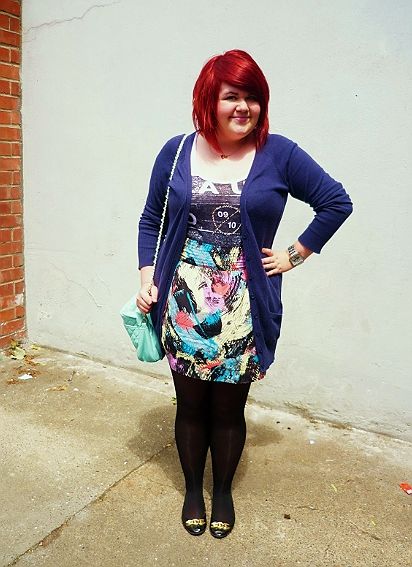 T-SHIRT: Haus of Gaga, £25.
SKIRT: River Island, £12.
CARDIGAN: Can't remember!
NECKLACE: Lady Luck Rules OK, £3.
WATCH: D&G, £Present.
BAG: Matalan, £8.
TIGHTS: Dorothy Perkins, £5.
SHOES: Primark, £5.
POINT OF FASHION: Blue.
I met one of my best-friends Natalie today for a cold frosty one, to celebrate her coming home from Durham where she's been studying Molecular Biology. Cleverclogs.
Our friend Lorna (who is studying to become a doctor) was invited to meet us, but she's on placement today in a gynaecology ward. Which is just lovely.
Notice the new hair? Yeah I bumped my red up a few shades as it has gone to a deep auburn - in the shade it even looked brown.
So I went all out and started again - stripping the colour down and layering the red again.
Check out the halfway point:
I know right. NEON or whaaaa?
I look like an anime character!
It's cool, but not really suitable for someone who is
a) due to graduate
and
b) looking for a job/career.
So I dyed it again yesterday to a toffee apple/candy apple red. Which is what I was going for in the first place.
But yeah, I love it lots.
I did
a post a little while ago on how to care for red hair
, so if you're a red-head (natural or faux!)
be sure to check it out
.
Oh, a shout-out is in order for Rachel from
Polka Dot Stripes
.
I was working my last Open Day for the university last week, and she spotted me from my blog when I was coming out of a Q&A session!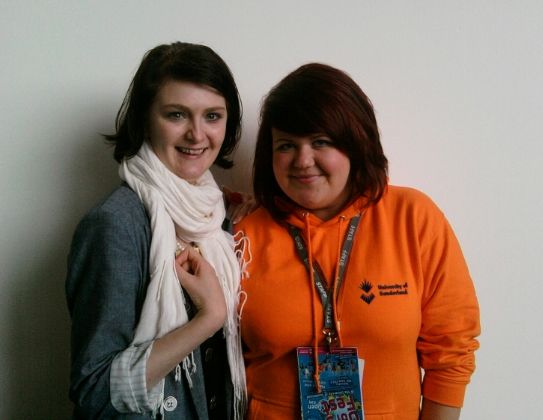 No, my orange hoodie DIDN'T make it onto an Outfit Post. Teehee.
I remember that she actually
interviewed me via email a few months ago
- so give that a clicky if you wanna.
We're actually gonna meet this week for a coffee and chit-chat about all things fashion and blog-gy. Hoorah!
Also in blogger-news. Me and
Daniel
got our radio show sorted more or less.
From the way things are looking we're gonna be on for a few weeks in July on a Sunday evening. But I'll post links and everything when we're definately sorted.
Thanks for everyone who's expressed interest in stuff
in the blog sale
- although PLEASE let me know if you definately want something as there are other people waiting to hear back.
I've already had to let a few things go as to people not answering, so don't let some bargains slip away.
Anyhooo, feel free to get in touch as always - via contact on the right-hand side of this blog, or via
Twitter
.
Muchos love,
MessyCarla.