Hey everyone,
Just a quick outfit post today, as I have some uni work to crack on with.
Plus my dissertation is being played to my dissertation leader
(the great and wonderful
Martin
- if any of you guys have studied radio, chances are you'll have read some of Martin's theory work at some point),
and
Andy
, my disso supervisor for feedback tomorrow - so I'm a bit nervous!
Apologies for the picture in my skanky backyard - but the lighting in my room was really bad today.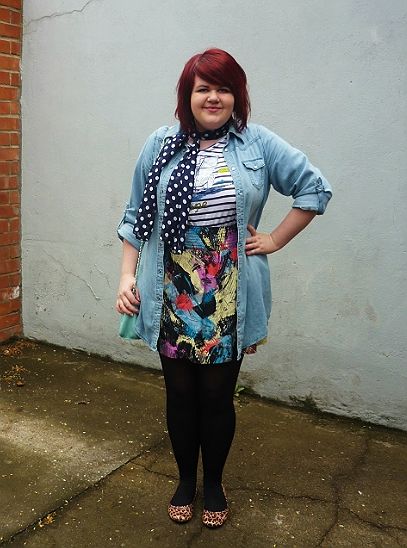 TOP: Vintage, £Free (for working an event).
SKIRT: River Island, £10 (sale).
SHIRT: New Look, £18.
SCARF: Ebay, £3.50.
BAG: Matalan, £8.
TIGHTS: Dorothy Perkins, £4.
SHOES: Dorothy Perkins, £15 (sale).
POINT OF FASHION: I look a bit like an art student here?
I WISH I'd remembered to wear my new watch - but when you haven't been a watch-wearer for years, you tend to forget! Bah!
I love my new scarf - it looks cute worn in my hair too.

I got some last bits and peices for my holiday today as well, but I'll be showing them off at the end of the week.
Thursday is OFFICIALLY my last day on campus - handing work in and filming our TV show. Bring it!

I've also been invited to an Ann Summers event in London next week and I really want to go.
I hope I can get some decent train tickets - in Febuary for The Look Show I was lucky getting last-minutes ones which weren't too expensive. Fingers crossed!
Muchos love,
MessyCarla.