Hey everyone,
As much as I love my high street clothes, I also love supporting independent designers and boutiques. So I'm going to try as do a Spotlights series, for some of my absolute favourites!
I've been a MASSIVE
Heidi Seeker
fan since I was about 16 now. I was going through my electro phase, and loved everything glittery, neon and in-your-face. And that's pretty much Heidi Seeker to a tee.
I've absolutely loved personalised items ever since I was a little kid, and everyone had those hairbands with their names on them from the market (remember them?).
But a lot of indie boutiques' personalised items are sky-high prices (some even charge per letter!). But Heidi Seeker's stuff is very reasonable, with necklaces starting at just £5.
And I have got a good few
Heidi Seeker
items from over the years, but they were kind enough to send me some things from their latest ranges which was incredibly kind of them!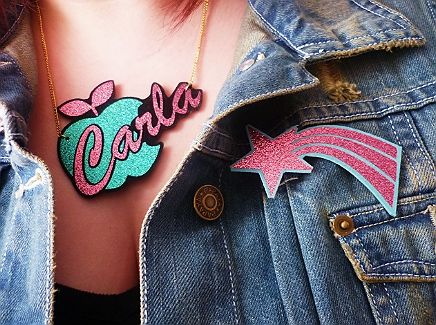 Apple glitter necklace (£10),
also available in neon.
Star mini-clip (£5)
. Also available in red/white and silver/pink.
I love how the pin especially brightens up an ordinary denim jacket - I feel
like a character from Jem
! And it can also be worn in your hair!
Mini-bolt hairclip (£3.50). A larger one is also available for £5.50.
I've had this for nearly five years now, and it's still bright as ever!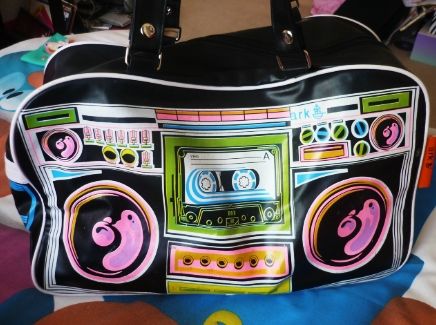 AMAZING
Boombox bag
. This is what I use for my overnight bag.
It's strong, sturdy and has lasted me for years now.
This one isn't available anymore, however they have a similar design on shopper-style bags, with in-built SPEAKERS! (Prices £18-£25)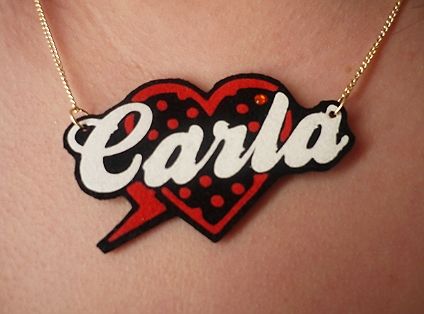 Personalised Heart necklace (£10)

This necklace was made popular by the girlband
The Pipettes
who wore them in some promotional pictures! Also available in blue/silver and pink/yellow.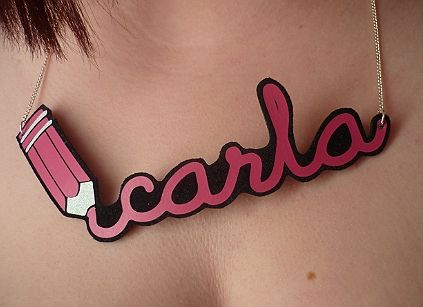 MASSIVE Personalised Handwriting neclace (£10).
This is just TOO cute, and the biggest necklace I own, so people never miss it. It matches my pencil case! (below) Also available in gold, green and red.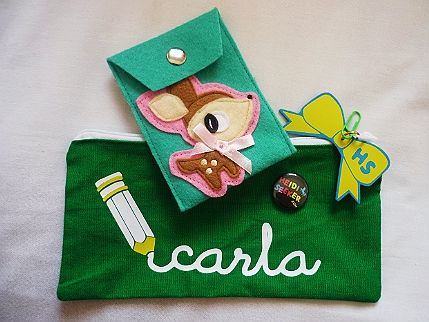 Going back to school = NEVER dull with Heidi Seeker.
The Fawn ipod case was a present from my friend Hattie and is now unavailable (but drop the guys a line if you like it - they're always bringing back retired items if there's demand!).
The Personalised Pencil Case (£6) comes with a Heidi Seeker felt bow, paper clip and a badge. VERY cute and unique item for school - though since I'm a big girl now, I use mine as a makeup bag!
Also available in yellow, orange and pink.


And if that wasn't enough, I've also compiled a wishlist of items I'm saving up my pocket money for: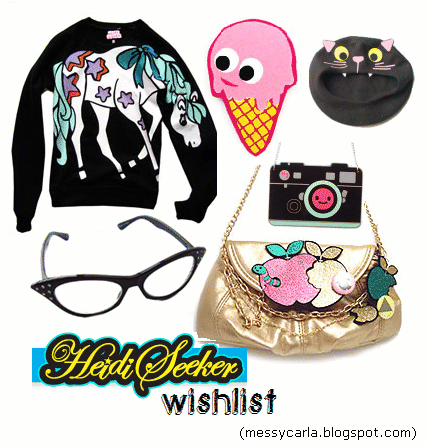 PONY SWEATER: £38.
ICE-CREAM PIN: £4.
CAT BERET: £9.
CAMERA NECKLACE: £7.
CAT-EYE GLASSES: £8.
APPLE BAG: £13. (+£2 for personalisation)

So everyone, go check out http://www.heidiseeker.com/. (They've also recently re-launched Heidi's Jukebox - which I've discovered a lot of my favourite bands from).
They also have testimonials from happy customers in their High 5 section, which is always sweet to how other people are wearing their goodies!
Muchos love,
MessyCarla.